As Saunders leaves Tacoma, Hart arrives for rehab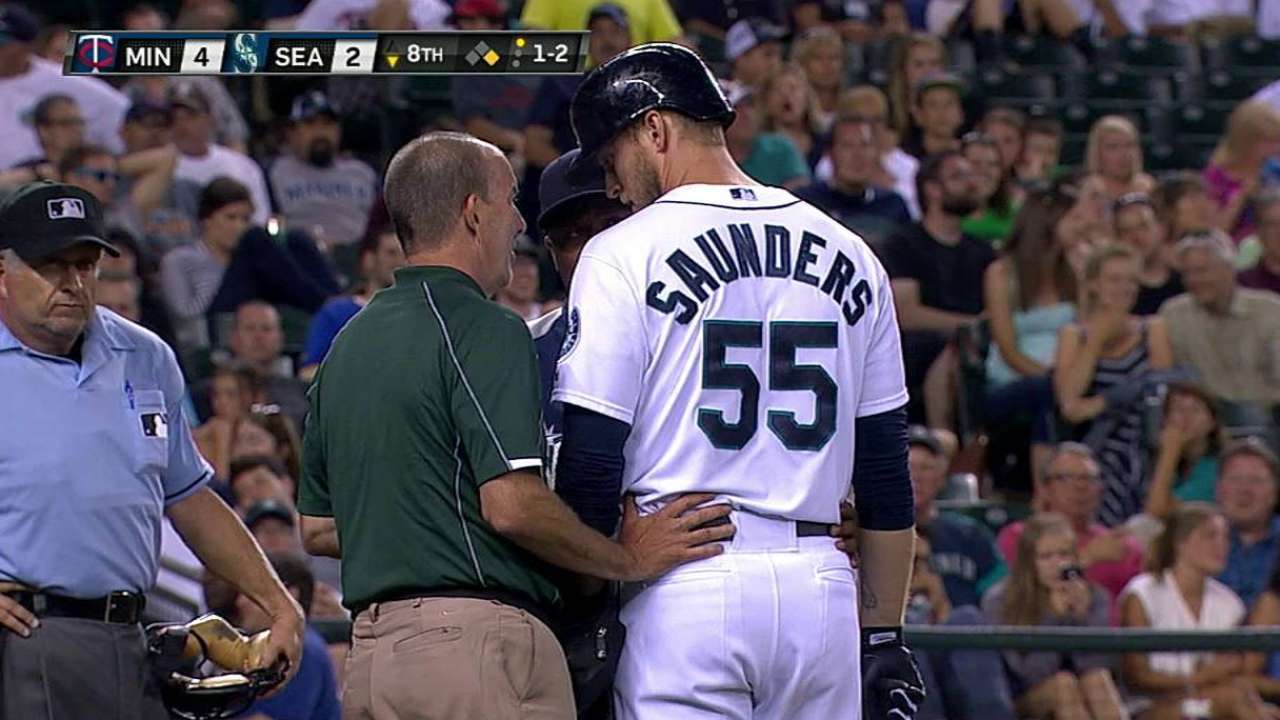 BOSTON -- Mariners right fielder Michael Saunders was recalled from his Minor League rehab assignment with Triple-A Tacoma on Saturday due to a viral infection and will not be able to rejoin the Rainiers for a minimum of five days, the club announced Sunday.
But Corey Hart, who has been sidelined since Aug. 1 with a bruised right knee, began his own rehab assignment with Tacoma on Saturday as he attempts to get healthy before the end of the regular season.
Saunders had missed the last three games with the illness after playing 10 games with Tacoma while working back from a strained right oblique.
"He's had a rough go," manager Lloyd McClendon said. "He's been sick for a few days and he's still not back yet. Whenever he gets ready, we'll get him back out there."
Saunders remains on the 15-day disabled list with the Mariners and can resume his rehab assignment on Thursday with Tacoma if he's ready. Saunders has already spent 16 of his maximum 20 days on his rehab stint, so if he returned Thursday he'd potentially be able to play the last four games of Tacoma's season -- which ends Sept. 1 -- and then join the Mariners when rosters can be expanded in September.
Saunders hit .276 with six home runs and 28 RBIs in 65 games for Seattle, but since he went on the disabled list for a second time this season, the club has acquired veteran outfielders Austin Jackson and Chris Denorfia.
Hart also has played some outfield this season, but mostly served as the club's designated hitter. He went 0-for-3 while playing DH on Saturday for Tacoma in his first game since going on the 15-day DL on Aug. 2. The former two-time National League All-Star acknowledged then he didn't have the necessary strength back in his legs as he was forced to play more outfield after the acquisition of designated hitter Kendrys Morales.
Hart missed all of last season with microfracture surgeries in both knees and has hit just .203 with five home runs and 20 RBIs in 58 games after signing a one-year deal with Seattle. It remains to be seen if the 32-year-old can get healthy enough to help the Mariners after rosters can be expanded the final month.
"He's back out there, we'll see what happens," McClendon said. "Right now, he should get 35-40 at-bats [with Tacoma], so we'll see."
Greg Johns is a reporter for MLB.com. Follow him on Twitter @GregJohnsMLB as well as his Mariners Musings blog. This story was not subject to the approval of Major League Baseball or its clubs.