Webster struggles as Red Sox drop eighth straight
Offense breaks through vs. Iwakuma, but not enough for staff to hold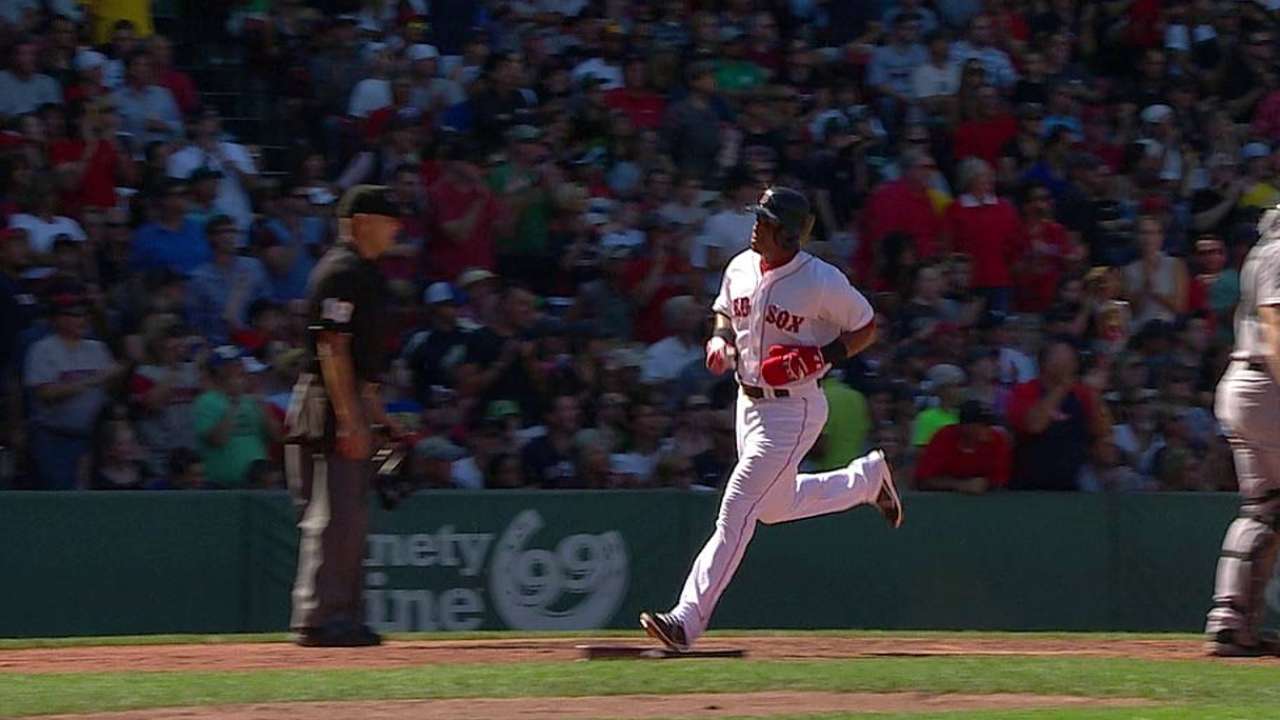 BOSTON --- The Red Sox shook some of their situational-hitting demons Sunday, but not all of them.
After chasing Hisashi Iwakuma in the third, Boston squandered a lead in the fifth and several offensive opportunities in the final three innings against the Mariners in an 8-6 loss at Fenway Park. The Sox dropped the final eight games of their homestand, finishing it 2-9.
Boston loaded the bases in the ninth against Fernando Rodney, but Kelly Johnson struck out swinging to end the game. Johnson pinch-ran for David Ortiz in the sixth because the Red Sox slugger fouled a ball off his right foot, leaving the game with a contusion, and is day to day.
"That's just the game. So many things you can't control," said third baseman Will Middlebrooks, who went 2-for-5 with three RBIs. "David getting hit yesterday then the foul ball off his foot. What are you gonna do?"
With runners on the corners in the seventh, Christian Vazquez smoked a line drive right at pitcher Danny Farquhar, who stuck his glove up in desperation to grab it, then threw to first to double off Mookie Betts and end the inning. Trailing by one with two outs in the eighth, Allen Craig struck out looking with runners on the corners.
The Red Sox went 3-for-47 with runners in scoring position in the six games prior to Sunday. In the finale against Seattle, Boston went 6-for-19 with runners in scoring position and it still wasn't enough. Both starters struggled for a second straight day -- Allen Webster surrendered six runs on eight hits over 4 1/3 innings. He fanned five and walked two.
"You can't leave balls over the middle of the plate," Webster said. "They got a bunch of hits with two strikes. I have to get back at it."
Middlebrooks, Craig, Yoenis Cespedes and Brock Holt all had multiple hits for Boston to back Webster. The club had 13 total, walked seven times and reached twice more via the hit by pitch. The Red Sox got to Iwakuma, who was in the midst of a dominant stretch, early.
In 2 1/3 innings, Iwakuma allowed five runs on six hits. He walked one batter and hit two more in the shortest start of his career. In his previous 10 starts, Iwakuma had a 1.63 ERA, .489 OPS against and 16.25 K/BB ratio -- the outing prior to starting that stretch, the Red Sox tagged the righty for five runs on eight hits over four innings.
"More than anything, we've not expanded the strike zone below," Red Sox manager John Farrell said. "He's such a good low-ball pitcher. He's got downward action to most every pitch that he does throw. And we've laid off the balls at the bottom of the strike zone where maybe some other teams haven't."
Sunday was the first time Ortiz, Cespedes, Mike Napoli and Craig made up spots 3-6 in Boston's lineup since the club acquired Cespedes and Craig on July 31. Their presence was felt against Iwakuma.
"It starts to present, I think, a stern challenge for the opposition," Farrell said. "We had a number of opportunities we created for ourselves once again today, and those guys are in the middle of it."
The Red Sox and Mariners traded blows in the first, scoring three runs each. Boston took a 5-3 lead in the third when Napoli's groundout brought in Ortiz before Middlebrooks singled home Cespedes, who had doubled. The Cuban outfielder went 3-for-4 with two runs scored and an RBI.
But the Mariners took the lead back with a run in the fourth and two in the fifth. Dustin Ackley tripled in Austin Jackson, then scored on Brad Miller's sac fly. Seattle added to its lead in the eighth when Seager drove in Endy Chavez with a single.
After Johnson matched that run with an RBI-double in the bottom of the eighth, Ackley scored from first on Miller's double off Edward Mujica to give Seattle a two-run lead once again in the ninth. Rodney gave up a single to Betts before walking Holt and Dustin Pedroia in the ninth, but struck out Johnson with a changeup to seal a Mariners sweep.
Seattle's bullpen allowed seven hits and one run over 6 2/3 innings on Sunday. In the three-game set, their relievers gave up just that one run and nine hits over 15 1/3 frames. No Mariners' starter lasted six innings during the series, including Felix Hernandez.
"It was a tough day in a lot of different ways for us. In the end, we got the win, so that makes everything OK," Seattle manager Lloyd McClendon said.
"We just got the last blow in. That's what happened, because they were coming back, we came back, they came back and we were able to hold on. I felt pretty good about our bullpen once we got that two-run lead."
Steven Petrella is an associate reporter for MLB.com. This story was not subject to the approval of Major League Baseball or its clubs.