Mariners finish sweep, hold lead in Wild Card race
Offense bails out Iwakuma, who allowed five runs in just 2 1/3 innings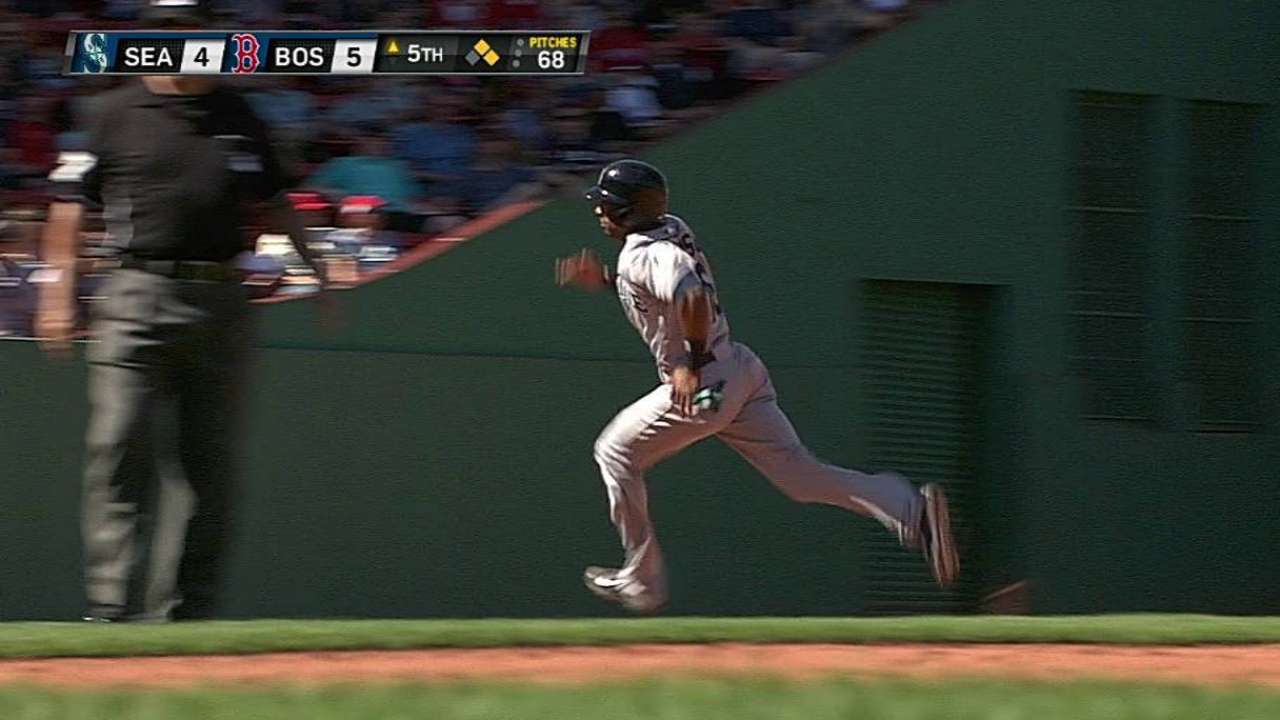 BOSTON -- How do you know things are going well for the Mariners these days? Despite the shortest outing of Hisashi Iwakuma's career and an illness that sidelined Robinson Cano, Seattle continued its August roll with an 8-6 victory and series sweep of the Red Sox on Sunday at Fenway Park.
The Mariners have won 14 of their last 18 to put themselves a season-best 13 games over .500 at 71-58, maintaining a one-game lead over the Tigers in the chase for the American League's final Wild Card berth.
The sweep was Seattle's first in a series of three or more games at Fenway in franchise history and capped a 6-3 road trip that puts the Mariners' record in away games at an AL-best 37-26.
The Mariners have now equaled their 71-win total from last season with 33 games still remaining as they pursue their first postseason berth since 2001.
Iwakuma gave up six hits and five runs in 2 1/3 innings and Cano left the game about the same time after feeling dizzy while in the field, but the Mariners regained the lead in the fifth and then hung on behind another strong outing from their bullpen.
"It was a tough day in a lot of different ways for us," said manager Lloyd McClendon. "In the end, we got the win, so that makes everything okay. It was a little concerning, but we got beyond it."
Boston scored once off Charlie Furbush in the eighth to cut the lead to one, but Tom Wilhelmsen came on to get the final two outs of that frame, stranding the tying run at third. Brad Miller -- filling in for Cano -- drove an RBI double high off the Green Monster to provide a two-run cushion in the top of the ninth before Fernando Rodney closed out the game with his 38th save.
Even that wasn't easy as Rodney loaded the bases and wound up needing to throw 34 pitches before finally striking out Kelly Johnson for the final out.
"I think this had to be the craziest series we've been in this year, just as far as back and forth, coming from behind, scoring a lot of runs, rallying," said left fielder Dustin Ackley, who went 3-for-5 with a triple and double and scored three runs. "And what our bullpen has done the last two days, coming in early and chewing up some innings was huge."
The Mariners pulled off the sweep in a series where none of their starters picked up a victory. Six relievers combined to allow one run in 6 2/3 innings on Sunday and gave up just that one run in 15 1/3 innings in the series.
"I said earlier in the season, we've got like three or four closers," said Rodney, ticking off Wilhelmsen, Danny Farquhar, Yoervis Medina and himself. "These guys can close the game. They can throw three days in a row. That's the difference with this bullpen. When you have a bullpen like that, you can go a long way and win a lot of games."
Iwakuma has been one of the AL's top starters since joining the Mariners rotation in mid-2012 and the no-decision left his record at 12-6 with a 2.83 ERA. But he's had no success against the Red Sox as Sunday's start broke his previous shortest outing of three innings in an 11-8 loss to Boston last season in Safeco.
"He just didn't have it," McClendon said. "He's human."
But Iwakuma is far more human against the Red Sox than anyone else, with a 10.20 ERA in four career starts while allowing 17 runs and 30 hits in 15 innings. He lasted just four innings in a 5-4 loss in a previous start against Boston this June in Seattle in what had been his shortest outing this year.
Iwakuma didn't have any answers as to why Boston has proven to be such a nemesis.
"To be honest, I don't know the key," he said through interpreter Antony Suzuki. "If I knew, I'd get these guys out. I've only faced them a couple of times. Hopefully, the next time I will get these guys out."
Red Sox manager John Farrell says his club has adopted a good approach against Iwakuma and his nasty splitter.
"More than anything, we've not expanded the strike zone below," Farrell said. "He's such a good low-ball pitcher. He's got downward action to most every pitch that he does throw. And we've laid off the balls at the bottom of the strike zone where maybe some other teams haven't."
After the Mariners spotted Iwakuma a three-run lead in the top of the first, the Red Sox immediately tied it up in the bottom of the inning. Iwakuma hadn't hit a batter in his first 147 innings this season, but hit two Red Sox and gave up three singles while struggling through a 39-pitch frame before getting knocked out in the third by a two-run double by Will Middlebrooks.
But Seattle didn't let that turn of events put a sour note on the end of their road trip. They kept chipping away after Iwakuma's departure, tying the game on Austin Jackson's RBI single in the fifth and then taking the lead at 6-5 when Ackley followed with his triple. Another run-scoring single by Kyle Seager in the eighth provided a welcome insurance run and Brad Miller -- filling in for Cano -- answered another Red Sox run with an RBI double high off the Green Monster.
"Crazy game, crazy series," said Miller, who also contributed a sacrifice fly in the fifth. "It was fun. Playing in a place like this, Sunday game at Fenway, it was sweet. It was a good way to end the road trip."
Greg Johns is a reporter for MLB.com. Follow him on Twitter @GregJohnsMLB as well as his Mariners Musings blog. This story was not subject to the approval of Major League Baseball or its clubs.