White Sox endure another walk-off loss in the Bronx
Sale gives up four unearned runs, grabs AL ERA lead; Garcia homers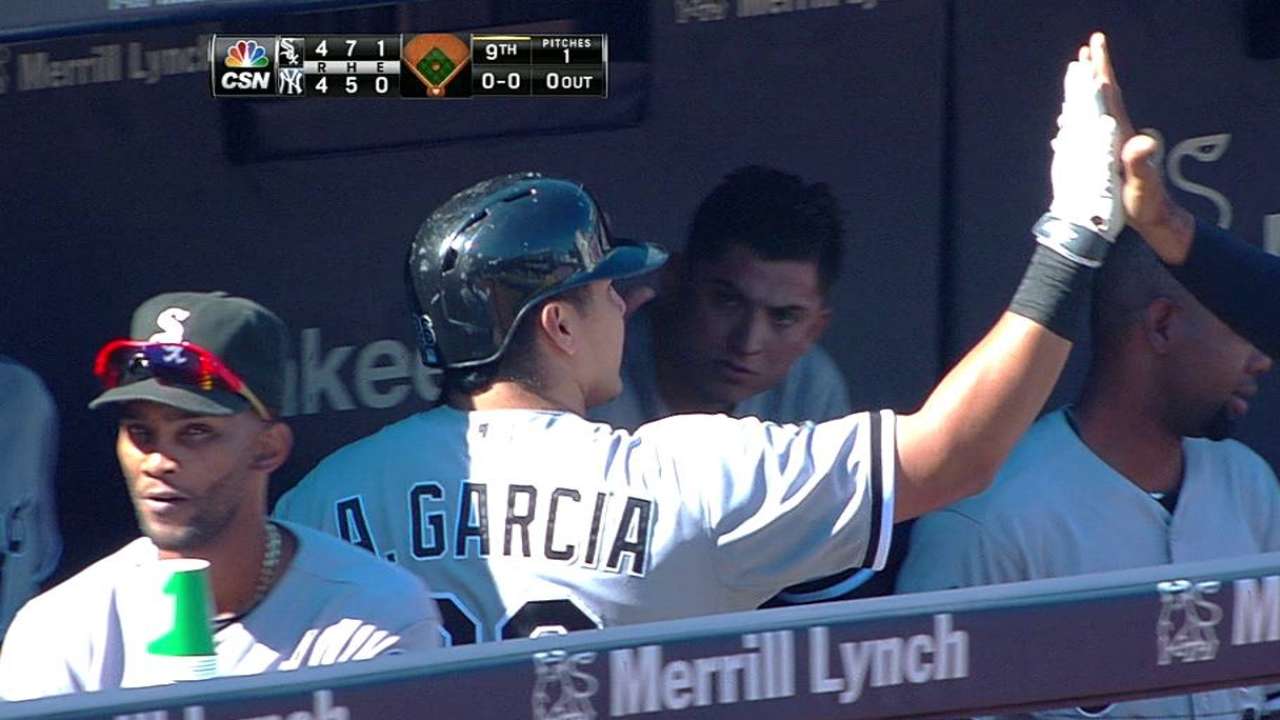 NEW YORK -- The White Sox tailspin continued on Sunday thanks to the usual suspects that cost them during a dreadful weekend in New York. Their defense committed a costly error, their starter surrendered one too many walks and the offense was unable to produce with men on base, which left the bullpen operating with a small margin for error.
Jake Petricka allowed a three-run, walk-off home run to pinch-hitter Brian McCann in the 10th to seal a 7-4 loss to the Yankees. Chicago was swept out of New York, running its losing streak to a season-high six games and 13th in the last 17.
"It's tough," Sunday's starter Chris Sale said. "We've had a bad stretch, but it's not for a lack of effort. No one in here is hanging their head. No one in here is giving up. It's just some unfortunate bounces sometimes don't go our way. As we approach the denouement of the season, we need to start stringing some things together and win some games."
The White Sox can take solace in the fact that they battled back after trailing by a run in the ninth.
Avisail Garcia hit a game-tying home run on the first pitch he saw from Yankees closer David Robertson. Garcia had struck out in his previous three at-bats, and was 0-for-11 with seven strikeouts during this series. Meanwhile, Robertson had converted 22 consecutive save opportunities.
"I'd been striking out, striking out, striking out and I was trying to make good contact to get on base and hit again," Garcia said.
Garcia's homer took Sale off the hook for a potential loss despite another strong outing. Sale cruised through the first 5 1/3 innings, while allowing just two hits..
Then Martin Prado hit a fly ball to left fielder Dayan Viciedo, who dropped it to ignite a four-run Yankees rally.
Mark Teixeira doubled home Prado, and Carlos Beltran walked. Sale regrouped momentarily by striking out Chase Headley, but walked Francisco Cervelli and hit Zelous Wheeler with the bases loaded to drive in a run. The next batter, Ichiro Suzuki, drove a two-run single into right field. That hit marked the first RBI Sale has allowed to a left-hander since Minnesota's Joe Mauer delivered on Aug. 17, 2013.
"I felt fine," said Sale, whose 2.03 ERA leads the American League. "I just wasn't able to capitalize when I needed to. Things kind of just unraveled for me in the sixth, just left pitches up to guys that will make you pay and that was that."
If Viciedo makes the catch, Sale would have had the second out on just his seventh pitch in the inning. Instead, Sale labored through a 28-pitch inning that saw him give back a 3-0 lead -- built on a home run by Alexei Ramirez to lead off the game and a two-run homer by Conor Gillaspie in the sixth -- and knocked him out of the game.
In six innings, Sale allowed four hits and walked three while striking out seven. He had not allowed a run while pitching on the road in 21 1/3 innings before the Yankees got the four runs in the sixth, although none of them were earned.
"Any time you're dropping stuff like that, those should be made," said White Sox manager Robin Ventura. "And you're always giving them opportunities, that's the biggest thing. Once you have them where you have them and you give a lineup like that opportunities they're going to make you pay for it."
The White Sox had a chance to take the lead in the top of the 10th, with runners on first and second and Jose Abreu at the plate, but he struck out looking against left-hander David Huff.
Petricka originally came into the game in the ninth inning to face Derek Jeter. The White Sox intentionally walked Stephen Drew to put runners on first and second with one out and Petricka responded by inducing a double play.
After striking out the first two batters in the 10th, Petricka allowed a double by Beltran. He intentionally walked Chase Headley, and the Yankees called on McCann to hit for Francisco Cervelli.
"It was down and in a little bit," Petricka said of the pitch. "I definitely probably shouldn't have thrown an inside changeup there, and I was just going for a strike in that situation, and it was just in the wrong spot."
Jamal Collier is an associate reporter for MLB.com. This story was not subject to the approval of Major League Baseball or its clubs.