Masterson exits early as Cards can't get going in Philly
Wild Card leaders slip back to 1 1/2 games out of NL Central lead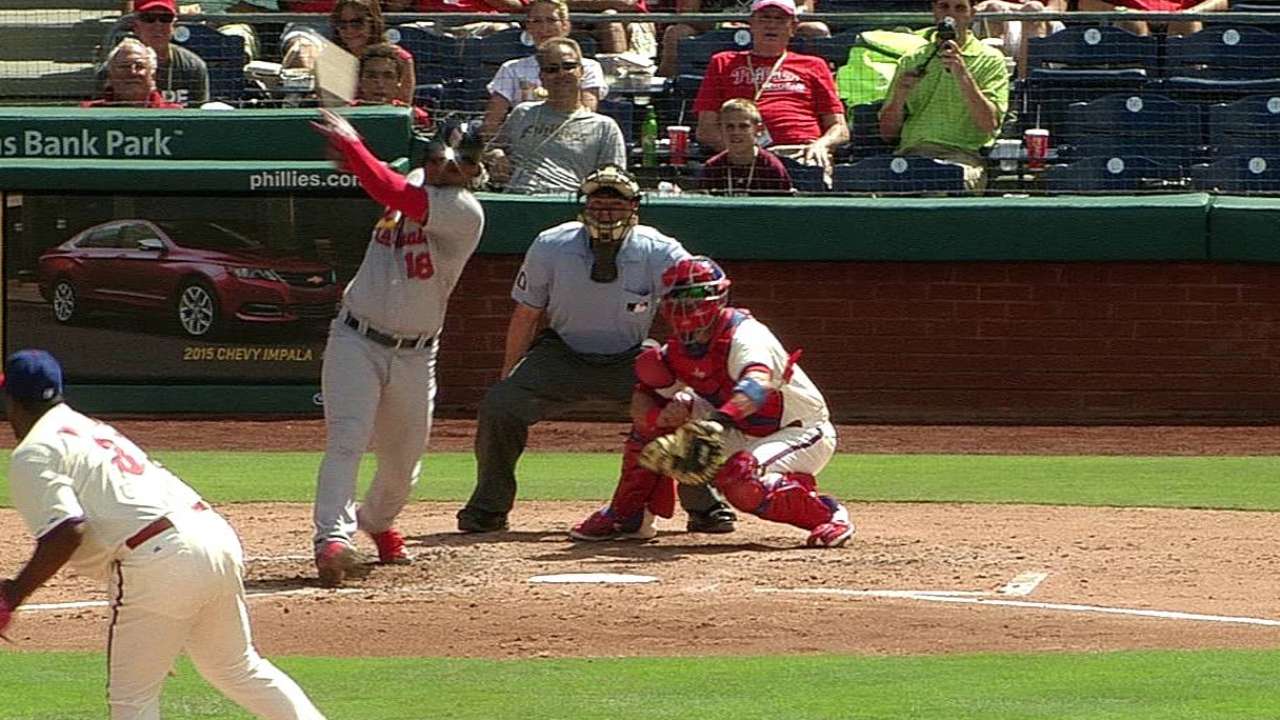 PHILADELPHIA -- Less than 11 hours after the Cardinals beat the Phillies by a run in a 12-inning affair that lasted 4 hours and 53 minutes, manager Mike Matheny joked that everyone hadn't arrived yet on Sunday morning.
"We have kind of committed as a team not to use excuses like that," Matheny said. "It happens all the time. You could be flying all through the night, there will be days you just don't get sleep. Actually, today we pushed the bus [arrival time] back, and we had a lot of life on the bench today. I didn't think anyone was dragging, but we are at the end of August and this is a push time."
Justin Masterson, however, lasted just three innings, during which he allowed five runs in a 7-1 loss to the Phillies at Citizens Bank Park. Masterson threw 67 pitches, 42 for strikes, and surrendered six hits as the Phillies (58-72) jumped to an early lead in support of starter Jerome Williams.
The Cardinals (70-59) entered the day with a chance to take over first place in the National League Central race, as they were just a half-game behind Milwaukee in the standings. This loss and Milwaukee's 4-3 win over Pittsburgh pushed the Cards back to 1 1/2 games behind the Brewers, while keeping the Pirates 3 1/2 behind the Redbirds. With San Francisco's 14-6 loss to Washington, the Cards held on to their two-game Wild Card lead.
"Energy has been good all year, and the guys come prepared," Matheny said. "I think you can sense we are getting closer to September. We can't help but watch what goes on throughout the league. They're ready."
"Coming over to a team, shoot, whomever you're with, you want to come out there and dominate on your day," Masterson said. "Give the boys a chance to win. It's tough when you don't get it done, and then it's tougher when you put on top of it you're trying to make a playoff run."
The afternoon started ominously as Masterson walked Ben Revere to lead off the first. A wild pitch moved the Phillies outfielder over a base and, after a strikeout, Revere scored on Chase Utley's single into right-center. Masterson got out of the inning, but the second and third provided more difficulty.
"It really was just my command [of my sinker]," said Masterson, who is now 2-2 with a 7.43 ERA since coming over in a deal with Cleveland at the Trade Deadline, having allowed four or more runs in four of his five starts. "The four-seamer got back. We were able to throw that for some strikes, I just didn't have a pitch to finish."
Domonic Brown led off the second with a single into left field. After a flyout, Cody Asche lined a single into the right-field gap that opened the door for Brown to take an extra base as he easily strolled into third. Williams put down a perfect safety squeeze that scored Brown and moved Asche up a base. Asche scored on a Revere single for a 3-0 lead.
A one-out walk to Ryan Howard set the stage for two more runs in the third as Grady Sizemore doubled to move Howard up to third. Howard then came in on Masterson's second wild pitch, and Sizemore scored on a Wil Nieves single down the right-field line for a 5-0 lead.
"He just didn't have command of the strike zone," Matheny said. "Then he went to some breaking balls, and the breaking balls were getting hit. It's just one of those days he didn't have a good feel.
"It's just continuing to work. There really is not another option. You can't just sit there and wait for it to correct itself. He's a worker. He's not happy with what he's seeing. He came into a good situation where he wanted to help us get better. He had the one outing where we saw what we can get. It just seems so close, and that's where the frustration comes in."
"It really is that fine line," Masterson concurred. "It's just a matter of inches. It's how the foot lands, how it gets down, and then you see good pitches out there."
On the other side, Williams had his third consecutive strong outing since joining the Phillies earlier this month. The 32-year-old journeyman worked out of a second-inning jam, striking out Masterson with two outs and runners on second and third. In the fourth, a leadoff double by Jhonny Peralta did cost him a run as the shortstop eventually scored on an Oscar Taveras single, but he got pinch-hitter Greg Garcia to strike out to end the threat.
"He was good," Matheny said. "He was using both sides. He was cutting. He was living on the edges. They needed that badly over there. He stepped up and pitched a good game."
Williams allowed just one hit over the next four innings as he went a full eight innings, allowing five hits overall, striking out five and walking three.
Michael Radano is a contributor to MLB.com. This story was not subject to the approval of Major League Baseball or its clubs.