McCann's three-run HR extends Yanks' streak
Hits pinch-hit, walk-off shot in 10th for club's fourth straight win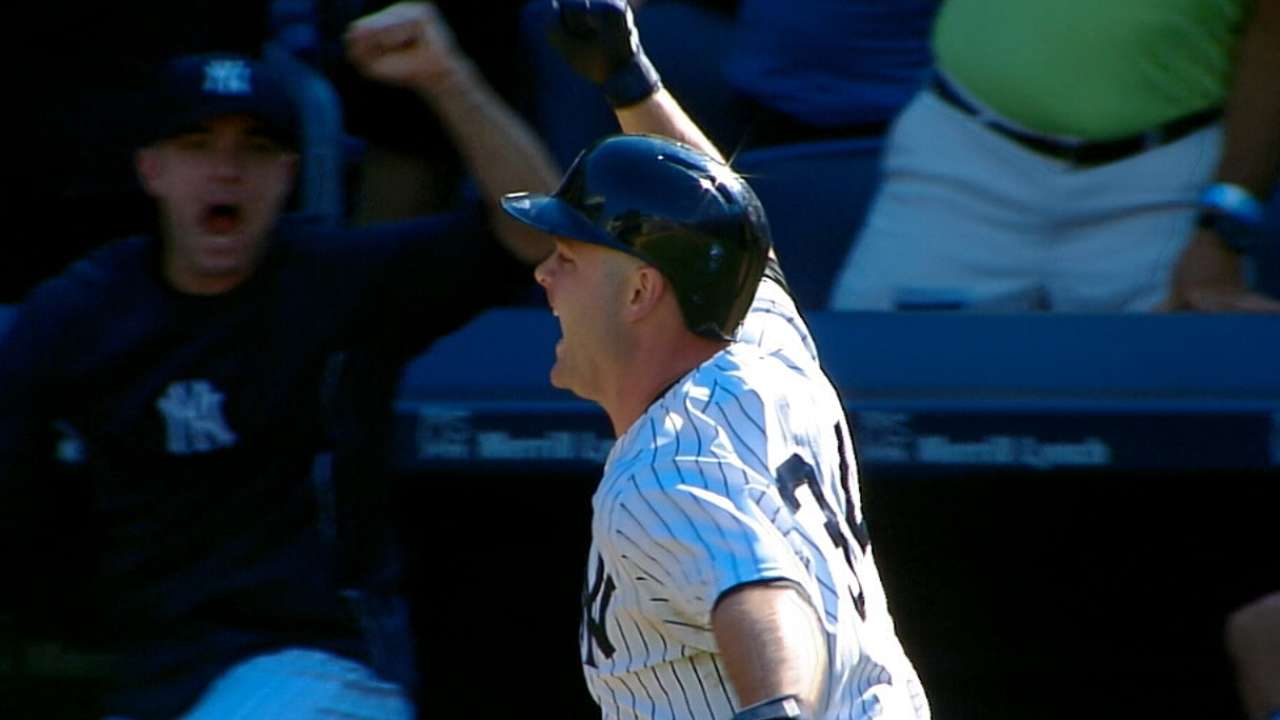 NEW YORK -- Pumping his right fist, Brian McCann screamed as he bounced off first base, tracking the flight of his deep drive into the right-field seats. He made three hard left turns and charged toward a waiting mob of celebrating teammates, having just watched the ink dry on his new Yankees signature moment.
McCann came off the bench to deliver a pinch-hit, three-run home run in the bottom of the 10th inning on Sunday, lifting the Yankees to a 7-4 victory over the White Sox. The winning rally keeps momentum on the Bombers' side as they prepare to embark on a crucial road trip.
"It was awesome," said McCann, who was doused with two icy showers while he spoke in front of the home dugout. "Pinch-hitting is not the easiest thing to do, so to lay off some tough pitches and get a pitch up in the zone, then not miss it with the game on the line -- it's really, really special."
The victory was the Yankees' fourth straight, sparked when Carlos Beltran laced a two-out double off Chicago's Jake Petricka. The White Sox intentionally walked Chase Headley and the Yankees sent up McCann, who worked the count full before slugging his 15th home run of the season and the sixth walk-off shot of his career.
"Walk-off home runs don't happen in your career every day," McCann said. "When you hit one, for me at least, I'm going to enjoy every minute of it."
The victory completed a three-game sweep of the White Sox, keeping the Yankees 3 1/2 games behind the Mariners for the second Wild Card spot. They gained on the Orioles in the American League East, where they now sit six back as they vault into a seven-game swing against the Royals, Tigers and Blue Jays.
"We're chasing teams and we need to win," manager Joe Girardi said. "I've said we need to win series, and when you don't win a series, you have to make up for it. We were able to have a 4-2 homestand, which is pretty good. We need to go and have a good road trip."
The Yankees used three relievers to guard a one-run lead into the ninth inning, but David Robertson's first pitch was smacked over the right-field wall by Avisail Garcia for a game-tying homer. Robertson had converted 22 consecutive save chances since June 5 before leaving the curveball up to Garcia.
"It's easier to shake that one off when you win, for sure," Robertson said. "It's frustrating because I really wanted to help us out in the game and keep some guys from having to go in, but it all worked out."
New York had a rally squelched in the ninth when Petricka got Derek Jeter to hit into an inning-ending double play. David Huff pitched a scoreless 10th to earn the victory, striking out Jose Abreu looking with two men on to get the Yankees back to the plate.
"It was big," Huff said. "I wasn't really worried about walking him, but I've got to stay aggressive too. Getting him out like that, it's big."
McCann said that the Yankees have felt like a different team since losing twice to the Astros last week, with Wednesday's closed-door hitters' meeting a potential turning point. McCann said that better at-bats have been visible up and down the order.
"We all came together as a team," McCann said. "[Hitting coach] Kevin Long had some things to say and we've responded really well."
The early part of the afternoon, much like the first two games of the homestand, didn't offer much promise for the Yankees until a dropped sixth-inning fly ball opened the door for four unearned runs.
Ichiro Suzuki's two-run single gave New York its first lead of the day, unraveling Chris Sale's dominant performance. The rally started when left fielder Dayan Viciedo dropped Martin Prado's fly ball.
Mark Teixeira capitalized with an RBI double and Sale seemed rattled, issuing a walk to Carlos Beltran. Sale plunked Zelous Wheeler with a two-out slider to force home the second run and Ichiro lashed the first pitch he saw into right field.
"Stuff like that happens," Sale said. "You have to find a way to get through that and unfortunately for myself and my team I was not able to."
It was the first RBI by a left-handed hitter off Sale since Aug. 17, 2013 -- the Twins' Joe Mauer -- according to the Elias Sports Bureau.
"Amazing," Ichiro said.
Yankees starter Chris Capuano had slammed his glove into the grass after permitting a two-run homer to Conor Gillaspie in the top half of the inning. With Sale dealing, limiting the Yanks to two hits over the first five innings, Capuano had reason to wonder if three runs would be a fatal blow.
Alexei Ramirez also homered off Capuano, who scattered six hits with no walks and five strikeouts but remained winless in six Yankees starts because of the blown save. All of Sale's runs were unearned, so his ERA dropped from 2.12 to an American League-best 2.03.
"At 1-0, you feel like you're still in the game, but down 3-0, that's tough," Capuano said. "So for our guys to come right back after I gave up that two-run homer and score was just great."
New York's middle relievers held the line; Esmil Rogers and Rich Hill combined to handle duties in the seventh inning, and Adam Warren took over in the eighth before Robertson's stumble. It was all set up for McCann, who struggled mightily until July, but could be authoring a much better ending to his first Yankees campaign.
"It was special. Rounding the bases, that was definitely a moment that I'll never forget," McCann said. "I've been able to do some cool things in the game and that ranks right up there at the top."
Bryan Hoch is a reporter for MLB.com. Follow him on Twitter @bryanhoch and read his MLBlog, Bombers Beat. This story was not subject to the approval of Major League Baseball or its clubs.