Oberholtzer keeps things close but Astros fall
Southpaw strikes out six over 6 2/3 innings of three-run ball in finale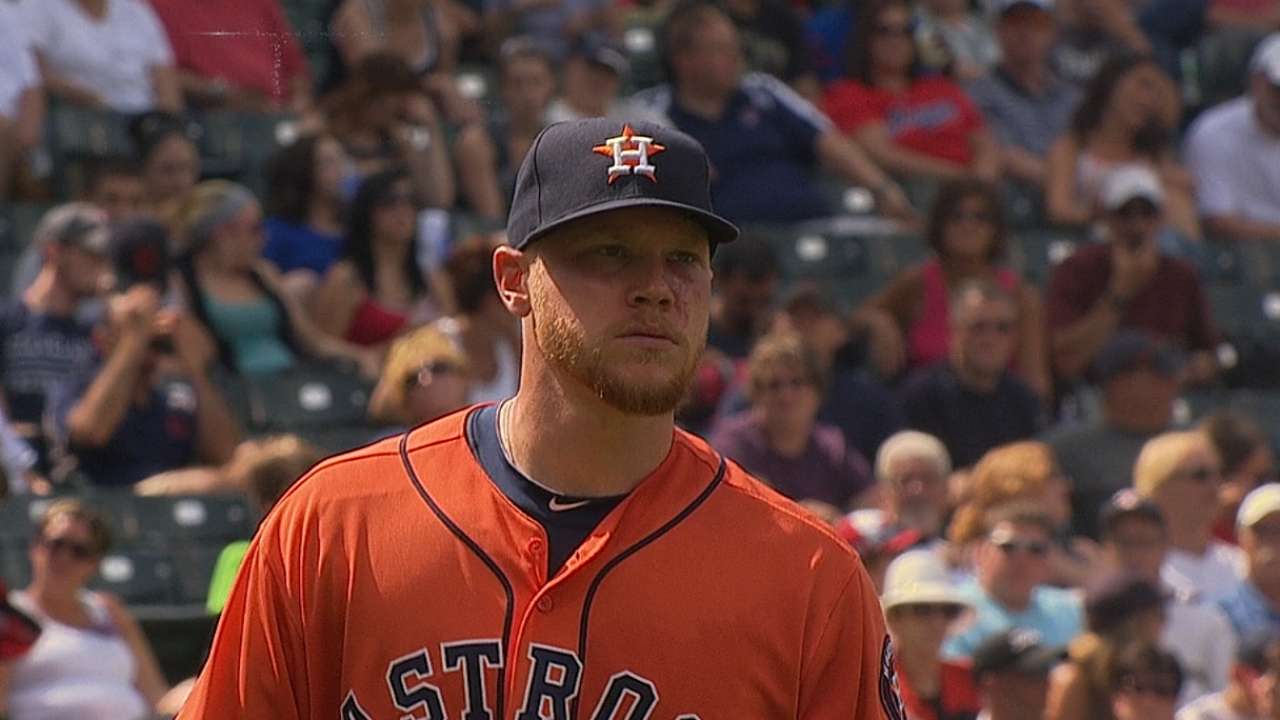 CLEVELAND -- Brett Oberholtzer continued his great stretch since being recalled from the Minors on July 12. But statistics aren't much of a consolation when they don't translate to wins.
The Astros' offense was held in check again on Sunday, as Houston dropped its rubber match against the Indians, 3-1, at Progressive Field to finish the 10-game road trip 5-5.
Despite giving up 10 hits, Oberholtzer only allowed three runs over his 6 2/3 innings, striking out six and walking none.
"I gotta do a better job of shutting the inning down, closing it out," Oberholtzer said. "They had a good approach and they were able to put the ball in play. I gave up a ... fair share of hits, but I was disappointed in myself in not closing innings out."
Over his last eight starts, though, the left-hander is 2-2 with a 3.23 ERA, striking out 31 and walking just six.
"Obie did a good job, he did a good job battling and had us right there in the ballgame," Astros manager Bo Porter said. "Again, this guy continues to take the ball and go to the mound and give us an opportunity to win."
As was the case all weekend against Cleveland's starters, the Astros' offense was left searching for its recent dominance at the plate. This time, it came against Trevor Bauer -- who struck out nine. Of course, the Indians' rotation as a whole has been doing that to opposing teams for a while now. It has a 1.71 ERA in Cleveland's last 13 games, dating back to Aug. 9.
"It's been unbelievable. It's just every day you run a new guy out there and have this feeling that he's going to post a really good start and we're going to win the game," Bauer said. "It's nice to have that confidence as a team every day, when you know that your guy is going to go out there and give you a chance to win and post the numbers we're putting up, right now. It's pretty special."
But that doesn't mean the Astros weren't without their chances to score against Bauer. Houston had runners on base in five of the first six innings against him, with Carlos Corporan walking to lead off the seventh to finally knock Bauer from the game.
"We expanded our zone a whole lot more than we wanted to coming into the game," Porter said. "I felt like we actually helped him out quite a bit with expanding our strike zone. Sometimes you get anxious and you don't see the ball as well as you want to see it. He thrives off guys expanding their zones and chasing."
Marc Krauss was especially unlucky at the plate, lining the ball twice to right field with a runner on base -- only to have Tyler Holt make two diving catches. But he finally broke through with a single in the eighth, then scored from first on Jon Singleton's double down the left-field line that beat the Indians' defensive shift.
In the ninth, the Astros had the bases loaded with two outs and Dexter Fowler at the plate. But Indians closer Cody Allen, who pitched in all three games in the series, struck him out to end the game.
The Astros' difficult road trip also included stops in Boston and New York. Yet, Houston was still able to emerge with a 5-5 record -- the third road trip this season in which the team finished .500 or better.
"I'm really proud of our group," Porter said. "These guys battled extremely hard, and to come out of this here road trip 5-5 -- with an opportunity we could have very well been 6-4 -- then you look at the way they battle the last half-inning there, those are some impressive, impressive at-bats in the ninth inning against a really tough closer.
"Now, let's go back home and get the bats [going again]."
The Indians got on the board in the third on Carlos Santana's sac fly to make it 1-0. Considering that Cleveland had runners on second and third with no outs in that inning, Oberholtzer did a good job of escaping greater damage.
Lonnie Chisenhall singled home Mike Aviles to make it 2-0 in the fourth and Jose Ramirez, who got the walk-off hit for the Indians on Saturday night, was 3-for-4 on the day and added an RBI single in the seventh to make it 3-0.
Steve DiMatteo is a contributor to MLB.com. This story was not subject to the approval of Major League Baseball or its clubs.