Mets come alive in eventful rout of Dodgers
Duda belts two of team's four HRs to back Colon; Wright, Murphy exit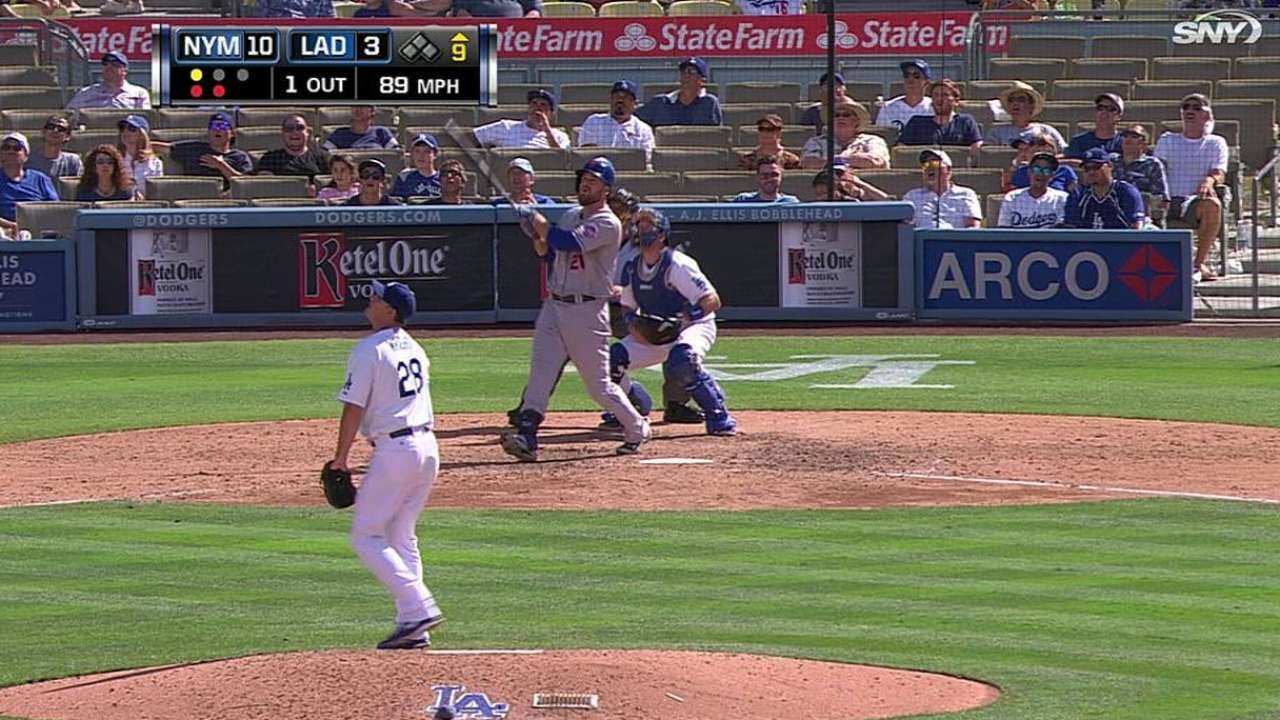 LOS ANGELES -- At the tail end of a West Coast swing that saw the Mets drift ever deeper into August's losing lethargy, Sunday's game at Dodger Stadium was almost a shock to the senses.
The Mets lost David Wright to injury, turned a triple play, piled up uncharacteristic gobs of offense and watched Bartolo Colon thrive in what might have been his last start with the team. They then bundled it all into an 11-3 undressing of the Dodgers, winning for just the second time in seven games -- but winning with aplomb.
Lucas Duda's three-run homer in the third inning -- his first of two home runs -- and Ruben Tejada's two-run shot highlighted the offensive onslaught, which included seven total runs off Dodgers starter Kevin Correia. Travis d'Arnaud opened the scoring in the second inning with a solo home run and Eric Young added an RBI triple.
"It seems like when good things happen for us," Mets second baseman Daniel Murphy said, "it's going through the Dude right now."
If the Dodgers had any designs on working their way back into the game, their triple play in the sixth inning squelched them. With runners on first and second and Colon still pitching, Matt Kemp hit a ground ball to third base, where Eric Campbell started what should have been a routine 5-4-3 double play. But Dodgers outfielder Yasiel Puig simply never stopped running, allowing Duda to cut him down at home for the Mets' first triple play in four years.
"That was right at the crucial moment because it was when I started feeling a little tired," Colon said through an interpreter. "That was the game right there."
The oddity indeed helped make a winner of Colon in his first start back from the bereavement list, and perhaps his last outing with the club. The Mets reportedly placed Colon on revocable waivers this weekend, increasing the possibility that they could trade him before next Sunday's waiver Trade Deadline. If nothing else, he has auditioned well for a deal; his six innings of two-run ball Sunday improved him to 4-2 with a 2.88 ERA over his last six starts.
"I don't really think about those kinds of things," Colon said. "Whatever the team and ownership want to do, that's their part. My part is to pitch."
Colon's situation is not the only uncertainty facing the Mets as they travel back to New York for a six-game homestand that begins Tuesday. Wright left Sunday's game in the third inning with muscle spasms in his neck, putting his own future status in doubt. And Murphy departed in the ninth inning with cramping in his right calf.
Both injuries are minor and should not cost either player much, if any, time. But combined, they served to underscore both the lineup's lack of depth and Duda's importance to it.
Entering this season, Duda spent most of his time fighting Ike Davis for playing time, after the Mets spent the entire winter trying unsuccessfully to trade Davis. They finally did so midway through April, dealing Davis to the Pirates and handing the starting first-base job to Duda.
Faced with unrestrained playing time, Duda initially struggled. But he quickly developed into a passable offensive first baseman, then an adequate one, then even a good one.
Now, he has taken his place as one of the foremost sluggers in the National League. Duda has five homers in his last six games and 26 on the season, ranking third in the NL in that category. The Mets may be playing out the string in another lost season -- in losing three of five on their West Coast trip, they fell eight games out of a Wild Card berth with five weeks to go -- but would be in far worse shape if not for Duda.
"I'm just glad to contribute any way I could," Duda said in his typical understatement, leaving the more colorful adjectives for others to utter.
"Lucas Duda continues to have a ridiculous second half," Wright said, "and guys got on base in front of him for him to drive in. We were able to score early and add on late."
Anthony DiComo is a reporter for MLB.com. Follow him on Twitter @AnthonyDicomo. This story was not subject to the approval of Major League Baseball or its clubs.