Dodgers downed after Correia unravels early
Righty allows three homers; Mets turn 5-4-3-2 triple play in sixth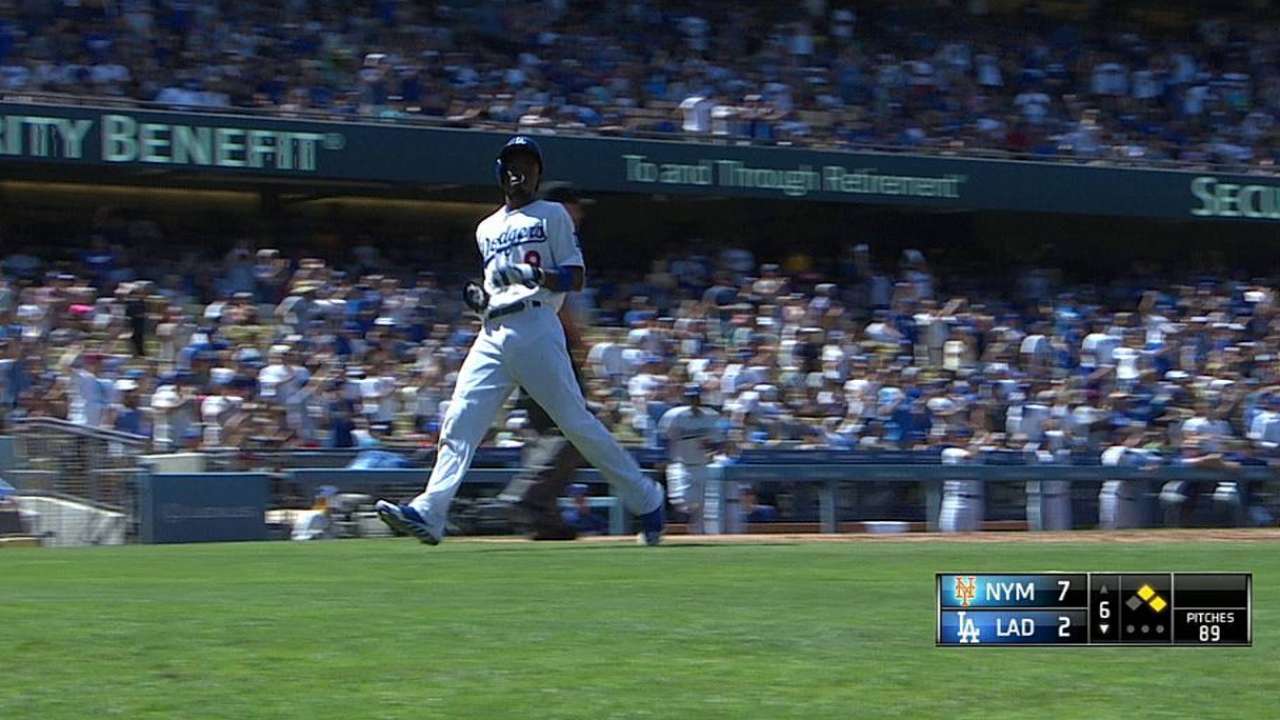 LOS ANGELES -- Kevin Correia felt rejuvenated. He felt as though, with the end of the year nearing, he was at his best, ready to raise his level of play with the heightened pennant-race stakes.
Before Sunday's 11-3 drubbing by the Mets, before he allowed three home runs and before he lasted just three innings, Correia took the Dodger Stadium mound -- on his 34th birthday, no less -- thinking he had great stuff. With a possible move to the bullpen looming, he thought his third start with the Dodgers could wind up as his very best.
He needed it to be.
"It was one of those rare days where you really thought you were going to have a good outing," Correia said, visibly frustrated after the game.
"And it didn't work out at all."
With a win, the Dodgers would have swept the Mets. They would have gained another game on the second-place Giants, who lost to the Nationals, in the National League West. Instead, the Dodgers maintained their 4 1/2-game lead.
For Correia, an 0-1 two-seam fastball didn't sink, didn't run, didn't do anything but find Travis d'Arnaurd's barrel in the second inning. It sailed over the center-field fence and erased an early 1-0 Dodgers lead. Tie game.
The next inning, two batters on, the Mets up, 2-1, another 0-1 count, Correia started his cutter exactly where he wanted it to, and he waited for it to cut in on the hands of Lucas Duda. It didn't cut in the slightest. Instead, it found itself in the right-field bleachers.
Three batters later, thanks to a two-out error by Adrian Gonzalez at first, shortstop Ruben Tejada had a crack at Correia, and he took him yard, too, to left-center field. Suddenly, a day that had once looked promising was over. Correia lasted just three innings, allowed seven hits and seven runs (five earned) in his second-shortest outing of the year.
"I've been around long enough to have a couple of outings like this, but I've been pretty good at staying away from the home run this year," Correia said. "You know usually it's a situation where they're looking for the pitch you throw, and you don't throw a great one.
"I think they guessed right, and I missed at the wrong times."
It was a game in which manager Don Mattingly said the Dodgers shot themselves in the foot on multiple occasions -- too many times. Pitching put the team in a large hole early, and the offense -- despite the return of shortstop Hanley Ramirez from the disabled list -- managed just two runs in six innings against a strong Bartolo Colon.
The team's greatest chance to claw back came in the bottom of the sixth. Dee Gordon led off the inning with a single, and after a Yasiel Puig walk, he scored on a base knock by Gonzalez.
But then, with an aggressive Puig trying to score from second base, Matt Kemp grounded into a 5-4-3-2 triple play, with Mets first baseman Duda whirling and throwing home to nab Puig. It was the Mets' first triple play since May 19, 2010, and it was the second time the Dodgers have had a triple play turned against them the season. The first came July 1 against Cleveland, and it also involved a baserunning gaffe by Puig.
"It's just the wrong play. It's what we talked to him about. We always go back to, on those types of plays, you play the scoreboard," Mattingly said. "The disappointing thing is I think that's the second time almost that same exact play happened, and you would hope that, you know, you want guys to learn from their mistakes, and get better."
That kind of disappointment was commonplace Sunday. It was the kind of game where little seemed to go right for the Dodgers, and everything did for the opposition.
"These games seem like they come every three or four weeks when you have kind of that clunker game," catcher A.J. Ellis said. "And those are the ones you try to dust off real quick."
With an off-day Monday, the Dodgers will have that opportunity. But it won't be easy for Correia. With Hyun-Jin Ryu eligible to come off the disabled list Friday, Correia could have made his last start for the Dodgers on Sunday. The plan was for him to pitch out of the bullpen before Ryu got hurt, and Mattingly said that's still the plan when Ryu returns.
Correia was well aware of those circumstances heading into the game, and he thought he might've been able to give the Dodgers something to think about. But his two-seamer didn't sink, his cutter didn't cut, and his day didn't turn out the way he had hoped it would.
"This one's going to bother me for a while just because of the situation I'm in," Correia said. "I really wanted to have a good game today, and I wanted to come out there and win the game today.
"This one hurts more than I can remember in quite a while."
Michael Lananna is an associate reporter for MLB.com. This story was not subject to the approval of Major League Baseball or its clubs.