Angels edged late to fall into first-place tie
Wilson duels with Lester before Smith's costly wild pitch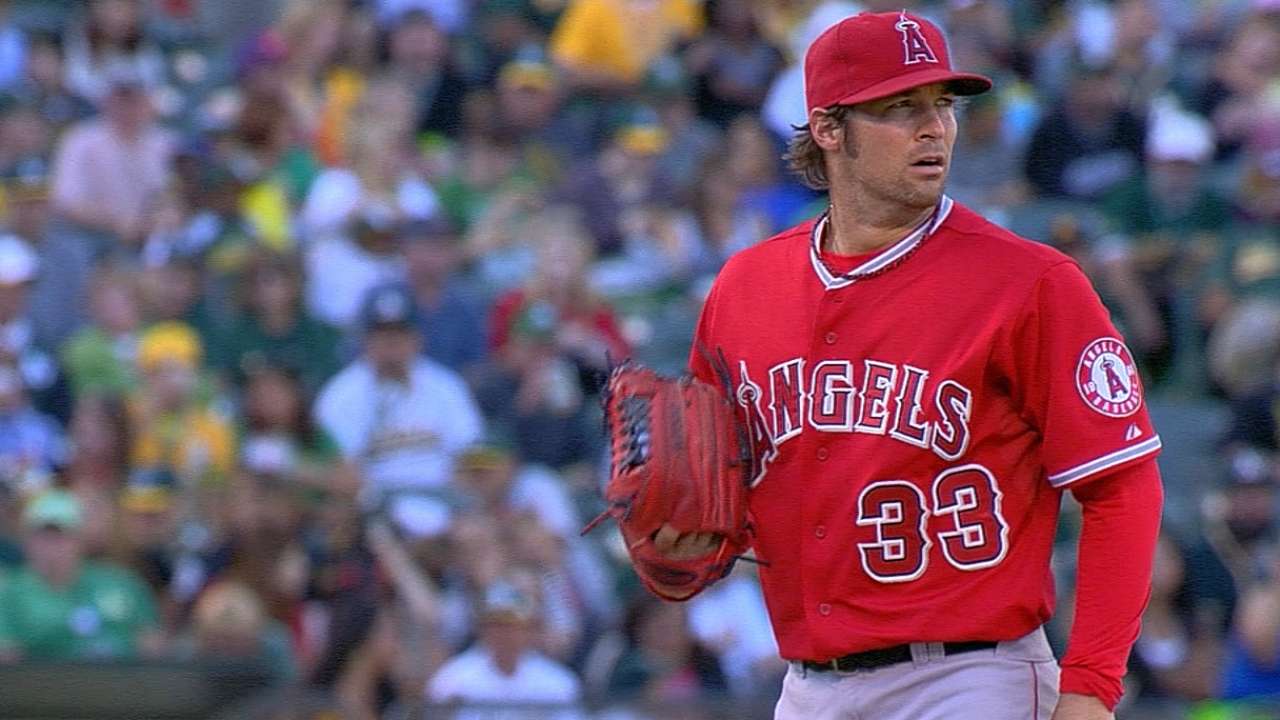 OAKLAND -- Joe Smith has made a career out of his ability to locate a fastball down in the strike zone, a pitch that comes from an exaggerated sidearm angle, has led to one of the best ground-ball rates in the Majors and has kept his ERA below 3.00 every season since 2011.
But on Saturday night -- with the game tied, a runner on third and a tight division race in the background -- that skill abandoned him.
Smith's fastball sailed high with two outs in the bottom of the eighth, ricocheting off catcher Chris Iannetta's glove and easily allowing Coco Crisp to score the go-ahead run in the Angels' 2-1 loss to the A's.
"Fastball up and away," a miffed Smith said. "I threw it too high and it went to the backstop."
Entering the much-hyped weekend series, the Angels had won eight of nine and the A's had dropped six of seven. But the Angels have lost the first two, missing a premium opportunity to take control of their division while moving to 0-5 at O.co Coliseum this season. And now the American League West is tied at the top once again.
It'll probably come down to the very end.
"They're not going to roll over," Angels starter C.J. Wilson said after giving up just one run in 6 1/3 innings, keeping his team in the game against an even more dominant Jon Lester.
"When you have a tight race, it's always going to come down to the wire, for sure," center fielder Mike Trout said after an 0-for-4 night that included three strikeouts. "But we still have a month left. There's still a lot of baseball to be played."
The Angels are now 19-15 since the All-Star break, and 28 of their 34 games have been decided by one or two runs.
In the opener against the A's, it was decided on the two runs Jason Grilli gave up in the sixth and the game-ending strikeout of Iannetta with the potential tying run in scoring position. In the second of three this weekend -- and seven over a 10-day stretch -- it was decided on one Smith fastball that got away.
Crisp hit a leadoff single up the middle, then advanced two bases on a couple of groundouts. The next pitch by Smith plunked Derek Norris, putting runners on the corners. Then, Smith's 2-1 fastball got away and accounted for only his second wild pitch and 15th earned run this season.
"That's huge for us to be able to capitalize like that late in the game, to be able to nail it down, take the second game of the series," A's closer Sean Doolittle said after recording his 20th save of the season. "It's a big win for us."
Smith's ERA at O.co Coliseum is now 21.60. Everywhere else, it's 1.63.
In many ways, his Angels have mirrored that.
"We have to figure out a way to win," Smith said. "We are still in good position; we have a lot of games with these guys left. We'll be all right. We just have to beat them here a couple times, starting with tomorrow, and then take care of them at our place."
A troublesome area continues to be the offense, which averaged just over five runs per game in the first half and has averaged only 3.5 ever since.
A recent positive, however, is Wilson.
The 33-year-old left-hander struggled mightily from June 24 to Aug. 7, posting an 11.03 ERA over a six-start stretch that included a stint on the disabled list. But he's given up just four runs in his last 18 1/3 innings, dropping his ERA from 4.82 to 4.45 in the process.
The Angels will need plenty more of that, now that Garrett Richards is lost for the season.
"We need what you saw tonight," Angels manager Mike Scioscia said. "Obviously those guys had some opportunities, and [Wilson] pitched out of trouble. That's a terrific start for C.J. Hopefully he'll continue to do that and give us good starts and opportunities to win games. And when the offense matches it, we will win games."
Alden Gonzalez is a reporter for MLB.com. Read his blog, Gonzo and "The Show", and follow him on Twitter @Alden_Gonzalez. This story was not subject to the approval of Major League Baseball or its clubs.