Phillies can't avoid miscues in extra-innings loss
Cardinals prevail in 12 frames as Philadelphia's errors prove costly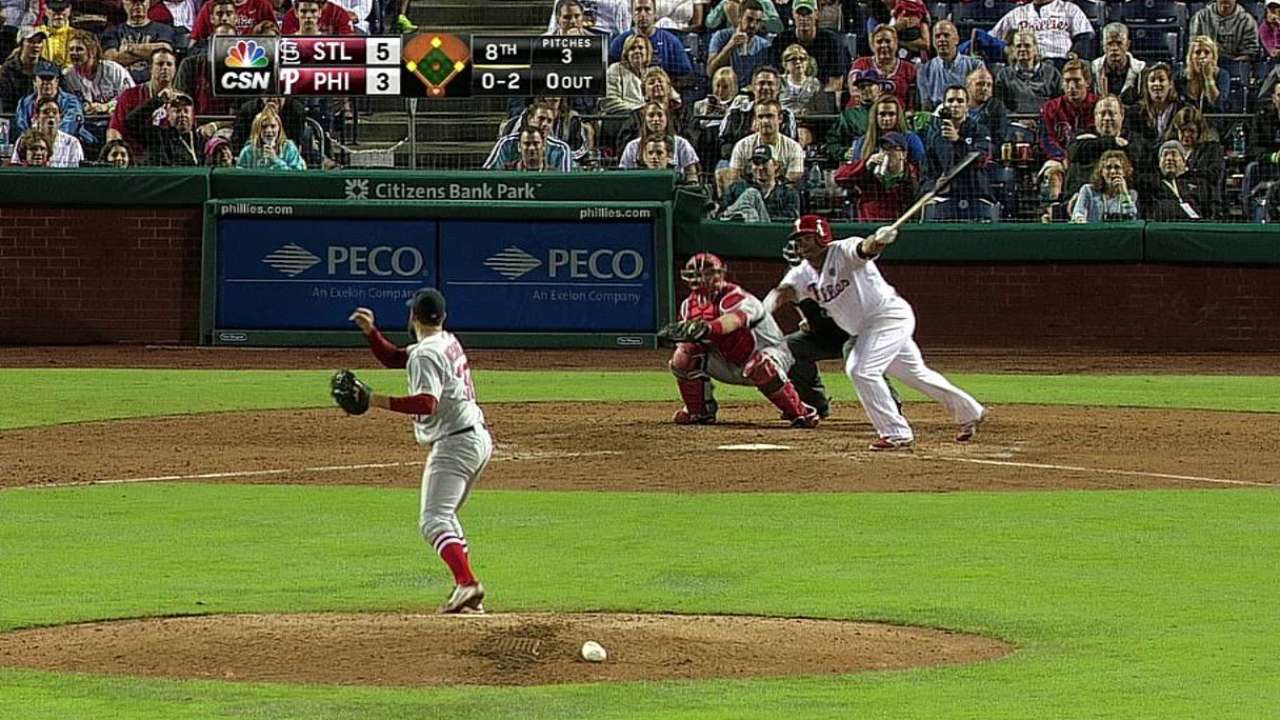 PHILADELPHIA -- There are just five weeks of baseball left in the 2014 season, but the Phillies are still struggling in an area that was highly stressed by manager Ryne Sandberg during Spring Training.
Poor execution of the fundamentals burned the Phillies early on Saturday night against the Cardinals at Citizens Bank Park, and Matt Carpenter's sacrifice fly off Ken Giles in the 12th doomed them late in their 6-5 loss.
Marlon Byrd delivered the game-tying hit in the eighth to send it to extras, but miscues from earlier came back to haunt Philly. A three-run sixth inning born out of two physical errors and a couple of mental ones quickly put a damper on what was another firm display of growth by rookie starter David Buchanan.
Buchanan didn't have his best stuff, and his demeanor on the mound revealed his frustration.
There was a lot of roaming on the hill, a lot of mound meetings and a lot of baserunners. But the end result -- two earned runs in five innings pitched -- spoke volumes about the strides the 25-year-old right-hander has made in his first Major League season.
Buchanan put 10 runners on base (eight hits, two walks) but limited the damage and kept the Phillies even with St. Louis through the first five frames.
He even had a chance to leave with a lead. But in the fifth inning, Ryan Howard bobbled a sure double-play grounder and settled for a single out. A groundout on the next play allowed the Cardinals' second run to score.
Buchanan was on pace to pick up his sixth consecutive quality start, but was pulled after just five innings and 90 pitches.
"That caught me off guard, honestly," Buchanan said. "I didn't expect that. I wasn't too happy about it. But I can't control that. I just do what I'm told. And I go for as long as I can. Unfortunately, that was only five innings tonight."
That's when the Cardinals pounced. Mario Hollands relieved Buchanan in the sixth and surrendered a double to A.J. Pierzynski on his third pitch. Oscar Taveras then lined a ball that Domonic Brown pulled up on in left field, and Brown proceeded to throw it past Cody Asche at third to allow another run to score and Taveras to reach third.
"It definitely wasn't a ball that I think I could have got to. But I should have charged it better than that," Brown said. "I knew it was a wet ground, I didn't know if the ball was going to shoot right or left there, so I was just trying to keep it in front. He took the extra base on me, I short-hopped Cody Asche and they ended up scoring a run, so it was a big play, for sure.
"Usually if a play like that happens, I'm going to, you know, be taken out, but that's a part of the game."
Byrd has been a fixture in right field, Ben Revere's run at a batting title has rendered him a mainstay in center field, and Howard is playing daily at first. That has left Brown, Grady Sizemore and Darin Ruf to split time in left.
"I mean, I'm not out there every day, so it's kind of tough coming off the bench," Brown said. "I'm doing the best I can out there. I'm trying to catch every ball, and if I can't catch it, it's gonna fall. But I'm definitely going out there and playing as hard as possible.
"Ryno's doing the best job that he can with the outfielders that we have, just getting us all playing time right now."
After Jon Jay drew a walk, the next play was another showcase of the Phillies' unsound fundamentals. Cardinals starter Shelby Miller laid down a bunt that looked to be trickling foul. Asche charged it, scooped it and threw it away. Two runs crossed home to make it 5-2.
"Yeah, that's a judgment on him," Sandberg said. "The best scenario probably that ball goes foul and make him bunt it again.
"Some of that is experience, no question about it. Game situation, reading the ball like that. That was a tough play."
For the Phillies, Byrd and Brown reached on consecutive singles with one out in the fourth, and Carlos Ruiz brought them both home on a double that split the gap in right field. They scored their third run on a solo shot by Howard, his 19th homer of the year and first off a right-handed pitcher since he hit one off Miller on June 19. And Byrd's two-RBI double in the eighth moved him into sixth in the NL with 75.
That should have been enough offense to spell a Phillies win, but the unearned runs provided the Cardinals enough cushion to survive the Phillies' late rally, prolong the game and win it in extras.
After the loss, Sandberg was asked by a reporter if the mental mistakes have anything to do with the amount of effort given.
"No, I don't question effort with the guys," Sandberg said.
Erik Bacharach is an associate reporter for MLB.com. This story was not subject to the approval of Major League Baseball or its clubs.