A's pounce on wild pitch to grab share of first
Lester turns in seven strong innings; Doolittle records 20th save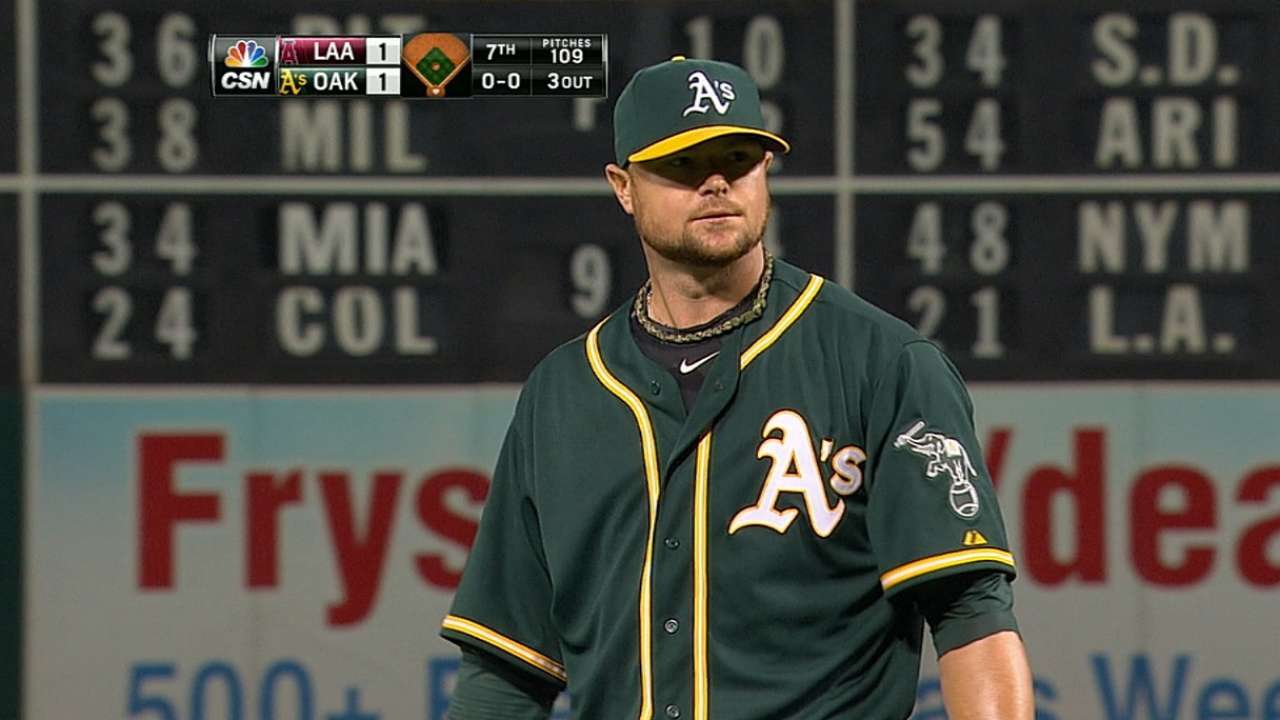 OAKLAND -- The Wild Wild West was plenty wild Saturday, and the fun has only just begun, for the A's and Angels will enter Sunday's series finale deadlocked for first place in the game's best division.
That the A's even have a chance to exit the weekend with a three-game sweep of the Halos and sole possession of the American League West lead is significant, given their recent struggles. But those are becoming a thing of the past following their second straight win Saturday, a 2-1 decision in front of a sold-out Coliseum crowd.
"I think that's the biggest thing," said Sean Doolittle. "We can't get caught up in the standings or the playoff picture. We have to get back to playing for the day, and I think we did a good job of that today, not coming in too high off of last night's win and getting right back down to business and winning a hard-fought ballgame. That's going to be key for us tomorrow. As corny and cliché as that sounds, that's what we're going to have to do. Obviously we have that big-picture goal, but we have to take it step by step in order to accomplish anything."
It was easily the A's biggest game of the year, guaranteeing they exit the weekend no worse than a game back of first place, following an ugly 2-8 stretch that resulted in a two-game division deficit amid the Angels' 8-1 surge.
And the two teams still have two more series together on the schedule.
"We knew kind of where we were at coming into last night, but that being said, we've just got to worry about playing good baseball," said Jon Lester, "and not worry about who's on the other side, just continue to grind out at-bats and grind out pitches and play good defense, and see where we're at in the end. Past two nights have been good."
Lester was better than good, allowing just one run in seven innings in his fifth start in green and gold, while masterfully mixing his pitches -- 109 total.
But it was one wild pitch thrown by Angels reliever Joe Smith with two outs in the eighth inning that decided this one.
Smith allowed a leadoff base hit to Coco Crisp, who advanced to third on back-to-back groundouts. Smith then hit Derek Norris with a pitch, bringing pinch-hitter Brandon Moss to the plate. Moss popped out, but not before Smith unleashed the wild pitch that easily allowed Crisp to score.
"Fastball up and away," said Smith, who has a 21.60 ERA in Oakland this year. "I threw it too high and it went to the backstop."
"At this point in the season, when you've got two teams that have been playing so well all year long, you almost know it's going to come down to something late in the game," said Doolittle. "Tonight was a wild pitch. That's what you expect when you play the Angels -- close games, hard-fought games. It's a matter of which team can step up late in the game."
Luke Gregerson was superb in a scoreless eighth, and Doolittle pitched the ninth to lock down his 20th save. The lefty also experienced a cramp-like pain in his right side in the outing but was already feeling better after the game and didn't express much concern over the potential injury.
That's good news for the A's, who can't afford any kind of loss right now -- player or game.
They did lose a potential sixth-inning run off C.J. Wilson when Josh Donaldson was called out on a close play at the plate running from first to home on a Norris double. A replay review upheld the ruling, and the Angels tied the game in the next frame on Erick Aybar's RBI knock off Lester.
But that's all they would get off the southpaw, who simply continued to solidify his big-game reputation in the seven-strikeout performance.
Lester was not afforded the win, but his efforts, which included seven strikeouts next to just one walk, yet again guided one. The A's are 4-1 in his starts.
"No matter what type of expectation, or anything else that people put on me, I'm sure it's not going to be as high as what I put on myself," said Lester. "I expect myself to go out there every time and throw nine shutout."
"He's been terrific," said manager Bob Melvin. "Really felt like he was in complete control the whole way. He expects to pitch in the form like he did tonight."
Jane Lee is a reporter for MLB.com. This story was not subject to the approval of Major League Baseball or its clubs.