Marlins strand 15, miss chance to topple Rockies
Miami goes up in ninth, but Cishek blows save, Dyson allows winner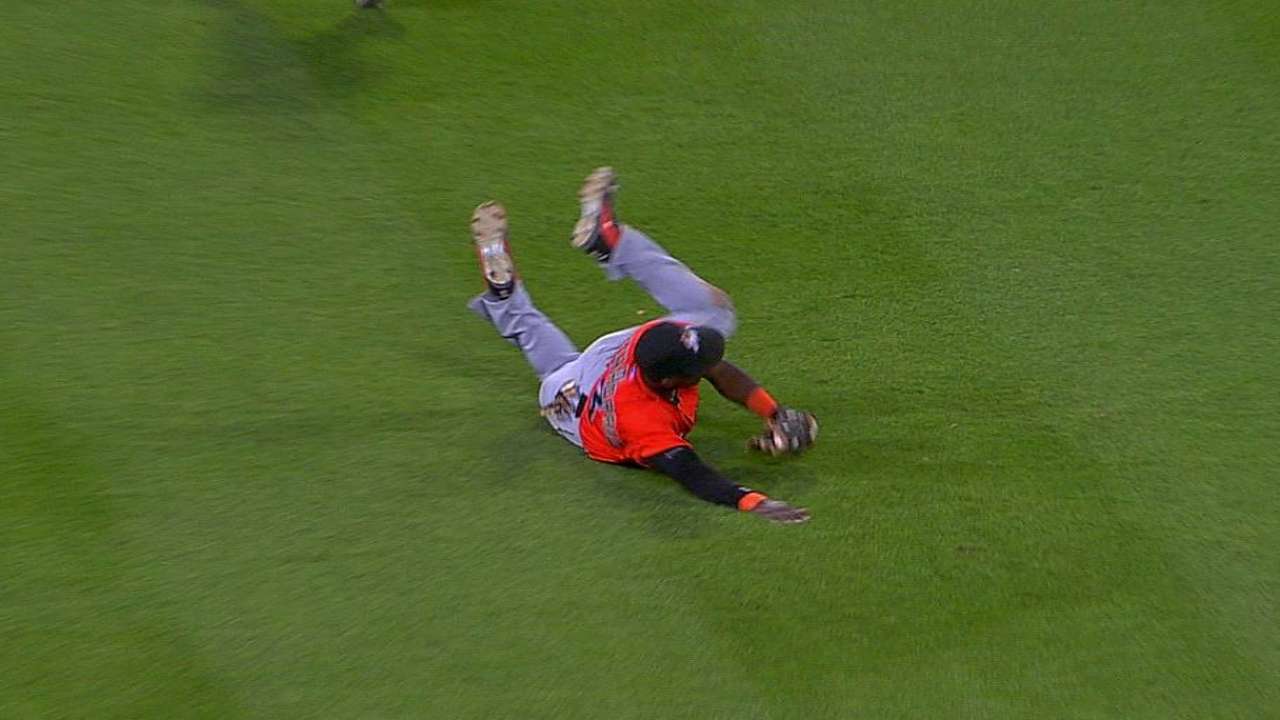 DENVER -- Following Friday's offensive flash in the pan, the Marlins had seemingly found a way to win by resuming their scrappy run-producing ways.
But with one towering solo shot to the third deck of right field, Corey Dickerson neutralized the Marlins' two-out, ninth-inning rally. And in the 13th, Dickerson again made Miami pay for a night's worth of missed opportunities by securing a 5-4 victory with his go-ahead single.
One day after erupting for 13 runs, the Marlins went 2-for-13 with runners in scoring position, stranding 15, to fall back to .500.
"We left a ton of guys on base," manager Mike Redmond said. "In one-run games in this ballpark, that's tough. You can put a big number up quick and in one swing. But we had chances. We had a lot of chances."
Nolan Arenado led off the 13th with a double off right-hander Sam Dyson to set up Dickerson's second round of heroics. And after Dickerson snuck a ground ball up the first-base side, Arenado just beat out Giancarlo Stanton's cannon throw to score the game-winner.
"I knew [third-base coach Stu Cole] was going to send him, being the 13th inning," said Dickerson. "It was the right decision, even though Stanton has a great arm. He made a good throw, and luckily Nolan beat it."
Four innings earlier, LaTroy Hawkins sat down the Marlins' first two batters of the ninth easily enough before Marcell Ozuna and Jarrod Saltalamacchia put runners on the corners with back-to-back singles. Then, in a far cry from Friday's high-flying ways, Adeiny Hechavarria got the job done by deflecting a slow chopper up the middle off Hawkins' glove.
On to close out what would have been the Marlins' Major-League leading 33rd one-run victory, right-hander Steve Cishek served up the no-doubter to Dickerson, erasing Miami's ninth-inning, small-ball rally.
"I've done it a couple of times in BP," Dickerson said after hitting only the 33rd third-deck homer in Coors Field history. "We joke around and they tell me, 'Do it in a game.' I got a good pitch and put a good swing on it. It was pretty awesome that it went that far."
Down 3-1 in the count, Cishek lamented the pitch he threw to Dickerson, whom he called "an all-or-nothing hitter."
"I left a big pitch to hit to a pure fastball hitter, and he got all of it," Cishek said after his fourth blown save of the season. "I'm not one to make excuses. The bottom line is I didn't make my pitches."
The Rockies got to Tom Koehler for all three runs he'd surrender in the third. After allowing back-to-back singles to start the inning, Koehler coaxed Rockies starter Jordan Lyles into a run-scoring double play to seemingly dodge any serious damage.
But in the span of six pitches, Koehler would serve up a double to Charlie Blackmon and a homer to Brandon Barnes for the Rockies' only extra-base hits of the evening before Dickerson's game-tying blast. Outside of that, Koehler hardly broke a sweat, scattering eight hits with four strikeouts and no walks.
"I got beat today by the definition of a bloop and a blast," Koehler said.
Stanton's double in the top of third brought home Christian Yelich and put the Marlins on the board first.
After Donovan Solano became the third Marlin in the past two days to bring home a run with a bases-loaded walk, Stanton was given a chance to add to his Coors Field legend in the fourth. But with the bases still loaded and two outs, Lyles rung him up with a slider to end the threat -- the first of three times Stanton would strike out to end the inning in a go-ahead opportunity.
A free pass came back to bite the Rockies again in the fifth after Saltalamacchia's double brought home Ozuna to tie the game at 3 following his two-out walk.
Cody Ulm is an associate reporter for MLB.com. This story was not subject to the approval of Major League Baseball or its clubs.