Reds end skid at seven behind strong Leake
Righty throws 6 2/3 scoreless innings, scores run on Phillips' single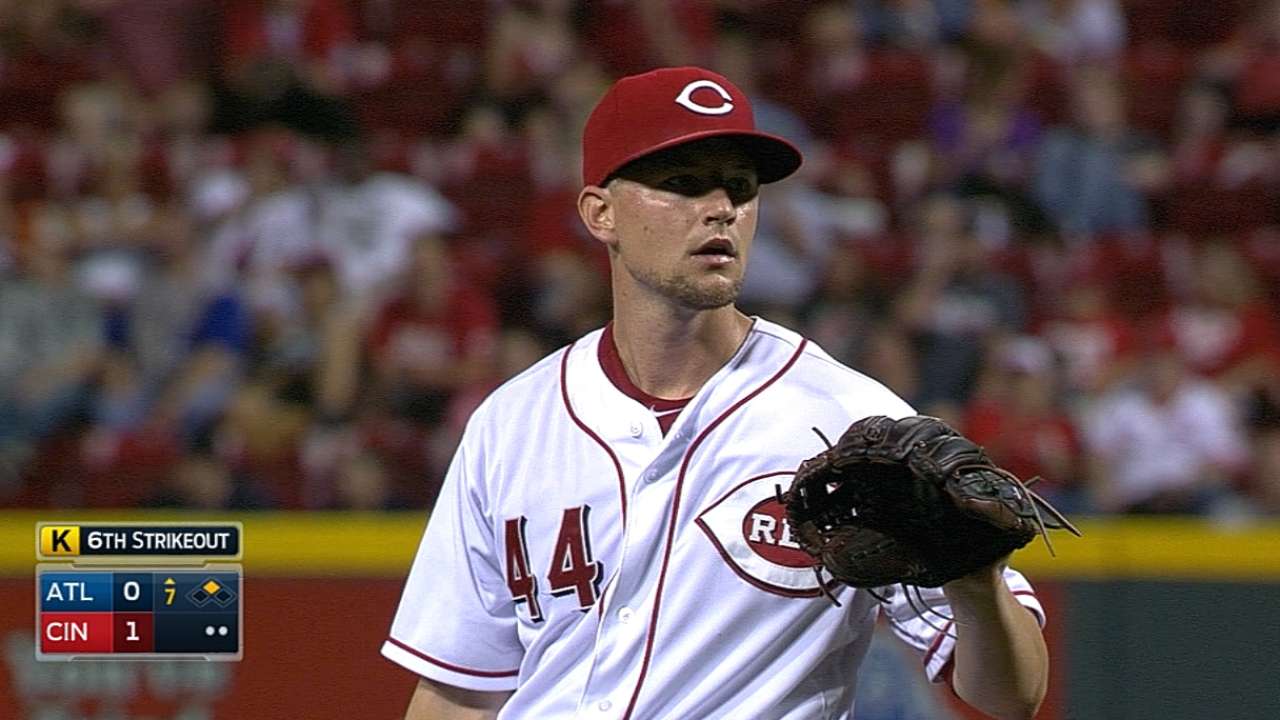 CINCINNATI -- Finally, after more than a week, Reds manager Bryan Price could exhale.
"I kept trying to remind myself to breathe," Price said Saturday night after Cincinnati snapped a seven-game losing streak by outlasting Atlanta, 1-0, at Great American Ball Park. "Our last win was on [Aug. 15]. And it was not just the seven losses, it was the fashion in which we did it -- the gut-wrenching losses.
"But tonight we pitched well, we defended well and we got timely hitting. It was good to see."
It was especially good for the Reds to see right-hander Mike Leake (10-11) work 6 2/3 shutout innings and score the game's only run. Leake had only three wins in his previous 10 starts and had given up nine earned runs over 12 innings during his two most recent outings.
Leake wasn't available for comment after the game, but he was the player everyone was talking about.
"He was unbelievable," Reds catcher Brayan Pena said.
"He had A-grade stuff," Price said.
"He was actually throwing a lot of fastballs," Atlanta left fielder Justin Upton said. "He threw a lot of two-seamers and cutters and mixed in his slider. He kept the ball down and was getting some calls down. That gave him some confidence throwing the ball down in the zone, and he just located really well."
Atlanta's Emilio Bonifacio led off the game with a single through the right side, but Leake retired 17 of the next 18, striking out the side in the fifth inning. During the seventh inning, however, the Braves appeared ready to ruin Leake's evening and extend Cincinnati's losing streak.
Andrelton Simmons led off with a double. Leake struck out the next two batters, then issued two walks. Price, with Leake having thrown 110 pitches, summoned Jumbo Diaz from the bullpen.
"[Leake] said, 'I can get [Tommy La Stella] out, but I'd be lying if I said I wasn't running out of gas a little bit,'" Price said. "I appreciated his honesty. I would have hated for him to say it after a two-run single."
Cincinnati shortstop Zack Cozart was able to hang tough on La Stella's laser-beam ground ball and complete the forceout, extinguishing the threat.
"I wasn't trying to catch it; I was trying to body it up," Cozart said. "I figured if I knocked it down I could still get it to [second baseman Brandon Phillips] on time."
Jonathan Broxton worked a scoreless eighth and Aroldis Chapman struck out the side in the ninth for his 27th save.
The start of the game was delayed 1 hour, 56 minutes by rain. When play finally did begin, however, it moved quickly. Leake and Braves right-hander Ervin Santana (13-7) matched zeros until the Reds finally broke through in the sixth.
Leake led off the inning with a first-pitch double down the left-field line and was sacrificed to third by Billy Hamilton. Leake's 67 career hits since his 2010 debut are the most of any Major League pitcher.
Phillips worked the count full with two outs, fouled off a pitch, then drove an RBI single into the gap in left-center to give the Reds a 1-0 lead.
Santana allowed one hit through the first five innings, a Jack Hannahan single.
"Our pitching was outstanding and their pitching was a little better," Atlanta manager Fredi Gonzalez said.
The Reds had lost 10 of 11 before Saturday's win. Cincinnati avoided falling eight games under .500 for the first time since 2009.
"We really needed that, especially against the Braves, a team playing pretty good baseball," Pena said.
Andy Call is a contributor to MLB.com. This story was not subject to the approval of Major League Baseball or its clubs.