Tepesch can't hold down first-place Royals
Righty allows six runs in 6 1/3 innings; bats quiet after Choo's HR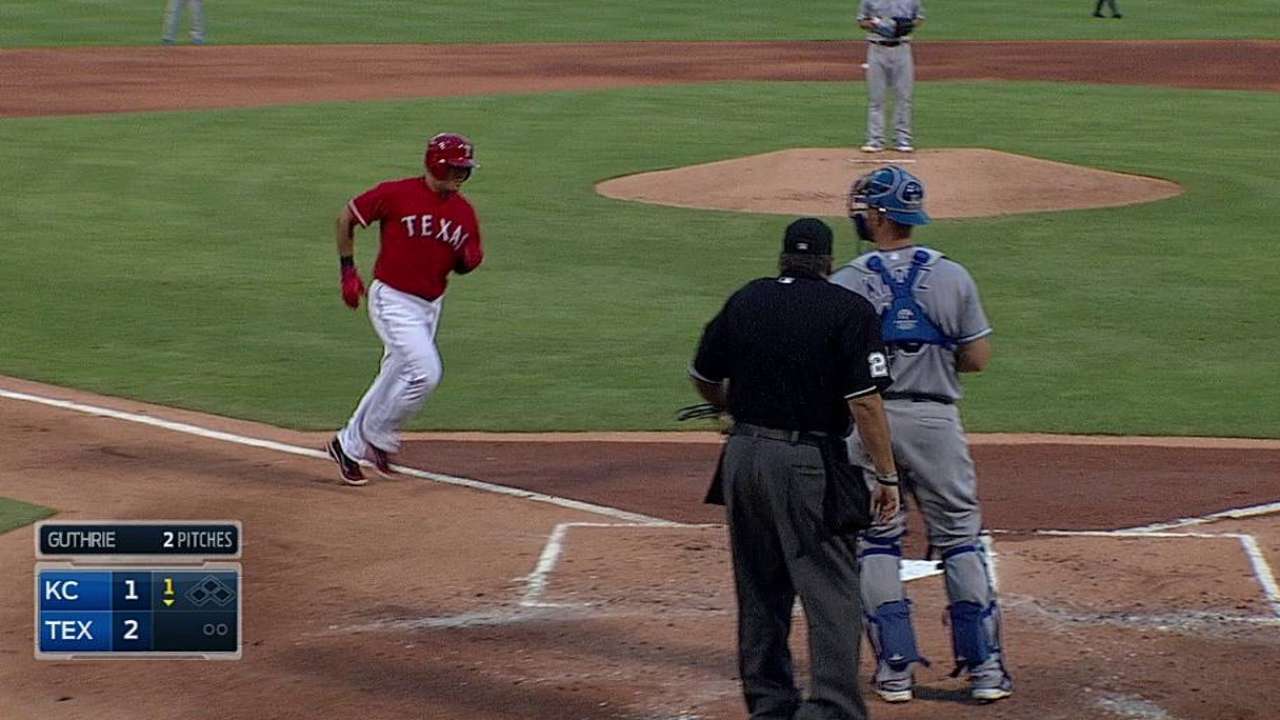 ARLINGTON -- For the first time in a month, Nick Tepesch struggled on the mound and the Rangers' bats -- as has usually been the case -- went cold after Shin-Soo Choo's leadoff home run in a 6-3 loss to the Royals at Globe Life Park on Saturday night.
Tepesch had posted a 2.45 ERA in his previous four starts, but could not keep the Royals at bay Saturday. He grooved a 91 mph first-inning fastball to Alex Gordon, who knocked it off the top of the right-field foul pole to give the Royals an early 1-0 lead.
Tepesch was cruising until the fifth inning, when he issued three four-pitch walks, the last of them to Jarrod Dyson, forcing in a run. Omar Infante then came through with a two-run single to center, putting the Rangers in a 4-1 hole.
"I couldn't find it. It was one of those bad innings I guess," Tepesch said. "I felt like I was a little all over the place all night. I think that inning was the worst of it obviously. But I was constantly trying to find my lanes and that inning, it was just one of those things where I really struggled to find it."
Choo sent the first pitch Jeremy Guthrie threw into the bullpen beyond the wall in left-center for his third leadoff homer this year and 14th since 2012, the most in the Majors. It was his fourth career home run on the first pitch of a game.
"The first pitch was actually a pretty good pitch," said Royals manager Ned Yost. "It was a fastball that was down. You're trying to get ahead on the first pitch of the game and it was down, it wasn't a bad pitch. But Choo did a good job of taking it out of the ballpark the other way."
Guthrie retired the next 12 Rangers hitters he faced and did not allow another run, surrendering just four more hits -- all singles -- over the eight innings he pitched. The Rangers had a runner on second with two out in the fifth and sixth innings but could not push any more runs across against Guthrie.
"There's nothing we can do about it," shortstop Elvis Andrus said. "We have to keep our heads up and keep fighting. Sooner or later, we're for sure going to put up runs and get the offense going. We've got to keep trying. There's another month of baseball."
The Royals tacked on a couple of runs in the seventh with another two-run single, this one from Dyson. Tepesch surrendered singles to Erik Kratz and Lorenzo Cain to start the inning before a sacrifice bunt by Alcides Escobar moved the runners to second and third. Alex Claudio replaced Tepesch but could not stop the bleeding and gave up the hit to Dyson.
"We're putting it all together at the right time," Yost said. "We're doing a great job offensively. We're getting clutch hits, we're getting big hits, we're getting runners on, we're taking advantage of mistakes -- and that's been the difference."
Leonys Martin nearly threw out Cain at the plate, prompting a challenge on the play from Rangers manager Ron Washington. But after a 35-second review, the call was confirmed and Cain remained safe.
That play closed the book on Tepesch, who allowed six runs on seven hits while striking out two and walking three -- all in the fifth inning. He fell to 4-8 on the year and is winless in all but one of his last nine starts.
"He didn't command much of anything tonight," Washington said of Tepesch. "He was out there competing. He just didn't have his best command tonight. … He didn't have the stuff he had in previous starts, but he made some pitches when he had to."
It wasn't until the Rangers were down to their last out that they got a hit with a runner in scoring position. Alex Rios drew a two-out walk in the ninth before Adrian Beltre singled to left and went to second base on catchers' indifference. Martin followed with a two-run single that made it a more respectable 6-3 deficit but it wasn't enough as J.P. Arencibia flied out to center to end the game.
The Rangers are now 30 games below .500 for the first time since 1985.
"When we get something going, we have to get the hits to cash it in," Washington said. "We just couldn't sustain anything. We'll get an inning going but hit into a double play and can't get two, three or four hits back to back. We put something together in the ninth but, once again, we just fell short."
Christian Corona is a contributor to MLB.com. This story was not subject to the approval of Major League Baseball or its clubs.