Giants can't overcome Lincecum's struggles
Righty could move to bullpen after lasting 2 2/3 innings in loss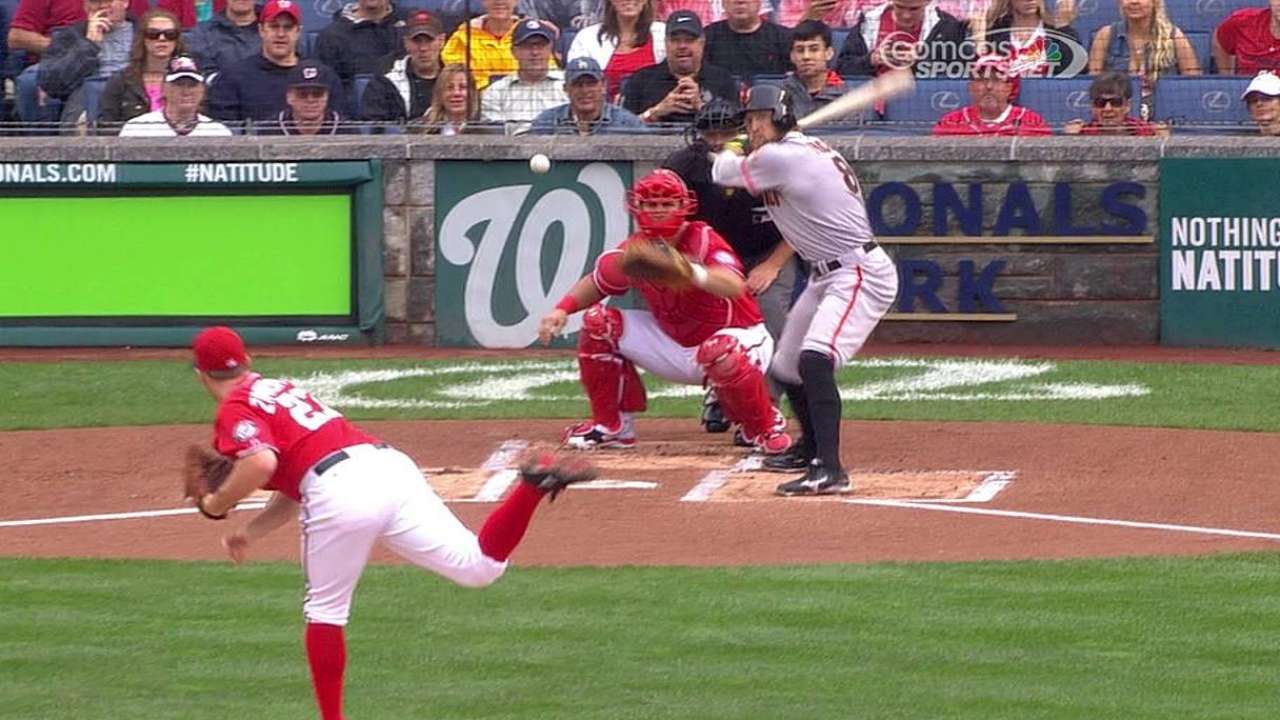 WASHINGTON -- Tim Lincecum has faced this type of crisis before, confronting individual struggles while striving to help the Giants.
Now he must try to rescue himself from another slump that is as extreme as any he has encountered in his eight Major League seasons.
Lincecum brought himself to the brink of demotion to the bullpen Saturday as he endured his second-shortest career start in the Giants' 6-2 loss to the Washington Nationals.
Lincecum (10-9) surrendered six runs (four earned) and six hits in 2 2/3 innings, a duration that barely exceeded the career-worst 2 1/3 innings he worked on April 11, 2012, at Colorado.
The two-time Cy Young Award winner and four-time All-Star is 1-3 with a 9.49 ERA in his last six starts. He has allowed 41 hits in 24 1/3 innings during that span, negating the progress he made earlier in the season when he won four starts in a row and appeared to be succeeding in his transition from power pitcher to finesse artist.
Lincecum indicated that his shortcomings encompass physical as well as mental factors.
"My mechanics haven't been repeating themselves," he said. "And maybe I've been overdoing it, trying to think about what I need to do, instead of letting my body be athletic. ... I just didn't do it out there today."
After Hunter Pence lined a two-run, first-inning homer off Jordan Zimmermann, Washington's formidable right-hander, Lincecum blunted the Giants' momentum by allowing the Nationals to tie the score in the inning's home half. Washington surged ahead with three runs in the second inning, abetted by third baseman Pablo Sandoval's throwing error. Manager Bruce Bochy excused Lincecum from further activity after Asdrubal Cabrera homered and Zimmermann doubled in the third.
Lincecum lacked command, issuing four walks. He lacked velocity, as only two of his fastballs reached 90 mph. He refused to cite excuses, such as the absence of Hector Sanchez, who caught him frequently but remains sidelined by the aftereffects of a concussion.
"I think the problem is me for right now," Lincecum said.
Lincecum's next scheduled start is Thursday at AT&T Park against Colorado. But Bochy indicated that he would consult coaches, general manager Brian Sabean, members of the front-office braintrust and Lincecum himself to discuss whether the right-hander would take his regular turn in the pitching rotation or be replaced.
Yusmeiro Petit would supplant Lincecum if Bochy were to drop Lincecum from the rotation. Petit retired all 13 batters he faced Saturday, extending his streak of consecutive batters retired to 38 -- dating to a July 22 spot start at Philadelphia, which was followed by six relief appearances. Left-hander Mark Buehrle set the Major League record of 45 straight batters retired as a member of the Chicago White Sox in 2009.
"I want to help put ourselves in the position that we need to be in," Lincecum said, referring to the Giants' pursuit of a postseason berth. "[Bochy's] the one who's going to make that move. He's the smart one. With that, I'll be all ears and be on board for whatever it takes. Obviously I want to get myself out of this, but it's for the team."
Bochy dropped no hints regarding what course of action he might favor and remained supportive of Lincecum, who's one victory shy of 100 for his career.
"You can tell he's searching," Bochy said. "He's been through this. If anybody can handle it, it's Timmy."
Lincecum handled it in 2010, when he lurched through August with an 0-5 record and a 7.82 ERA. He rebounded to post a 5-1 mark with a 1.94 ERA in September as the Giants won the National League West title and proceeded to capture the World Series.
Bochy assigned Lincecum to the bullpen for the 2012 postseason following his poorest regular-season performance, which featured a 10-15 record and a 5.18 ERA. Undaunted, Lincecum allowed one earned run, struck out 17 batters and walked two in 13 innings spanning six relief appearances.
"It [stinks] to have to keep going on this roller-coaster ride of outings, but it's something where I find confidence in knowing that I should be able to get out of this. I've done it before," Lincecum said. "It was a different time in my life, but I'm still tenacious and competitive enough to work through it and not let it get the best of me."
Chris Haft is a reporter for MLB.com. Read his blog, Haft-Baked Ideas, and follow him on Twitter at @sfgiantsbeat. This story was not subject to the approval of Major League Baseball or its clubs.