Wright's slump weighs heavy in loss to Dodgers
Mets' captain hits into two double plays, K's to snuff out rallies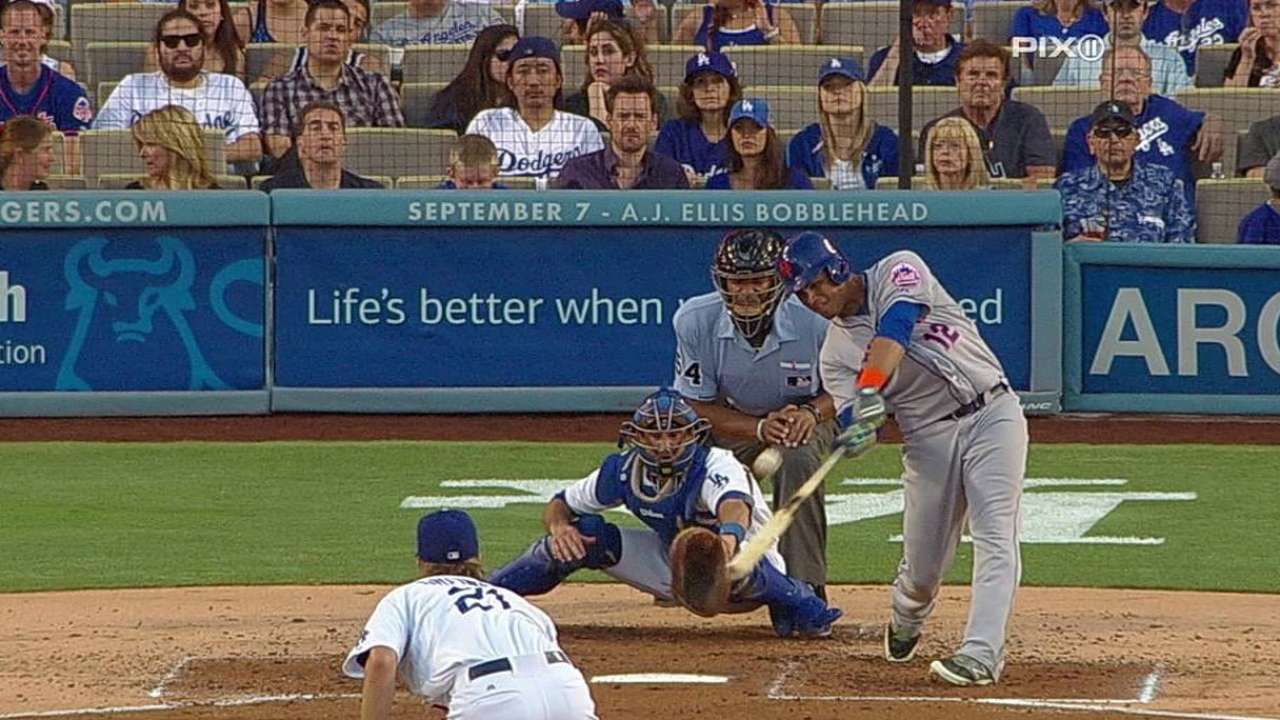 LOS ANGELES -- Mets third baseman David Wright slammed his helmet to the ground in frustration, powerless to halt the negative momentum that has consumed his season. He had just struck out with two men in scoring position and his team trailing by a run in the seventh inning, after the Dodgers intentionally walked Daniel Murphy to face him instead. The depths of Wright's season had grown ever deeper.
The captain's issues once again played a central role in the Mets' inability to score enough runs -- this time, specifically, in their inability to bail out Jacob deGrom during a 7-4 loss on Saturday night at Dodger Stadium. By game's end, Wright found himself in a 2-for-29 funk and devoid of an extra-base hit for 60 straight plate appearances. If his balky left shoulder is not the issue, something clearly is, because Wright's typical All-Star-caliber production is nowhere to be found.
"This is no fun," Wright said. "I'm not having any fun. The team's not having any fun."
Wright was not the only culprit in Saturday's loss, simply the most prominent. On a night when Dodgers starter Zack Greinke struggled to keep the Mets off the basepaths, Wright's double plays in the first and fifth innings killed potential run-scoring rallies. His strikeout in the seventh undermined their best chance to burrow back into the game.
Combined with deGrom's scuffles and the Mets' continued scraggly defense, it was enough for the Dodgers to hand the Mets their fifth loss in six games.
"It's a bad night," Wright said. "Anytime you go up there and you have a chance to impact the game in a positive way and you don't get it done, it's tough. It's a grind. It seems like the good at-bats I have I hit the ball right at people, and the bad at-bats, they're there, too. I've got to find a way to get it done."
In his first start back from the disabled list, deGrom whizzed through his first three innings before running into trouble -- an Adrian Gonzalez RBI single and an Erisbel Arruebarrena sacrifice fly -- in the fourth. An inning later, Gonzalez launched a three-run homer to give the Dodgers their first lead.
"It comes down to a few pitches that outing," deGrom said. "I felt good. It's just a lot of outings come down to a few pitches, and tonight I didn't make those pitches when I needed to."
Still one of the National League's leading Rookie of the Year candidates despite his 15-day absence, deGrom increased his ERA from 2.87 to 3.13, snapping his personal five-game winning streak.
"We did get him a little bit getting through there, but he had good stuff tonight," Dodgers manager Don Mattingly said. "This kid's a good pitcher. You can see it. He's a young pitcher with good stuff that commands the ball, pretty much. We were able to get him tonight."
The Mets took an early lead on Juan Lagares' three-run homer in the fourth inning and Lucas Duda added a solo shot in the sixth. But their scoring stopped abruptly at that point. Greinke lasted seven innings, giving up nine hits but only one walk, before three Dodgers relievers nailed down the final six outs without issue.
That left Wright to stand in a dark clubhouse hallway after the game, trying to explain why -- with the exception of a few strong stretches, all of them brief -- he has been unable to hit with any authority this season. Though Wright has played through a sore shoulder since June, going as far as to receive a cortisone shot in the joint just before the All-Star break, he balks whenever asked if it is affecting his performance.
"If I'm in the lineup, I expect to produce," Wright said, declining once again to discuss the specifics of his injury.
As a result, manager Terry Collins has no choice but to assume that Wright is healthy. If he's not, it's arguably a bigger issue, because there would be no explanation for his slump. But unless the Mets choose to rest Wright for a few days or place him on the disabled list, all they can do is keep starting him at third base and hope he begins producing.
"In my time here, I haven't seen him scuffle like he has this year," Collins said. "My daily conversation with him is that he's not hurt, he's healthy. But I certainly don't have an answer to why he's going through what he's going through."
Anthony DiComo is a reporter for MLB.com. Follow him on Twitter @AnthonyDicomo. This story was not subject to the approval of Major League Baseball or its clubs.