Gregorius' three-run shot in eighth tops Padres
Nuno allows just two hits in 7 1/3 but can't earn first D-backs win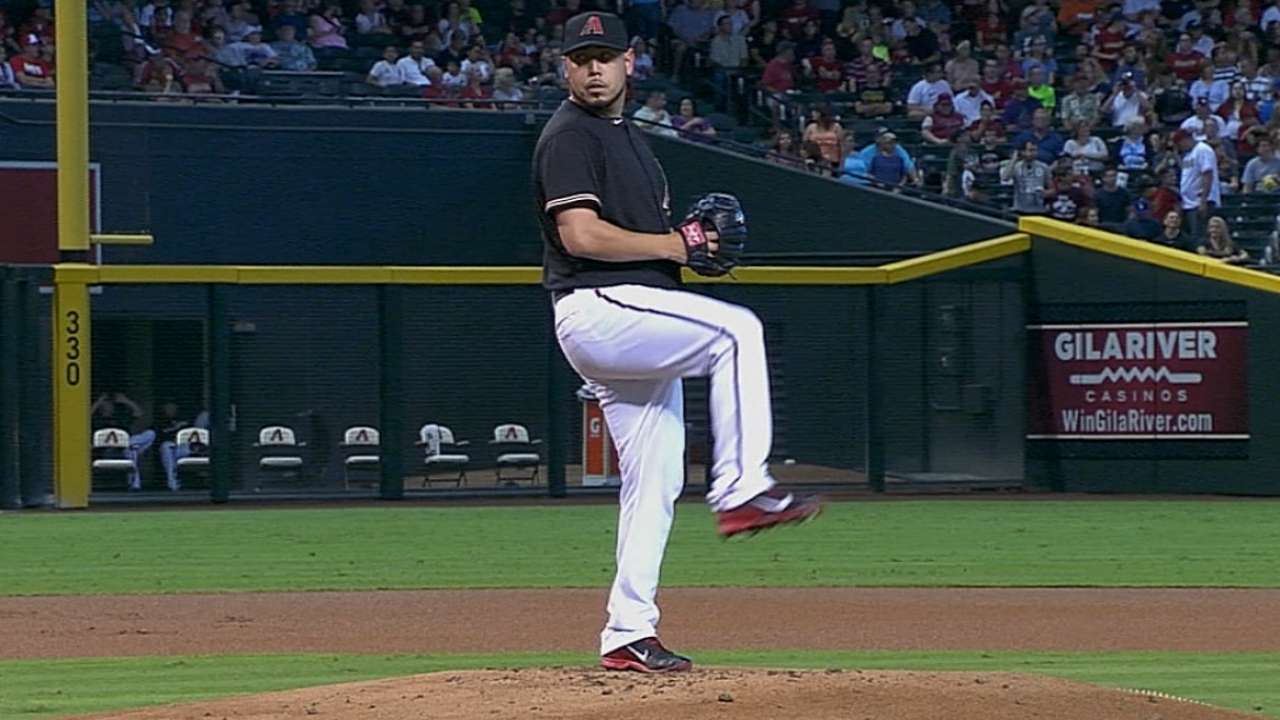 PHOENIX -- It's hard to keep your head up when you make adjustments and they don't pay off immediately.
Manager Kirk Gibson said Didi Gregorius had been changing things up lately, but the results weren't showing on the field. Entering Saturday's game, Gregorius had a .056 average (2-for-36) in his last 10 games.
"He's been working very hard, and he hasn't had instant gratification or instant results," Gibson said.
That changed in the course of the few seconds in the eighth inning of Saturday's game.
Gregorius launched a three-run homer that put the D-backs ahead 5-2 late in the game, giving them a series-clinching victory over the Padres at Chase Field.
"I thought it was just a line drive," Gregorius said. "It went over, and I'll take that."
Said Padres pitcher Kevin Quackenbush: "I just missed my spot. I wanted to go in on his hands and I just missed."
The game-winning homer took the burden off Oliver Perez, who allowed the game-tying hit in the top half of the inning.
The D-backs held a 2-0 lead for most of the game, but the Padres forced starter Vidal Nuno into a jam late.
Nuno, who had pitched seven scoreless innings in arguably the best game of his career, hit Rymer Liriano to lead off the inning before giving up a single to Cameron Maybin and a walk to Alexi Amarista, loading the bases.
"I hit that guy, and sure enough it just led to another, and two guys later it was bases loaded out of nowhere," Nuno said.
Gibson put in Perez, who struck out pinch-hitter Jedd Gyorko and got a 0-2 count on Yangervis Solarte, who took the two-strike sinker up the middle for a game-tying, two-run single.
Before that inning, Nuno had dominated the Padres' lineup.
In his ninth start for the D-backs, he allowed only one hit through seven innings, cruising right up until the eighth. His struggles in the eighth were even more surprising given his low pitch count -- he was at only 72 pitches entering the inning.
"He had a sneaky fastball and a decent breaking ball and changeup," Padres manager Bud Black said. "We hadn't faced him before and I've said it before, when that happens the advantage usually goes to the pitcher."
Despite his solid pitching since joining the team, Nuno still hasn't recorded his first victory as a D-back -- a fact that doesn't bother Nuno.
"It's part of the game," he said. "We try to go deep into ballgames, and the outcome has been unlucky. But just keep on fighting, and one day, I'll get it."
Nuno did have a small victory at the plate in the second inning, picking up his first Major League hit.
A bigger, flashier first came earlier in the inning. Rookie third baseman Jake Lamb took a 1-1 changeup into the pool area in right-center field for his first big league home run.
"It was kind of getting on my mind a little bit, so just to get one out of the way feels great," Lamb said.
The solo shot gave the D-backs a 2-0 lead, which looked as if it would be the final score as Nuno carved up the Padres' lineup.
Fortunately for the D-backs, when that lead did cave, Gregorius was there to get it right back.
"It's good to see that that happened to him tonight because he has been working," Gibson said. "He hasn't been rewarded much, but tonight, it came through for him."
Adam Lichtenstein is an associate reporter for MLB.com. This story was not subject to the approval of Major League Baseball or its clubs.