Twins settle for split as May takes loss vs. Tigers
Right-hander allows five runs before exiting in sixth inning of nightcap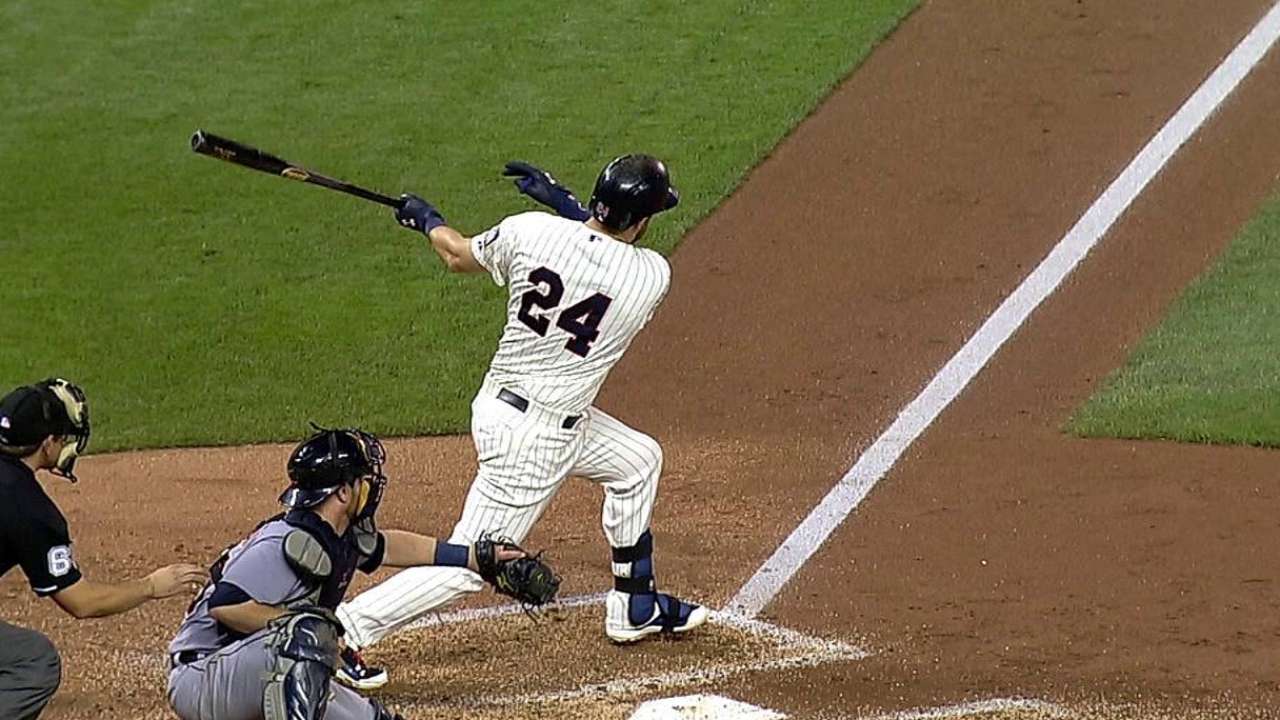 MINNEAPOLIS -- It's been baby steps for Twins rookie right-hander Trevor May.
The highly regarded prospect has been incrementally better in his three starts since being called up from Triple-A Rochester, but the results still haven't quite been there.
With May on the mound, the Twins couldn't pull off a sweep in their split doubleheader against the Tigers on Saturday night, as he couldn't protect a two-run lead in his third career start in an 8-6 loss in Game 2 at Target Field.
May, who had walked 13 batters in nine innings heading into the start, didn't walk any this time, but surrendered five runs on 11 hits over a career-high 5 1/3 innings to fall to 0-3 with an 8.79 ERA. He said he needs to fine-tune his fastball command, but his curveball was better this time out.
"It was slightly better than last time," May said. "I felt comfortable throwing the ball over the plate, and not giving up any free passes was definitely a plus. But at this point, it's making adjustments and making pitches to get guys out, and I don't think I did that very well."
The Twins combined to score 32 runs in the first two games of the series, including their 12-4 win in Game 1 on Saturday, but came up short against right-hander Justin Verlander despite scoring four times against him in his 5 2/3 innings of work.
"We put a few runs on him and battled him pretty good," Twins manager Ron Gardenhire said. "But he's tough."
Trevor Plouffe led the offense for the Twins with three hits, including a pair of doubles against Verlander. He now has 36 doubles on the season, which ranks as the fourth-highest mark in a season by a Twins third baseman in club history.
"This is a lineup that's really locked in right now," Verlander said. "They hit some good pitches. That's what happens what you face a hot lineup."
The Tigers opened the scoring in the second with an RBI single from Bryan Holaday, but May was able to pitch himself out of a jam with runners on second and third that inning.
The Twins tied it in the bottom half of the frame, with Plouffe doubling with two outs and scoring on a single from Kurt Suzuki, who snapped an 0-for-18 skid. Minnesota had a chance for a big inning after Kennys Vargas opened with a single, but he was doubled off first on a line drive hit to second by Oswaldo Arcia.
The Tigers scored again in the third on an RBI single from J.D. Martinez with two outs after an overturned call at third base involving Torii Hunter went Detroit's way to keep the inning alive.
"We had to go out there and come with a little more fight," Hunter said. "We lost the last two, and we lost big."
But Minnesota took a two-run lead with a three-run third inning against Verlander. Joe Mauer brought home a run with a double to put runners at second and third with nobody out. Verlander struck out Vargas and Arcia, but Plouffe came through with a two-run double.
Detroit made it a one-run game in the fifth on a run-scoring double play hit into by Miguel Cabrera. May got through the inning and was in line for his first career win, but he came back out for the sixth and struggled.
May gave up a go-ahead two-run single to Eugenio Suarez, who broke his bat on the play, and was removed for reliever Jared Burton.
"The kid jammed the guy up the middle, and he blooped it," Gardenhire said. "And that's the way it goes."
Burton was able to escape without any further damage, but he surrendered a two-run single to Nick Castellanos with two outs in the seventh to give the Tigers two insurance runs.
"Usually Burton puts the hitter away," Gardenhire said. "He made a decent pitch on it, and [Castellanos] hit it down the line."
The Twins scored in the seventh against reliever Blaine Hardy on an RBI groundout from Vargas, but the Tigers got the run back in the eighth on an RBI single from Cabrera off reliever Samuel Deduno.
Brian Dozier's one-out RBI double off Joe Nathan in the ninth gave the Twins two at-bats with the tying run at the plate, but Nathan retired Mauer and Vargas without further damage for his 27th save.
"Six runs should be enough," May said. "From here, it's about stringing those zeros together and getting some 'Ws' in the win column."
Rhett Bollinger is a reporter for MLB.com. Read his blog, Bollinger Beat, and follow him on Twitter @RhettBollinger. This story was not subject to the approval of Major League Baseball or its clubs.