A-Gon's five RBIs help Greinke earn 13th win
Dodgers pull away from Mets, add to their NL West lead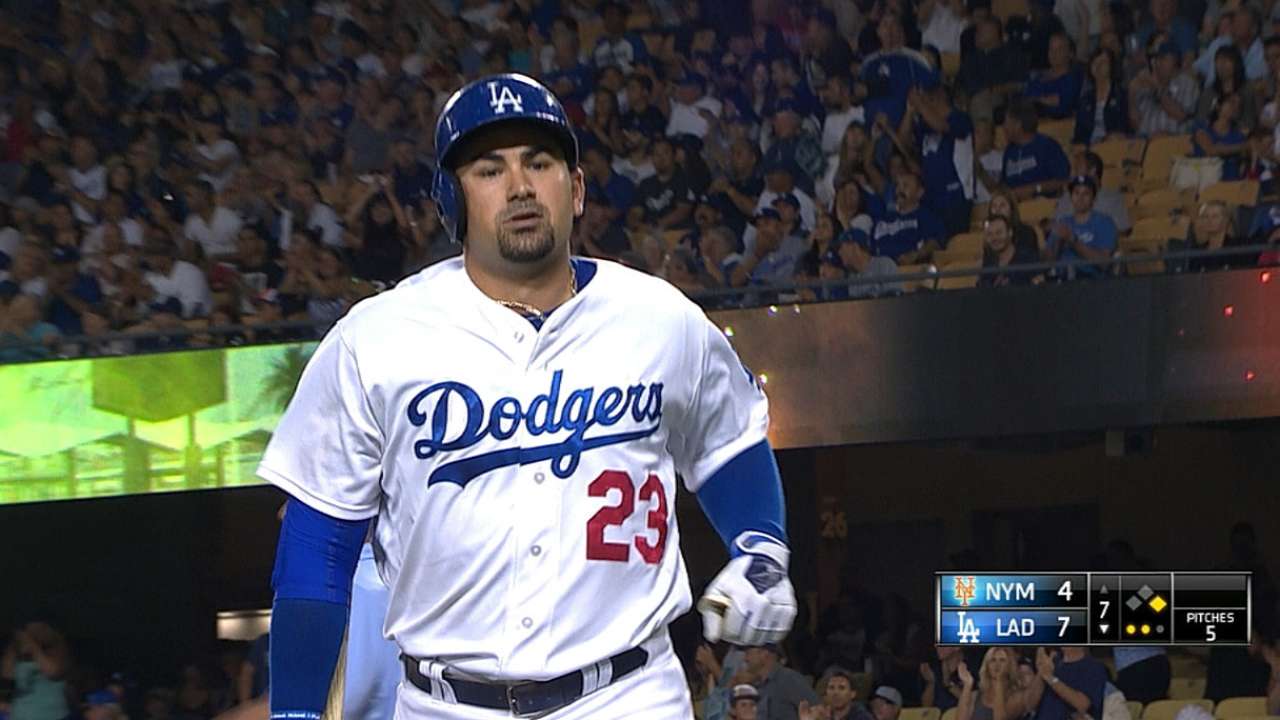 LOS ANGELES -- After pitching seven innings with it Saturday night, Zack Greinke said his right elbow isn't a problem and he dismissed his manager's concern about how it will feel on Sunday.
"I think I'm fine," Greinke said after he and the Dodgers beat the Mets, 7-4. "I'm pretty confident I'll be fine tomorrow."
Greinke snapped a four-start winless streak because Adrian Gonzalez tied a season high with five RBIs on a three-run homer, a broken-bat RBI single and a sacrifice fly. The Dodgers have won three straight and lead the National League West by 4 1/2 games over the Giants, who lost to Washington, 6-2.
Greinke said he thought he pitched "really well," despite allowing runners in every inning and four runs (three earned) on nine hits, including home runs by Juan Lagares and Lucas Duda. He walked only one, intentionally, after issuing five walks in his previous start. He used more breaking balls and fewer changeups, finishing with 105 pitches.
Kenley Jansen pitched the ninth inning for his 37th save.
Greinke downplayed the tenderness he's had in the back of the elbow, which led to his start being pushed back two days. Earlier in the week, he compared it to an episode from Spring Training 2013 that cost him three weeks of exhibition games.
"Weird circumstances gave me extra time, but I've been pretty good," he said. "Between starts it hasn't bothered me. I felt great again today. I hope that's how it stays.
"You're not going to believe me, but it really hasn't bothered me when the game's on the line. It didn't affect any of my pitches. It really isn't a big issue."
He said he'd be honest with manager Don Mattingly if he didn't feel physically able to help the team or if he thought he was putting himself at risk of serious injury.
"I have no desire to go out there and give up 10 runs or hurt myself more," he said.
Mattingly said if nobody had known Greinke had elbow issues, suspicions wouldn't have been raised by the way he pitched. But Mattingly -- who already lost Josh Beckett and Hyun-Jin Ryu to the disabled list this month -- will remain apprehensive until Sunday.
"I don't think we had any doubt that he was going to feel good tonight," Mattingly said. "Hopefully tomorrow he wakes up, comes in here and feels good. So I think that's probably what is going to tell us a little bit more than what tonight does.
"He's got some inflammation or soreness or whatever -- or he's had some. He wasn't feeling it tonight. I checked on him after the sixth. I asked him how he was feeling, he said 'perfect.' So, it makes it easy. You see the ball coming out of his hand; you see his pitches the same; you see him locating and it just makes you feel like if you don't get all the inside information, you don't think anything's wrong with this guy."
Greinke came into the game tied for fifth in league strikeouts and struck out four Mets, including Curtis Granderson and David Wright with runners in scoring position in the seventh inning.
The Dodgers turned two double plays behind him, both on Wright at-bats, the one in the fifth inning requiring maximum effort from second baseman Dee Gordon and Gonzalez at first. Third baseman Miguel Rojas' throw to second took Gordon into the runner, but he was able to keep his foot on the base and then flip off balance toward Gonzalez, who made a full-length stretch to keep his foot on the bag.
"Adrian's was maybe his most athletic play of the year, and it saved a run," said Greinke. "It was huge."
"If I don't stay on the bag, it scores a run, so it was big at the time," said Gonzalez.
Gonzalez is second in the league with 88 RBIs, on pace for 109, which would be the most for him since he had 117 in 2011.
"Adrian's a really, really good hitter, and he gets paid a lot of money to drive in runs, and that's what he did again tonight," Mets manager Terry Collins said.
Mattingly called Gonzalez the most consistent run producer the Dodgers have had since Mattingly arrived as a coach in 2008.
"Adrian is a day-in, day-out kind of grinder that picks up one, picks up two, and then obviously tonight picks up five," he said. "But one of those guys that's a day-in and day-out guy. And good at driving in runs with a guy on third, will put the ball in play when he needs to.
"I think he knows how to hit against a lefty and what they'll try to do to him with that man in scoring position. As far as consistency, I don't think we've had anybody quite like him. Matt [Kemp] has had some big years. [Andre Ethier] Dre's had some big years. But kind of day-in, day-out type of guy, Adrian's probably the most consistent."
Ken Gurnick is a reporter for MLB.com. This story was not subject to the approval of Major League Baseball or its clubs.