After cruising early, Peralta unravels in loss to Bucs
Right-hander allows eight runs as Crew's lead in NL Central shrinks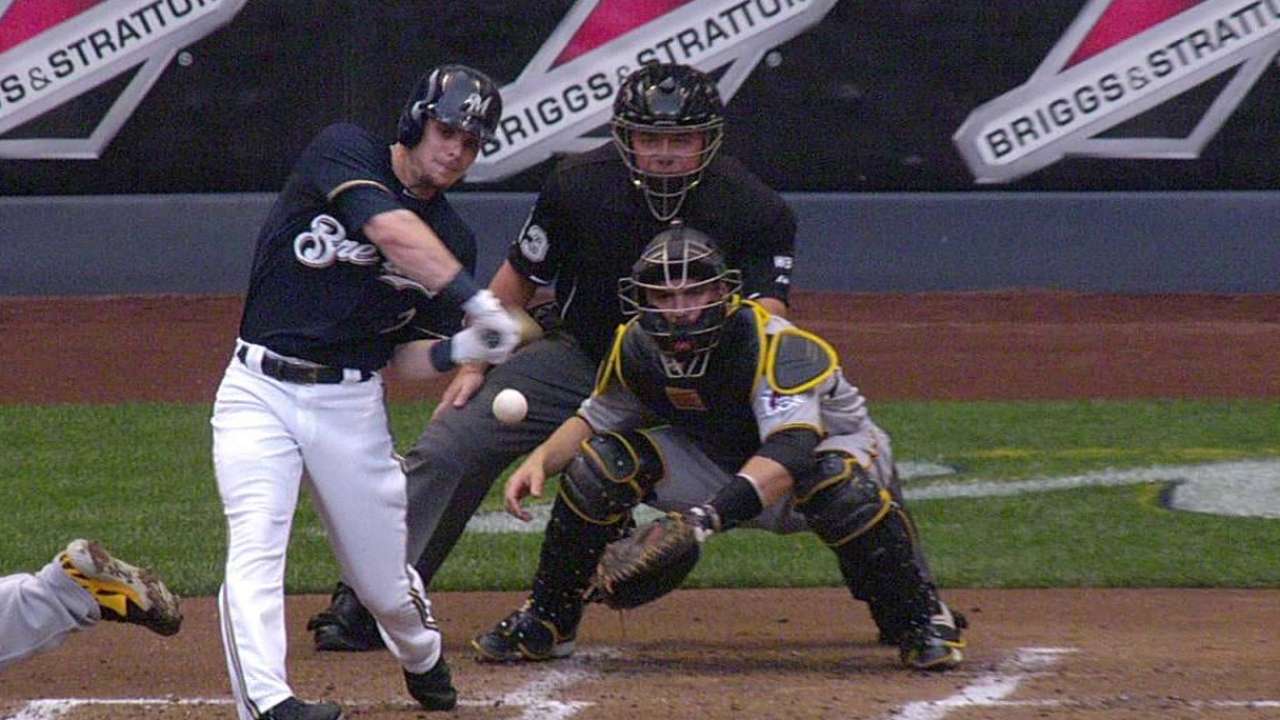 MILWAUKEE -- The game-changing blast came at the unlikeliest of times, given that the man standing on the mound had been unhittable lately, while the one at the plate hadn't been hitting much of anything. But the numbers didn't stop Pedro Alvarez from turning a 97-mph fastball from Wily Peralta into a three-run home run to left field in the fourth inning, setting off a Brewers unraveling in an eventual 10-2 loss on Saturday night at Miller Park.
For the second consecutive night, an early Milwaukee lead turned quickly into a huge deficit, leaving Brewers manager Ron Roenicke without an explanation.
"I thought he was throwing the ball well," Roenicke said. "He came out the first three innings, looked good, and then we get two quick outs and it opens up."
The surprising home run and subsequent meltdown put the Pirates in a position to grab what would be a surprising series sweep on Sunday. The Brewers came into the weekend looking to bury the struggling third-place team in the race for the National League Central crown, but the first two games of this series have suggested that Pittsburgh isn't ready to fade just yet. With the Cardinals' win in Philadelphia, the Brewers now hold just a half-game lead on St. Louis, while the Pirates are now four games back.
"I'm surprised we've played two games like this against anybody," Roenicke said. "When you don't play good baseball -- it doesn't matter whether it's Pittsburgh or who it is -- you're not going to win. They're a good team."
The Brewers have now lost three straight games by four runs or more, the first time that's happened all season.
For the second consecutive night, the Brewers were unimpressive on the mound and at the plate. Peralta allowed seven earned runs, matching the total from his past five starts combined. The offense stranded six runners in scoring position through the first four innings and scored only two runs on 12 hits.
Peralta, who allowed eight total runs, entered the game with a 6-1 record and a 1.59 ERA over his last seven starts. He cruised early on Saturday, not allowing a hit through 3 2/3, before he unraveled in the fourth by allowing a walk to Neil Walker, a double to Russell Martin and the three-run blast to Alvarez.
Prior to that home run, Alvarez hadn't hit a long ball since July 11 and had been batting .190 with four RBIs since the All-Star break. Before the night was through, Alvarez would add another home run, an exclamation point on Peralta's dreadful night.
"If you make bad pitches, he's a good mistake hitter, which Major Leaguers usually are," Roenicke said of Alvarez. "This guy can do a lot of damage. He still had 15 homers going into the game, and a great year last year. He's always dangerous."
A five-run Pittsburgh rally in the fifth started with an error by Scooter Gennett, the Brewers' fourth in two nights. Andrew McCutchen hit an infield single, Walker doubled and Martin cleared the bases with a three-run home run to left.
Alvarez followed with a solo shot, making it the first time Peralta has given up three home runs in a game.
"When I got the lead, I wasn't able to maintain it, and you know, this is an important series for us," Peralta said. "If I get the lead early, I'm supposed to be the stopper right then, trying to give the team a chance to win."
Offensively, the Brewers put two runs on the board early with Gennett's home run and Khris Davis' RBI double. But they missed chances to score many more, stranding eight on base through the first four innings, including six in scoring position.
It seemed no one could get a timely hit. In the second through fourth innings, Elian Herrera, Peralta, Carlos Gomez, Lyle Overbay, Ryan Braun and Aramis Ramirez all came to the plate with two runners in scoring position. None of them recorded a hit.
"We definitely had our chances," Roenicke said. "Our big boys were up when we needed them up, and [Pittsburgh] got the big hits, and we didn't. We had chances.
"They outplayed us. That's all there is to it."
After the letdown in the fourth -- when Braun popped out with the bases loaded and one out and Ramirez struck out -- the Pirates' five-run fifth took the life out of the building, and the Brewers didn't strike again.
Saturday's loss guarantees that the Pirates will gain at least one game on the Brewers this weekend, and they could gain three with a win on Sunday. After winning 10 of their first 13 games against Pittsburgh this season, Milwaukee is in danger of being swept by the Bucs. The Brewers' three-game skid comes on the heels of a five-game winning streak that included a sweep of the NL West-leading Dodgers.
For the second consecutive night, Roenicke left his team with the same message: time to turn the page quickly.
"I say it a lot -- it doesn't matter when it is or who it's against, you don't ever want to play this kind of ball," Roenicke said. "Yesterday probably worse than today, but there's too many things that we're not doing right that we need to do, and we will. We'll hopefully come out tomorrow and play a good game and see what happens."
Caitlin Swieca is an associate reporter for MLB.com. This story was not subject to the approval of Major League Baseball or its clubs.