Ramirez delivers Tribe's 10th walk-off vs. Astros
Salazar fans seven as Indians keep pace in Wild Card race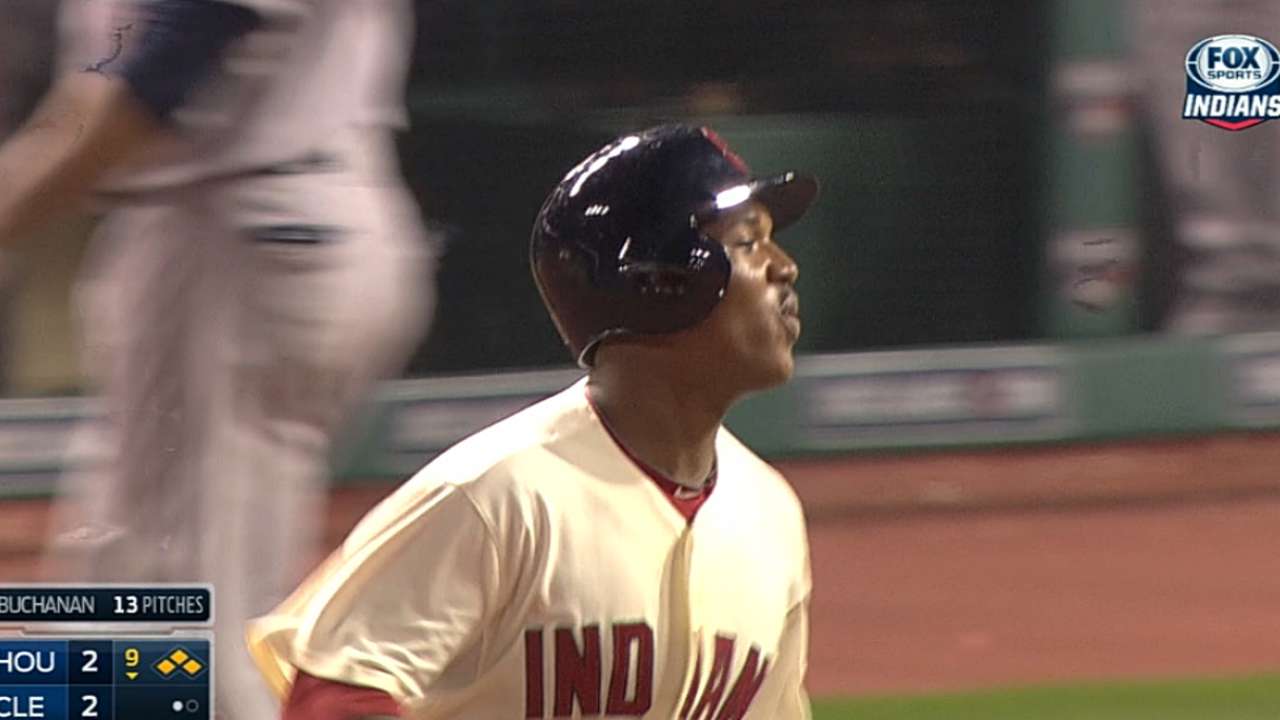 CLEVELAND -- The Indians are attempting to simultaneously develop young players and remain in postseason contention. That is a tricky approach, because with youth often comes growing pains, and that can lead to some gut-punch losses for a team trying to stay afloat. Then again, it can also lead to some wild wins.
In a 3-2 victory over the Astros on Saturday night, Danny Salazar provided a solid start and Cleveland's kids were instrumental in leading the club to its American League-leading 10th walk-off win of the season. Tyler Holt ignited the rally with a pinch-hit single, Roberto Perez kept it going with a key bunt and Jose Ramirez launched the fireworks with a game-winning single to left field.
"With the youth, you need some patience," Indians manager Terry Francona said. "But we're also seeing what they can do."
During Spring Training, those three names were not high on the list of players thought to be in position to be key contributors to a possible playoff run. Yet, here are the Indians, leaning on their farm system in light of injuries and inconsistencies at the Major League level. And, here the Indians remain, within earshot of the AL playoff picture just five games back of the second Wild Card spot.
The rookies are enjoying the chance to learn on the fly.
"It's a lot of fun," Holt said. "But I don't think we're letting it get stressful. I think we understand that we're here for a reason. They called us up here for a reason, because they believe we can do it. I think 'Berto and myself and the guys we've called up, we fit in perfectly and we understand our roles."
For Holt, Saturday was a night of redemption.
In the eighth inning of Friday's 5-1 loss to Houston, Holt was thrown out on an ill-advised steal attempt of third with Perez at the plate, expediting the end of a potential rally. Speed is an integral ingredient to Holt's game, and Francona made sure the young outfielder did not change his ways in light of one mistake.
Francona liked the gamble, but Holt needed to know he could pull it off.
"I think he's a strong enough kid," Francona said. "We talked to him a little bit today. The one thing is, it was a good time to run. We just want to make sure they don't get gun shy."
Holt appreciated that message.
"He said he didn't want me looking over my shoulder and having my left foot on the bag," Holt said. "There's a reason why I'm here. It's because I'm aggressive. That's who I am."
In the ninth inning on Saturday, Holt was summoned off the bench at the last minute with Astros lefty Tony Sipp on the mound and the game caught in a 2-2 deadlock. Houston manager Bo Porter countered with righty reliever Jake Buchanan, who saw his first pitch ripped up the middle and into center by Holt for a leadoff single.
Holt sprinted to second on a successful sacrifice bunt from Perez and then bolted to third on a wild pitch. That set things up for Ramirez, who slapped a 3-2 offering from Buchanan down the left-field line to plate Holt and set off the on-field party. Ramirez was mobbed behind the mound and drenched with water by his teammates.
"I wasn't trying to do too much," Ramirez said with Perez handling the translating. "I was trying to put the ball in play and trying to make contact. It feels awesome. I never had a walk-off before, so I'm really happy."
The happy feelings helped cancel out some fundamental missteps.
In six innings, Salazar only yielded two runs (one earned), but both came on a mistake-laden play in the third. With runners on first and second, a single to right by Jose Altuve set off the circus music. Right fielder Chris Dickerson threw wildly to the plate and Salazar forgot to hustle to foul ground to back up Perez, leading to two runs.
The error was Cleveland's Major League-leading 100th of the season.
"He's young," Francona said of Salazar, who struck out seven and walked two in a no-decision. "He didn't back up the plate and that cost him, probably, a win. The way that we're playing games right now, we need to respect every, not only run, but every out. We've got to pay attention to every detail."
The Tribe began to chip into Houston's lead in the third inning, when Ramirez doubled off Astros starter Collin McHugh, then scored on an RBI single from Michael Brantley. One frame later, Lonnie Chisenhall singled against McHugh and was eventually brought home from third on a groundout by Michael Bourn, pulling the game into a 2-2 tie.
After Altuve's run-scoring single, Salazar and Cleveland's bullpen held the Astros to an 0-for-19 showing over a 21-batter stretch.
That set the stage for the kids.
"We're just out here helping," Holt said. "And trying to win."
Jordan Bastian is a reporter for MLB.com. Read his blog, Major League Bastian, and follow him on Twitter @MLBastian. This story was not subject to the approval of Major League Baseball or its clubs.