Grimm, 'pen spotless in Cubs' rain-soaked win
Righty tosses 3 1/3 scoreless frames in game delayed by three hours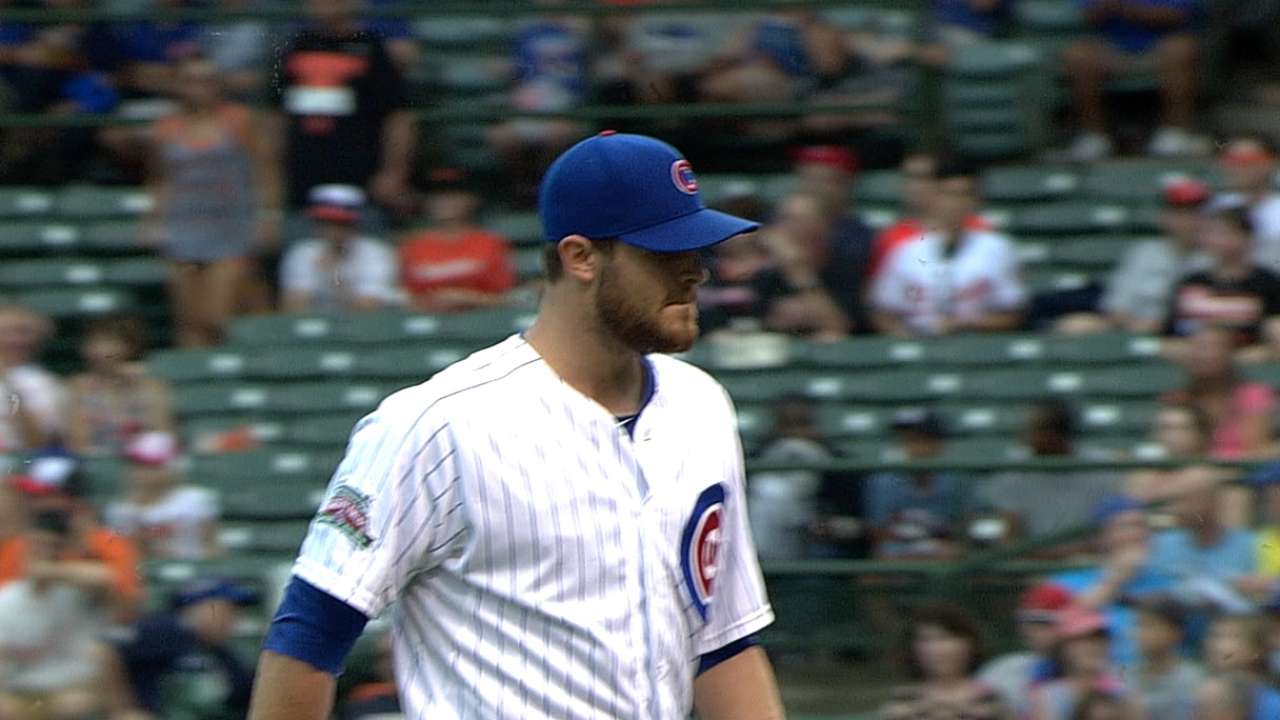 CHICAGO -- The Cubs weathered yet another lengthy rain stoppage in Saturday's 7-2 win over the Orioles to bring their delay tally this week to nine hours, 40 minutes.
"It's tough," left fielder Chris Coghlan said. "But we're really young, so that helps us out."
The three-hour, nine-minute delay on Saturday, in between the second and third innings, forced manager Rick Renteria to turn to the bullpen earlier than planned. But the four relievers, led by winning pitcher Justin Grimm, tossed seven shutout innings and allowed just four batters to reach base.
Grimm tossed his longest outing of the year, 3 1/3 hitless innings with three strikeouts and a walk.
"What a great job, Grimmer, picking up [starter] Kyle [Hendricks] there and giving us four innings," Renteria said. "He kept his pitch count down throughout. We were obviously watching it. We wanted him to give us as many innings as he could to get us to the back end and the guys who were available to us. Tip your cap to him because he really did a great job."
The right-handed Grimm was watching the Little League World Series in the clubhouse during the delay when he was informed that he'd be replacing Hendricks, who allowed two earned runs on five hits in two innings.
"[Pitching coach Chris] Bosio came up and said: 'Hendricks, you're down. Grimm, you're in,'" Grimm said. "My heart just started beating really fast. I was like: 'All right, here we go.'"
Wesley Wright followed with 1 2/3 innings, striking out two. Rookie Neil Ramirez tossed a one-hit eighth and rookie Zac Rosscup sealed the win in the ninth.
Coghlan's three-run triple in the second gave the bullpen the cushion it needed to hold off the first-place Orioles. It was the highlight of a four-run, four-hit inning for the Cubs.
Coghlan was 0-for-15 with six strikeouts and one walk against Orioles starter Bud Norris to that point.
"Guys were reminding me," Coghlan said. "I guess they had it on a stat sheet. Yeah, it was good to be able to get that -- big situation."
Javier Baez overshadowed three strikeouts with a solo home run in the seventh, a line drive to right field. Baez also homered Friday, registering home runs in back to back games for the first time in his career. His seven homers are the most by Cub through 19 games since Mandy Brooks in 1925.
Chris Valaika chipped in with an RBI single in the sixth after taking over for Luis Valbuena at third base. Logan Watkins had an RBI double in the eighth.
Hendricks' streak of quality starts ended at six due to the delay, which he knew was coming after the grounds crew told the team the delay would last at least two hours.
"You never want to come out, especially only going two innings," said Hendricks, who boasts a 1.19 ERA at Wrigley Field. "As a starter, we're not really used to that. You definitely want to go out there. It's just not the smart thing, especially after a delay like that."
The Cubs secured their third series win of August, and on Sunday will go for their first sweep since July 2. Chicago's final 11 series, including this weekend's against Baltimore, are all against contending teams.
"They're a good, solid aggressive bunch and they're trying to establish themselves in their organization," Orioles manager Buck Showalter said. "Their intensity level is always going to be good. They've got a lot of things to establish and prove, as we do."
Daniel Kramer is an associate reporter for MLB.com. This story was not subject to the approval of Major League Baseball or its clubs.