Workman struggles as Sox drop seventh straight
Handed a lead, right-hander gives up seven runs in costly fourth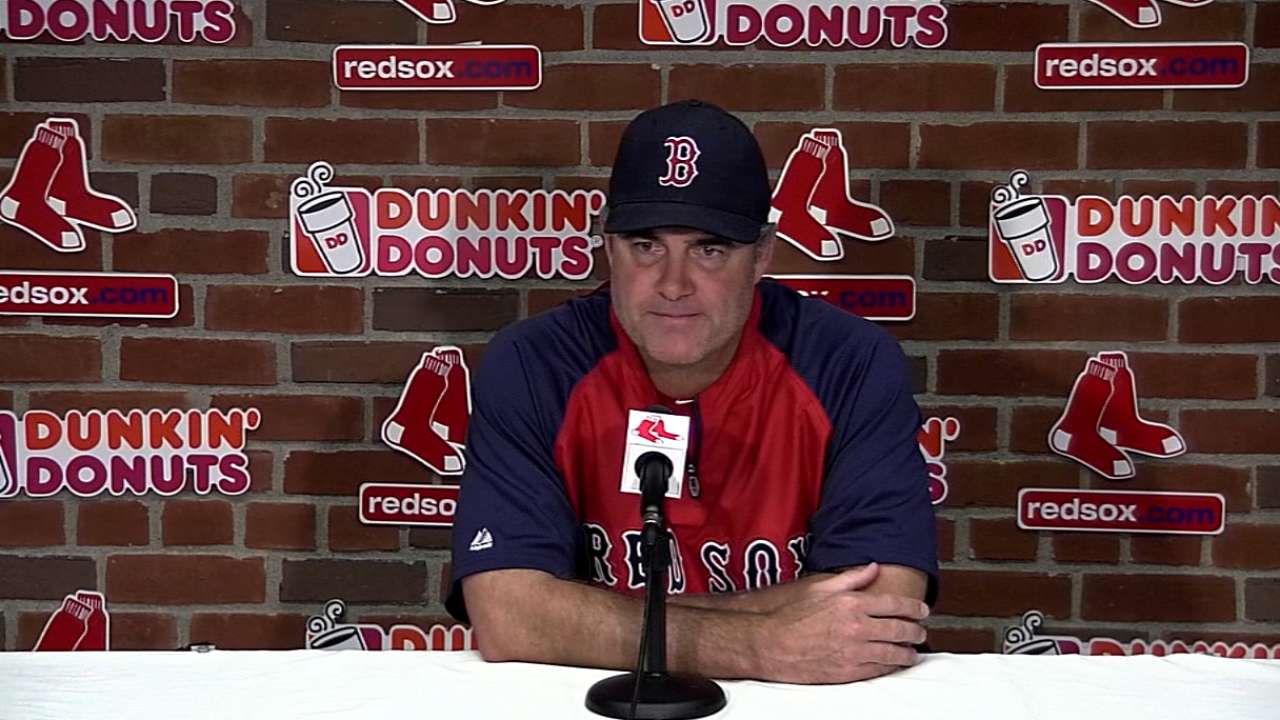 BOSTON --- Friday night, the Red Sox waited until the ninth inning to give up a three-run lead to the Mariners. Saturday afternoon, they surrendered one much quicker.
Boston scored once in each of the first three innings, but starter Brandon Workman gave up seven runs on seven hits in the fourth. Thanks to near flawless work by its bullpen, Seattle cruised to a 7-3 win, taking its second straight at Fenway Park. The Red Sox have now dropped seven games in a row, all at home, and are 2-8 on their 11-game homestand.
"The ball was up all day for me and you can't pitch like that. You can't pitch everything belt high," said Workman, who has lost each of his last eight starts. "That's what I did today and they took advantage of it."
Workman allowed three hits and a walk in the first three innings Saturday, retiring the Mariners in order in the third. But in the fourth, Chris Denorfia doubled in Kendrys Morales and Chris Taylor's single scored Kyle Seager. Morales and Seager started the inning with singles of their own. Denorfia would score on a wild pitch and Taylor came home on Jesus Sucre's single.
A batter later, Dustin Ackley ripped a 1-2, inside fastball just over the wall in right for a three-run homer to give Seattle a 7-3 edge. Workman then exited in favor of Alex Wilson, who ended the inning.
"You can hit homers down there if you can squeak it down that line because it's not very deep right there after the foul pole," the lefty said. "I think I'm leading the league in first-row homers, so I'll take it."
Red Sox manager John Farrell said he had a maximum of five, and more likely four, innings available in the bullpen, so he wanted to get Workman through the fourth. In all, Workman surrendered 10 hits and seven runs over 3 1/3 innings, fanning three and walking one.
Workman had two strikes on four of the seven batters that reached safely in the deciding fourth inning. He couldn't keep his fastball down, and it began to snowball.
"I was doing my best not to let that happen," Workman said. "Obviously, I didn't have much success."
Wilson was stellar, going 3 2/3 innings without giving up a hit. He allowed one baserunner that had more to do with baseball retribution than his actual performance. After Charlie Furbush hit David Ortiz on the left elbow with a fastball in the sixth, Wilson plunked Robinson Cano in the back in the seventh on the first pitch of his at-bat. Home-plate umpire Angel Hernandez then warned both benches. Ortiz ran the bases, but left the game with a left elbow contusion.
"It was an accident. Didn't mean to run it all the way in on him," said Wilson, who had retired 24 straight before hitting Cano and has hit just one other batter in 41 2/3 career innings. "Tried to throw in there and just kind of got away from me there."
Furbush's pitch caught Ortiz above the elbow and on the inside of the arm --- "a pretty good place" to get hit, Farrell said. Farrell said he expects Ortiz to be ready for Sunday's series finale.
"A little swollen," Ortiz said while flexing his arm. "But I'll be alright."
Junichi Tazawa worked a perfect eighth and Burke Badenhop did the same for Boston in the ninth. But Seattle's bullpen was more than equal to the task, throwing 5 1/3 scoreless innings.
Relievers Tom Wilhelmsen, Furbush, Danny Farquhar and Yoervis Medina, in that sequence, allowed two hits, a walk and struck out 11 between them.
Not to be outdone by Workman, though, was Mariners starter Chris Young. He gave up three runs on seven hits over 3 2/3 innings. The righty walked five and struck out two.
In the fourth, Young loaded the bases by allowing a single and a pair of two-out walks. Unlike Farrell, Mariners manager Lloyd McClendon pulled his starter, who struggled from the get-go, before any severe damage was done. Wilhelmsen struck out Mike Napoli with a 97-mph fastball to keep Seattle's lead at four.
The Red Sox got on the board in the first when Brock Holt singled, moved to third on Dustin Pedroia's double and scored via a Yoenis Cespedes sac fly. In the second, David Ross's double brought home Mookie Betts and in the third, Cespedes doubled, went to third on an error and scored from Napoli's sac fly.
Steven Petrella is an associate reporter for MLB.com. This story was not subject to the approval of Major League Baseball or its clubs.