Big frame helps Mariners add to Wild Card lead
Ackley caps inning with three-run homer off Workman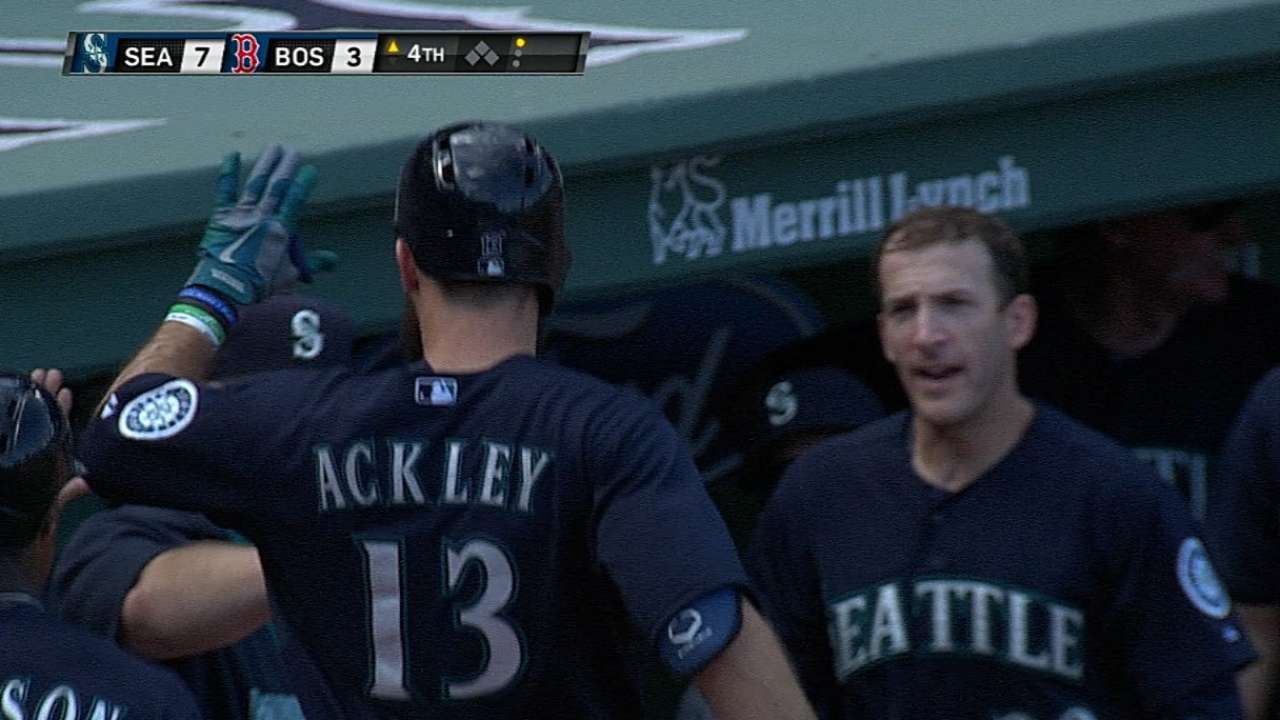 BOSTON -- The Mariners didn't need any late dramatics on Saturday, which was just fine with a club that simply wants to keep racking up wins any way possible as the season stretches into late August and a playoff berth looks increasingly realistic.
A day after pulling some late-inning magic, this time the Mariners dropped the hammer on the reeling Red Sox with a seven-run fourth inning en route to a 7-3 victory at Fenway Park that keeps Seattle in position as the second Wild Card team in the American League.
With the Tigers splitting a doubleheader Saturday at Minnesota, Seattle holds a one-game lead over Detroit in the race for the final playoff spot.
Dustin Ackley's three-run homer into the short porch in right field capped Seattle's breakout frame as the Mariners improved to 70-58, the first time they've been 12 games over .500 since the end of the 2007 season.
"You can hit homers down there if you can squeak it down that line because it's not very deep after the foul pole," said Ackley, whose ninth homer of the season was estimated at 376 feet. "I was hoping it was going to turn there a little at the end and it did. I think I'm leading the league in first-row homers, so I'll take it."
After scoring all their runs with two out in the ninth in Friday's 5-3 comeback win, the Mariners jumped on Red Sox right-hander Brandon Workman with all their runs and seven of their 10 hits coming in the fourth as they rolled to their ninth win in the past 12 games.
"Doing it in the fourth is way better. You can relax a little more," said Ackley, who indicated the early 3-0 deficit wasn't a matter of concern. "Nobody here is panicking any more. We all know what we're capable of doing. Especially after the first time through, everybody was like, 'OK, now we're going to get him. We've seen him at least one time.' And we did. We strung together three hits right off the bat and then that inning took off from there."
It was the fourth time this season Seattle has scored seven or more runs in an inning and the seven hits matched their most in any one frame.
"I don't care how we get 'em, as long as we get 'em," manager Lloyd McClendon said. "That was nice to bounce back like that."
The offense was needed on a day big right-hander Chris Young struggled through 3 2/3 innings -- his shortest outing since his second start of the year back in mid-April -- and turned a 7-3 lead over to Tom Wilhelmsen with the bases loaded in the fourth.
Wilhelmsen continued his outstanding season by striking out Mike Napoli to end that threat and wound up throwing 1 1/3 hitless innings as the first of four Seattle relievers, who combined for 5 1/3 scoreless frames on two hits with one walk and 11 strikeouts.
Wilhelmsen was part of a bullpen blowup in Seattle's last game at Fenway last season when the Red Sox scored six times in the ninth to pull out an 8-7 win, so he's pleased to see how much things have changed this year.
"Everyone is feeling real good, we're strong, we're healthy, eager to pick each other up and win ballgames," said Wilhelmsen. "These are really important games, especially right now at this time of the season. And to do it on the road at the end of a long trip says a lot about our team."
Young gave up seven hits and five walks in his first appearance at Fenway since the third game of his rookie season in 2004 with the Padres. With the no-decision, he remains 12-6 with a 3.17 ERA.
The 6-foot-10 right-hander has been one of the Mariners' biggest surprises this season, but said he was fighting himself from the start in this one.
"Rhythm, timing, tempo. I just had no feel for it," Young said. "I kept thinking I'd find it. I felt like I started to there in the fourth and then [Dustin] Pedroia had a great at-bat and rolled it through the hole for the base hit and then I went back to the stretch and just couldn't find it again. It was just one of those days.
"But ultimately, we won the game," said Young, "and that's my goal every time out, to help this team win. The guys picked me up and the credit all goes to them."
Trailing, 3-0, Seattle batted around in the fourth with Chris Denorfia contributing an RBI double and later scoring on a wild pitch, Chris Taylor and Jesus Sucre lacing run-scoring singles and Ackley putting the frosting on top with his ninth homer of the season.
Red Sox reliever Alex Wilson quieted things down after replacing Workman, throwing 3 2/3 scoreless frames. The only Mariner to reach base against Wilson was Robinson Cano, who got plunked in the backside in the seventh after Charlie Furbush nailed David Ortiz in the elbow in the sixth. Umpires warned both benches after Cano was hit.
"It was an accident," Wilson said. "I didn't mean to run it all the way in on him. I tried to throw in there and it just kind of got away from me."
The victory clinches a series win for the Mariners at Fenway, where they had lost nine straight games coming into the weekend. Seattle is 5-3 on a nine-game road trip that concludes with Sunday afternoon's series finale. The loss was the seventh in a row for the Red Sox as they fell to 56-73.
Greg Johns is a reporter for MLB.com. Follow him on Twitter @GregJohnsMLB as well as his Mariners Musings blog. This story was not subject to the approval of Major League Baseball or its clubs.