Yanks punctuate Torre's day with third straight win
Prado's two-run double, Beltran's homer back Kuroda's six innings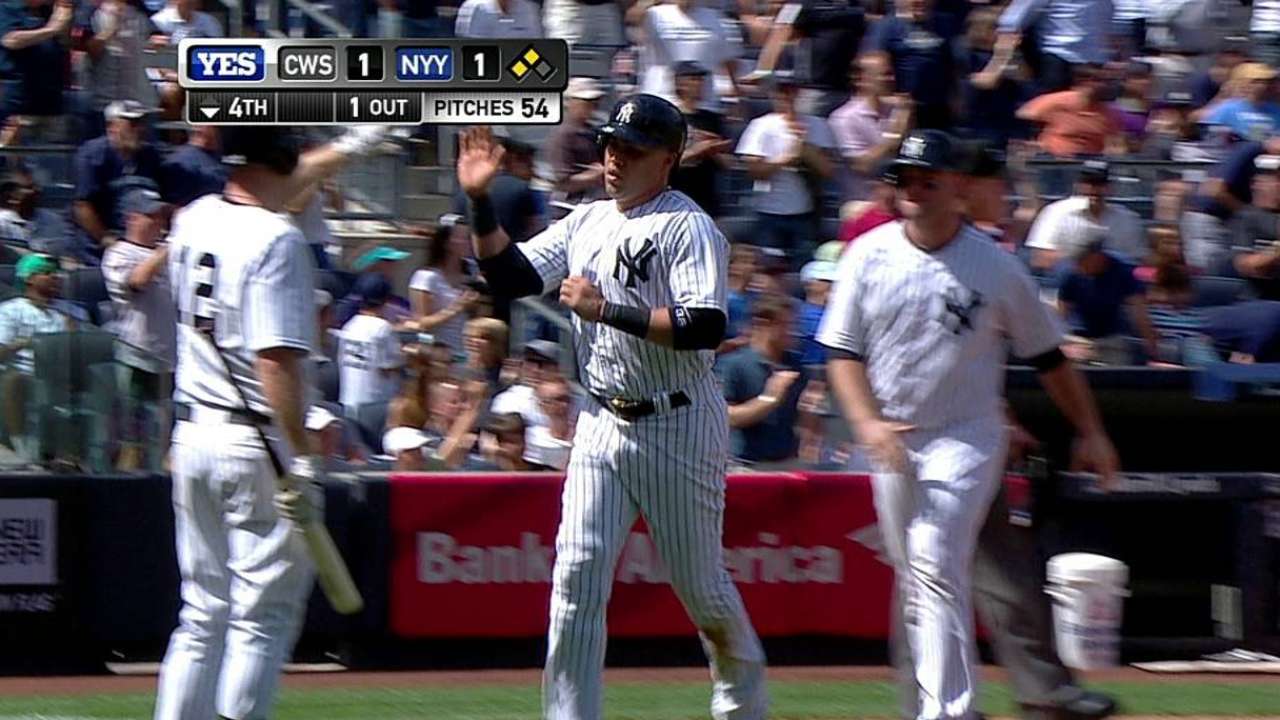 NEW YORK -- Over the last several days, manager Joe Girardi has insisted that his players' effort has been there and that he still believed the team's lackluster offense will turn around. Even position players initiated a midweek meeting, hoping to ignite their underachieving bats.
Saturday afternoon's 5-3 victory over the White Sox wasn't a giant offensive leap in the right direction, but marked some noticeable progress. The win was the Yankees' third in a row and first time since Aug. 8 that they scored more than four runs in a game.
"I've said all along this offense has the ability to score more runs and they've worked really hard at it," said Girardi. "Today, we put together some good at-bats and some walks in there and took advantage of a miscue on their part and did a nice job."
A large part of the small streak and Saturday's win was credited once again to Martin Prado, who, after singling home Friday's game-winner, ripped three more hits off of starter Scott Carroll, including a fourth-inning two-run double that pushed the Yankees ahead for good on "Joe Torre Day" at the Stadium.
"I've just been doing the same thing I've been doing my whole career," said Prado. "If there's somebody that works hard before the game, that's me. ... It was a team win and it was a team effort. That's all we're looking for every day."
Girardi kept Derek Jeter out of his lineup Saturday afternoon for a typical day off and stacked his order with lefties and switch-hitters to face the struggling Carroll. That included Jacoby Ellsbury and Brett Gardner hitting in the top two spots, respectively. Neither of them reached base, but Prado and Carlos Beltran bailed them out.
Prado, who over the last week is hitting .444 with two home runs and nine RBIs, scored an insurance run in the sixth inning after Beltran -- back in the lineup after missing three days with elbow soreness -- hit a solo homer to right field, both receiving help from replay reviews.
"That ends up being a big run," Girardi said of Beltran, who checked minutes before the game to make sure he was still OK to perform. "Those two tack-on runs when you're ahead end up being big."
The victory kept the Yankees 3 1/2 games back of the second American league Wild Card spot behind the Mariners, though no one needs to remind them how meaningful each win is, especially at home.
"It's been great," said Beltran of the improved offense. "I think the energy's been great, and we've been fighting, trying to win these ballgames. We know how important they are."
It was a sloppy game by both sides, each committing an error as well as other fielding and baserunning gaffes. The Yankees were beneficiaries in the second inning when second baseman Carlos Sanchez booted a double-play ball from Beltran and Prado followed to load the bases by beating an errant throw from first baseman Jose Abreu to Carroll. Chase Headley then grounded into a double play that plated Mark Teixeira to tie the game at 1.
"You take them any way you can get them," said Brian McCann, who reached second base when Alejandro De Aza lost his popup in the sun in the sixth inning. Prado's double scored him two batters later.
"That's what is weird and frustrating about baseball, but that's why we love it, because there are so many things that can happen," said Carroll, who was tagged for four earned runs on seven hits and three walks. "That's what is frustrating is that this line isn't indicative of how well I can throw the ball."
Meanwhile starter Hiroki Kuroda continued to prove that he will be durable in August and as the season winds down. He lasted six innings, only allowing two runs while striking out six over 101 pitches.
"He's a guy that we've tried to make sure he gets the extra days when we can," said Girardi. "We gave him two the last time and one extra one this time and he'll go normal rest, but we need him down the stretch. He's got the most experience out there and he's been pitching well."
Shawn Kelley allowed a run and worked himself into trouble in the seventh, but Dellin Betances preserved the two-run lead by getting Adam Dunn to fly out. Adam Warren pitched a perfect eighth and David Robertson earned his 34th save.
And so, for a week that began with two tough losses against the Astros, a win Sunday would provide some much needed redemption for a teetering homestand, especially as the Yankees try to make a run to finish an uneven August.
"Find a way to win a game tomorrow," said Girardi. "We've won a few in a row here after losing a couple in a row and we have a tough opponent [White Sox ace Chris Sale] tomorrow, we know that. But we've got to find a way to win this game and have a good homestand."
Jake Kring-Schreifels is an associate reporter for MLB.com. This story was not subject to the approval of Major League Baseball or its clubs.