Bronx tale ends in similar fashion for White Sox
Abreu drives in AL-leading 94th run; Carroll works six innings in loss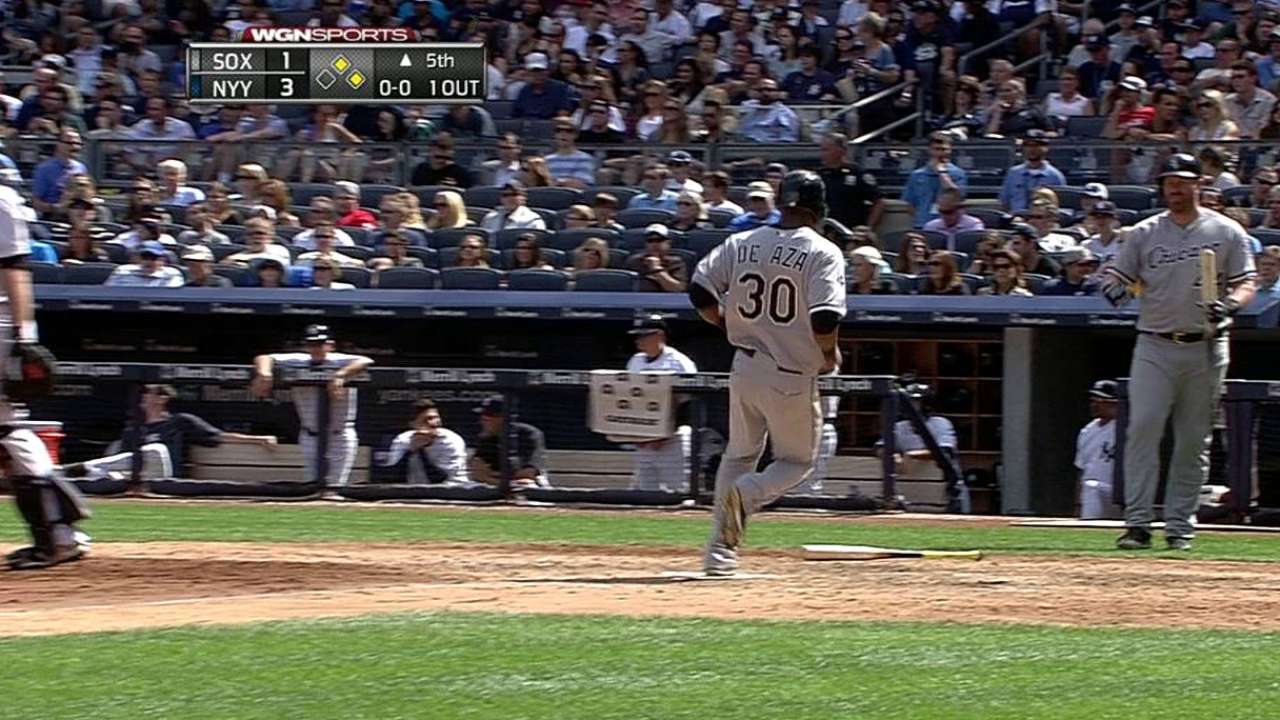 NEW YORK -- Scott Carroll bounced back from his recent struggles with a solid if not spectacular start on Saturday, but the White Sox defense did not do him any favors.
Carlos Sanchez bobbled a potential double-play ground ball in the second inning, Alejandro De Aza lost a fly ball in the sun in left field during the fourth and catcher Adrian Nieto did not make an attempt to catch Avisail Garcia's throw to the plate on a sacrifice fly in the sixth because Nieto heard Carroll say, "Let it go," which was intended for first baseman Jose Abreu to let the ball travel to the plate.
The Yankees capitalized on each of those mistakes in a 5-3 victory over the White Sox at Yankee Stadium.
Chicago has now lost five consecutive games, matching a season high, and has dropped 12 of its last 16 to fall a season-worst 11 games under .500.
Carroll came into the game with a 6.91 ERA and record of 1-2 over his last five starts. He pitched well for stretches on Saturday, forcing the Yankees into weak groundouts with a sharp sinker, but could not fully overcome the defensive lapses behind him. Overall, he surrendered five runs on seven hits and three walks in six innings.
"Defensively, we put him in some [tough] situations," White Sox manager Robin Ventura said. "We make some mistakes out there and with a lineup like this, they will grind you. He pitched fairly well, but you set him up with not making plays behind and then walking a couple guys."
While the White Sox defense made it more difficult than it should have been, Carroll was able to work his way out of most jams with minimal damage.
The Yankees loaded the bases with no outs in the second inning, but Carroll induced a double play and a groundout to give up just one run. De Aza misplayed the fly ball to start the fourth and ignited a four-hit rally coupled with a pair of walks, but some bad baserunning by New York helped Carroll escape with just two runs.
Carlos Beltran led off the sixth inning with a solo home run to right field and Martin Prado scored on a sacrifice fly, aided by Nieto's blunder.
"That's what is weird and frustrating about baseball, but that's why we love it, because there are so many things that can happen," Carroll said. "That's what is frustrating is that this line isn't indicative of how well I can throw the ball. I'm just going to take the positives out of this, get back on track and get ready for the next start."
The White Sox took an early 1-0 lead with a pair of a doubles by Conor Gillaspie and Alexei Ramirez to start the second inning, before Yankees starter Hiroki Kuroda struck out the side. Abreu drove in his 94th run, which leads the American League, in the fifth with a single that plated Alejandro De Aza.
But Kuroda (9-8) kept the White Sox hitters off balance through his six innings, yielding only five hits and two runs while fanning six.
"The fact that I was able to keep the game close to give my team a chance, I'm really proud of that," Kuroda said through an interpreter. "To get a win is the biggest thing for me today."
The Yankees had not scored more than four runs in more than two weeks before the White Sox arrived in the Bronx, a place they have not been able to figure out recently. Chicago has dropped seven consecutive games at Yankee Stadium.
Jamal Collier is an associate reporter for MLB.com. This story was not subject to the approval of Major League Baseball or its clubs.