Farmer roughed up as Tigers drop matinee
Combined 32 runs allowed over last two games team's highest since '04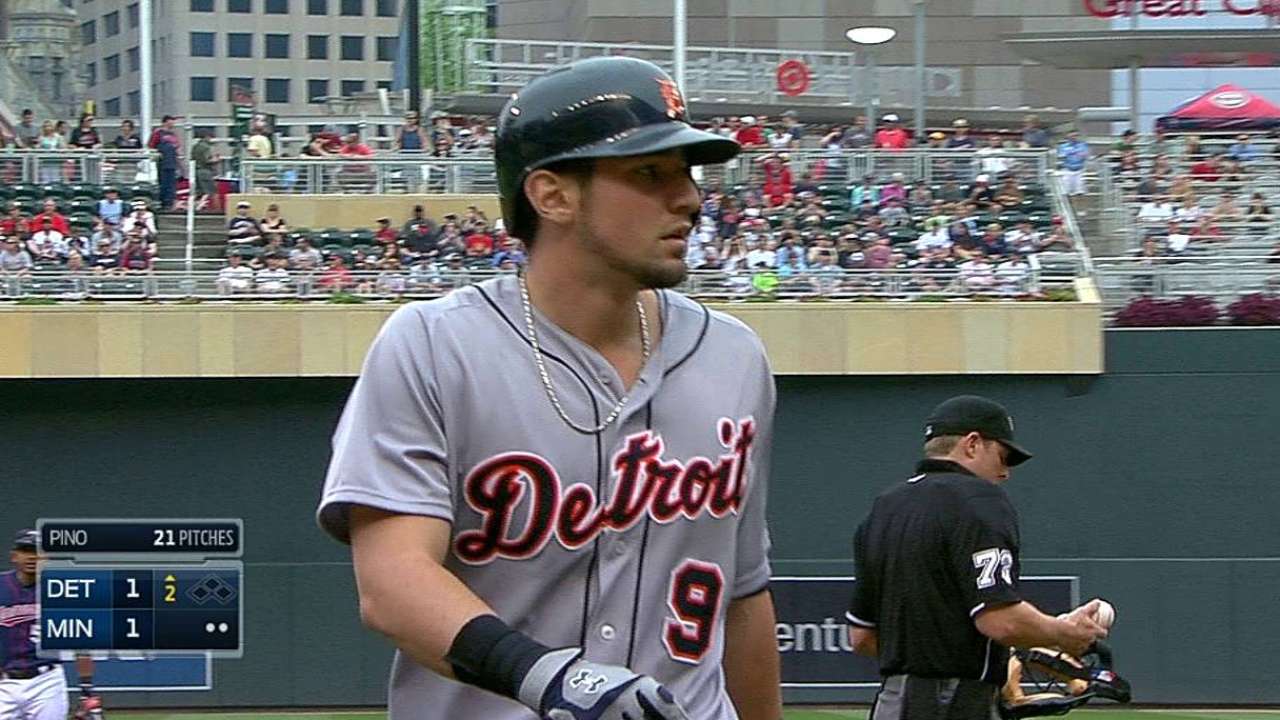 MINNEAPOLIS -- Patrick McCoy and Kyle Lobstein landed in Minneapolis about a 30 minutes before the Tigers and Twins started their day-night doubleheader. Their car service got lost around Target Field, made a few laps around the park and finally dropped them off outside -- leaving them to enter through one of the fan gates, equipment bags in hand, to realize they had missed first pitch of the Tigers' eventual 12-4 loss.
They hurriedly found the clubhouse, got into uniform, found their way to the bullpen ... and almost immediately began warming up. It was the second inning, and Buck Farmer was on his way to allowing seven runs with only four outs recorded.
"It was an interesting day to start it off," Lobstein said after the game.
It was that kind of day -- again -- for the Tigers pitching staff. It's been that kind of 24-hour stretch.
Statistically, it was a two-game span the Tigers haven't seen in 10 years.
Add Saturday's damage to the 20 runs allowed on Friday night, and the combined 32 runs allowed marked the Tigers' highest total over a two-game stretch since September 2004, when they followed a 6-2 loss to the Royals with a 26-5 drubbing to start a doubleheader.
The 32 runs mark the fourth-highest two-game total for runs allowed in franchise history. Thirteen of them came in 2 2/3 innings combined from their two starting pitchers.
"Robbie [Ray] and Buck combined have six starts between them at the Major League level," manager Brad Ausmus said. "It was a concern. It worked out the worst possible way."
It was the second time in 24 hours that Ausmus found himself pulling his starting pitcher after four outs with a 6-1 deficit -- and the second time he saw add-on runs off Detroit's bullpen render a middle-inning rally relatively meaningless.
This time, Ausmus didn't have to ask a position player to pitch -- and he didn't have to look at a 20-run outburst. Lobstein was the primary reason for both.
Then again, the 20 runs allowed and eight pitchers used on Friday night were the big reason Lobstein was there in the first place.
He was scheduled to start on Saturday night at Triple-A Toledo, but got pulled off the team bus with McCoy. They stayed back last night in Indianapolis, caught a cab to the airport and boarded their flight.
That's when things got crazy.
"They had a maintenance issue," Lobstein said, "so we had to deplane and then switch planes. That took about an hour and 10 minutes to figure all that out by the time we got in the air. ...
"Quite honestly, we thought that the game was at 1 o'clock. So we're timing it and we're still thinking there's a lot of time. Then, show up and we see the game going on coming into the stadium."
Farmer made an impression a week and a half ago with five innings in a spot start against the Pirates -- enough to be the Tigers' choice as a spot starter for Saturday's doubleheader. In between, however, he gave up eight runs on five hits in one-third of an inning for Toledo.
Saturday's results were more like the latter. Farmer recovered from a Joe Mauer RBI double with back-to-back strikeouts of Kennys Vargas and Chris Parmelee to hold Minnesota to one run in the first. But the stop was temporary.
Four Twins batters at the bottom of the order reached base safely to open the second, loading the bases with back-to-back singles and a hit-by-pitch for Jordan Schafer to empty with a three-run triple.
"Balls up in the zone to Major League hitters get hit," Ausmus said.
Sometime around that point, McCoy and Lobstein made their way to the bullpen.
"I'd say I got out there and started playing catch right away," Lobstein said.
Farmer struck out Danny Santana, but walked Brian Dozier before Mauer doubled him in. That was it for Farmer, who threw 54 pitches over 1 1/3 innings while allowing seven runs on five hits.
McCoy gave up two runs on five hits in one inning. Lobstein handled the final 5 2/3 innings, allowing a three-run seventh-inning double by Vargas that was his only damage.
He would've been an out shy of a quality start. He might well take Ray's place during the next turn through the rotation. The way the Tigers are pitching, Ausmus isn't thinking about that yet.
Like Lobstein's flight, the Tigers have maintenance issues.
"We have to sort it all out," Ausmus said. "The injuries we've had, with the doubleheaders, we're a day at a time."
Jason Beck is a reporter for MLB.com. Read Beck's Blog and follow him on Twitter @beckjason. This story was not subject to the approval of Major League Baseball or its clubs.