Blue Jays edge Rays in protested walk-off win
Reyes slaps single in 10th; Tampa Bay objects to fourth-inning review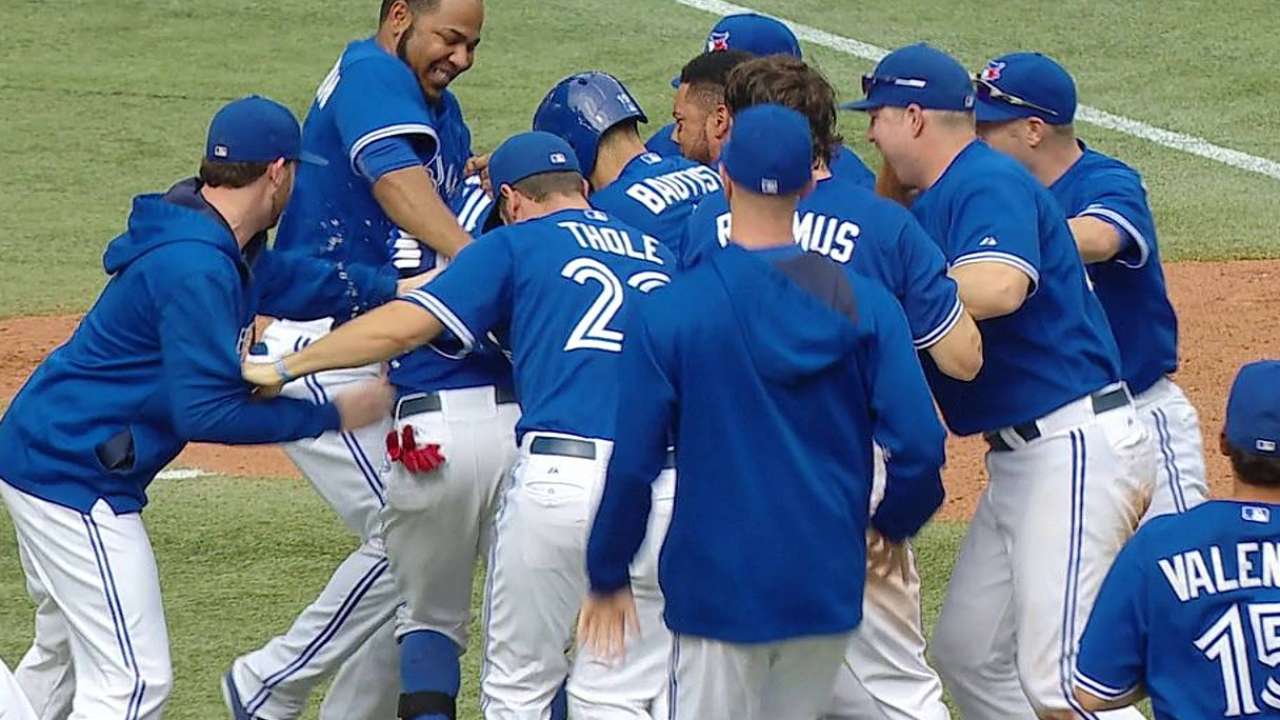 TORONTO -- After manager John Gibbons characterized their effort in the series opener as "lousy," the Blue Jays showed some creativity in taking an emotional extra-innings bout over the Rays on Saturday afternoon at Rogers Centre.
Colby Rasmus led off the 10th with a two-strike bunt single off of reliever Joel Peralta, stole second base and then scored on Jose Reyes' game-winning hit as the Blue Jays slipped past the Rays and escaped with a 5-4 victory, creating the possibility for a series win on Sunday.
"I was just playing baseball, letting my instincts work and just playing the game," said Rasmus, who was a career 0-for-10 against Peralta prior to his bunt. "I felt it would be a good time to try to get a bunt down, maybe to get something started. Like I said, I hadn't had much success off of him in the past so I figured I'd try a little bit different. As far as running the bases, I was just playing, trying to do the best I could."
The walk-off was the Blue Jays' seventh of the season, and it came on a day that could've gone either way several times. Toronto looked like it'd be able to get it done in nine innings, and the team carried a one-run lead into the Rays' would-be final at-bat with closer Casey Janssen in for the save opportunity.
A seventh-inning two-run shot from Dioner Navarro provided the Blue Jays with a one-run edge, but Janssen couldn't finish the job, walking Wil Myers to lead off the inning before allowing back-to-back pinch-hit singles as the Rays tied the game at 4. If it weren't for a baserunning error by Kevin Kiermaier, who rounded third too hard on James Loney's RBI single and was thrown out as he retreated to the bag, Tampa Bay could've taken the lead and possibly the game.
There was some debate in the dugout about whether or not Aaron Sanchez should've gone back out for the ninth after the rookie right-hander pitched a nearly flawless 1 2/3 innings in relief of starter Mark Buehrle. Sanchez burned through five Rays hitters in order, continuously touched 99 mph with his fastball and appeared to have more gas in the tank as he left the field after the eighth.
But Gibbons said any further use could result in losing the young pitcher for several days, so the decision was made to go with Janssen.
"He's been great all year, he really has," Gibbons said of Sanchez. "There was a battle there whether we send him back out. We're really trying to maximize what he is. He goes another inning, yeah you're trying to win the game, but he's down another three or four days."
Buehrle, meanwhile, reached the seventh inning for the first time in three starts after going through a rough patch. He went 6 1/3 innings, allowing eight hits and three earned runs, but he got a no-decision after hitting a wall. He allowed a pair of runs on three hits in the seventh, giving way for Sanchez's relief effort.
"I felt great. It was probably the best I've felt in a couple years," Buehrle said. "I think I got worn out there towards the end. It's been a while since I got up to the 90-pitch count, between going three and four innings, getting taken out in Chicago around 70 pitches."
Buehrle's pickoff of Myers in the fourth inning resulted in some discontent on the part of Rays manager Joe Maddon, who informed crew chief Bob Davidson that Tampa Bay would be playing the remainder of game under protest. Maddon disagreed with the allowance of a manager's challenge by John Gibbons after Myers was originally ruled safe, and Yunel Escobar stepped back in the box as Buehrle took the rubber.
Following a near three-minute review of the original call, it was overturned and Myers was ruled out. Maddon thought the window for the challenge should've been closed, but the umpires allowed the review anyway.
"The home-plate umpire had it right. He did not want to permit Gibbons from coming out because he saw batter in the box, pitcher on the rubber," said Maddon. "The moment those two mechanisms were in place, for me, the situation gets locked. ... It has nothing to do with timeliness. Batter in the box, pitcher on the rubber."
Jamie Ross is an associate reporter for MLB.com. This story was not subject to the approval of Major League Baseball or its clubs.