Rays drop protested walk-off contest to Jays
Maddon objects to controversial challenge in fourth inning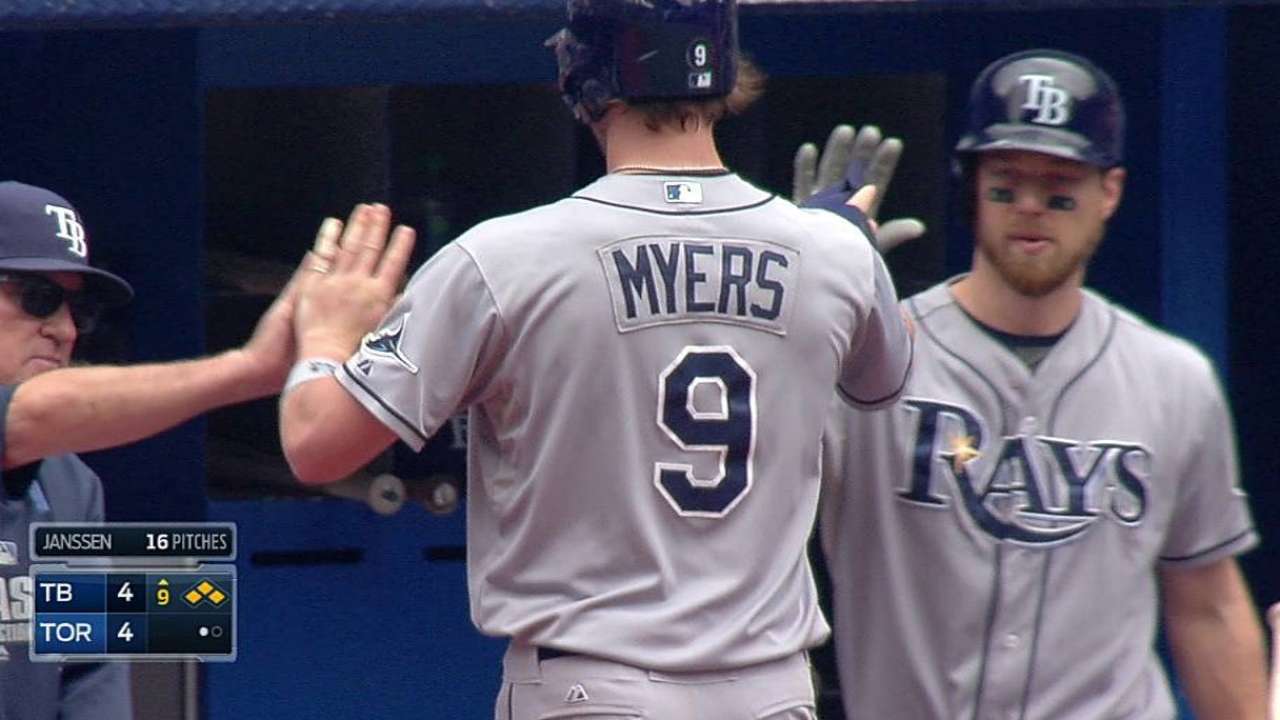 TORONTO -- The Rays had a two-game winning streak snapped in a contest that manager Joe Maddon ultimately doesn't think is final.
That's because the skipper protested the game in the fourth inning, long before the Blue Jays outlasted Tampa Bay and won a back-and-forth contest in extra innings. After the Rays tied the game in the ninth, left-hander Jeff Beliveau surrendered a walk-off, two-out single to Jose Reyes in the 10th inning of a 5-4 loss to Toronto in front of 37,451 at Rogers Centre on Saturday afternoon.
"The one thing that really stands out to me is the effort of our club," Maddon said. "I love it, I really love it. The fight in the dog is pretty darn good right now. I'm pleased."
Colby Rasmus began the frame with a bunt single, and he later stole second base to get into scoring position for Reyes. Beliveau replaced Joel Peralta to force Reyes to hit from the right side, and the switch-hitter responded by smacking the first pitch he saw to left field to send the Blue Jays to their seventh walk-off win of the season. Matt Joyce threw home on the play, but Rasmus slid in safely as the ball took a bounce and went past catcher Curt Casali.
"I was just playing baseball, letting my instincts work and just playing the game," Rasmus said of the two-strike bunt.
The Rays coughed up a one-run lead in the seventh inning, but they didn't quit. Down to its last three outs, Tampa Bay clawed back against Blue Jays closer Casey Janssen.
Wil Myers drew a leadoff walk to begin the frame before back-to-back base hits by pinch-hitters Kevin Kiermaier and James Loney tied the game at 4. Peralta worked a clean ninth to force extra innings.
But the Rays potentially could have had more. Kiermaier was wiped off the bases on Loney's hit when he rounded third base and couldn't get back to the bag on time. The rookie, who was looking to score from first, had his mind made up and saw third-base coach Tom Foley waving him home.
Foley, however, second-guessed his decision when he saw how quickly left fielder Melky Cabrera got to the ball. Kiermaier had his head down to make sure he touched third, and when he looked up, he was already past the bag and going full speed. It was difficult to get back in time, especially with the throw Cabrera made, he said.
"I thought [Foley] was going to send me the whole way to score right there -- and I thought I could have," Kiermaier said. "I kind of wish I just ran through it, just tried."
Although that baserunning gaffe was costly, as was a misplay by Brandon Guyer in left field with two outs in the third that led to an RBI double from Reyes -- a play Maddon felt should have been ruled an error -- the Rays skipper was more concerned with the fourth-inning umpiring decision.
Maddon declared his team was playing the game under protest after he felt the Blue Jays violated rule II.D of Major League Baseball's replay review regulations. Toronto manager John Gibbons challenged a safe call on a pickoff attempt at first base, which was eventually overturned and took Myers off the bases, but he did so once Buehrle was already on the mound and the rubber and Tampa Bay shortstop Yunel Escobar in the batter's box. The official rules state the challenge was made too late -- and never should have been allowed, period -- because the next play had already started.
For Maddon, the rule is clear, and he said home-plate umpire John Tumpane agreed with him. But crew chief Bob Davidson didn't see it that way.
"I think it's a legitimate protest," Maddon said. "Hitter in the box, pitcher on the mound, on the rubber, that locks the mechanism. It was inappropriate for Bob to do what he did, permit that to happen. I trust that they are going to interpret the rule properly and get us back to that point in the game."
The Rays went down late after Rays starter Jeremy Hellickson was lifted with one out in the seventh, following a Ben Zobrist leaping catch at the wall in right field to rob Adam Lind of extra bases. Brad Boxberger entered and allowed a ground-rule double to the first batter he faced -- Edwin Encarnacion -- before Dioner Navarro followed by clearing the wall in right for a two-run homer, his 10th of the season, to put Toronto ahead, 4-3.
Hellickson was in line for the win, but he had to settle for a no-decision in another strong outing for the right-hander. The 27-year-old allowed two runs on three hits over 6 1/3 innings, walked one and struck out a season-high eight batters. Hellickson sports a 2.61 ERA over seven starts this season.
Hellickson felt his curveball was a big reason behind the performance.
"It's nice to have a putaway pitch," Hellickson said. "The one I have been throwing early has been pretty consistent, but the two-strike one was a lot better today."
Down, 2-1, the Rays, strung together some timely hits off Blue Jays starter Mark Buehrle to go ahead in the seventh before handing the lead right back.
Jose Molina cashed in a run on a base hit to center field to tie things up before Sean Rodriguez followed with an RBI double to left to put the Rays in front, 3-2.
Rodriguez's double chased Buehrle from the contest. The lefty went 6 1/3 innings, allowed three runs on eight hits, walked one and struck out two.
Zobrist recorded the 500th RBI of his career with a well-executed bunt single down the third-base line in the third inning to open up the scoring.
The Rays, who have dropped five of their last seven, had a string of 19 consecutive road contests of allowing three runs of fewer snapped, which was two games shy of tying the Major League record.
Chris Toman is a contributor to MLB.com. This story was not subject to the approval of Major League Baseball or its clubs.