Gray stifles Angels to put A's one game back
Doolittle's escape secures series opener; Crisp, Vogt belt HRs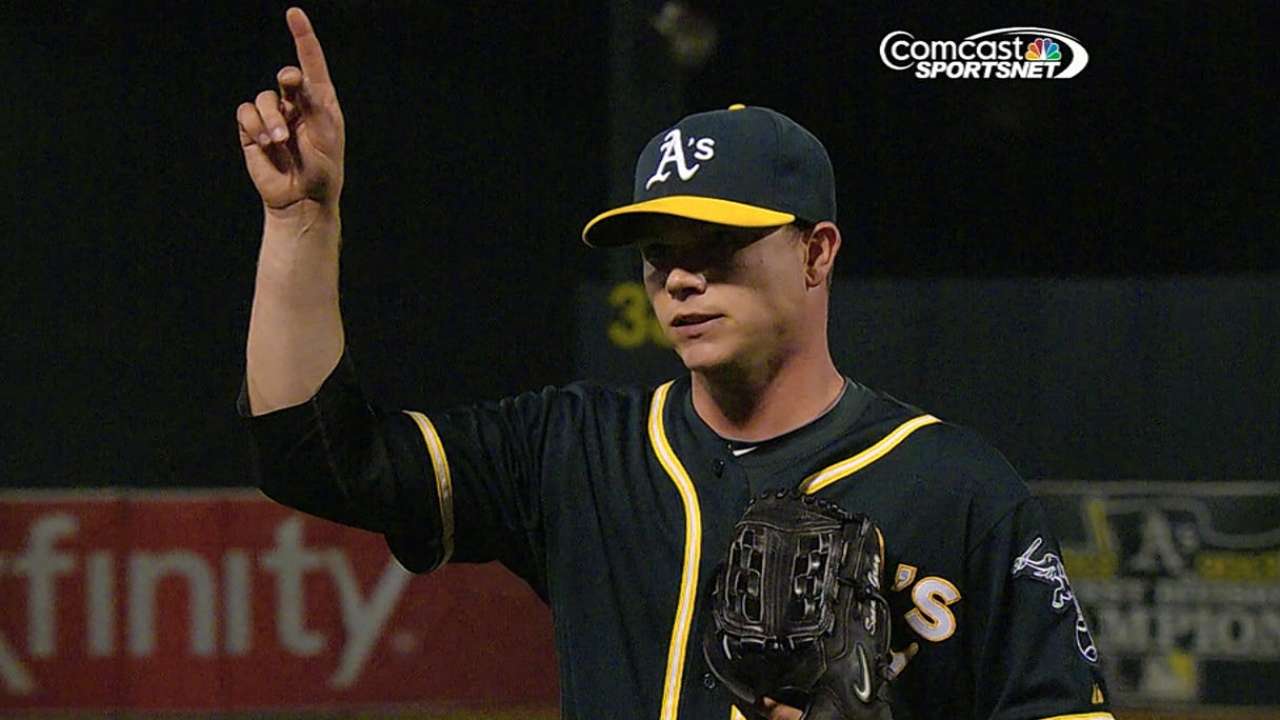 OAKLAND -- This was no postseason affair, but at times it mirrored the emotions of one, and the A's responded with the type of dominant play that's been missing for too long.
That their home crowd provided a deafening chant of "Let's go, Oakland!" as background noise to their 5-3 victory Friday night over the Angels only amplified the significance of this late August game.
"We haven't played a game like that, it doesn't seem like, that crisp for a while," said manager Bob Melvin. "Certainly the fans were out in full force like we expected. We always get an energy push from them. Certainly when we took the lead, it really felt like we were finally in charge of a game, where we hadn't been in a while."
The A's aren't back in first place, still trailing Los Angeles by one game in the American League West, but Friday's showing perhaps provided just the right dose of mojo they've badly needed to push through this crucial five-week stretch.
"We don't want to get too caught up in one game, but I think tonight we just worried about winning tonight, and that's our goal," said Sam Fuld, responsible for a go-ahead RBI triple in the sixth. "We try to take it one game at a time, but given our struggles as of late, it's great to get that first win in the series under our belt."
It's only the A's third win in their last 11 tries, a stretch in which they've exchanged a four-game division lead for a one-game deficit, but they looked more like themselves in this one, starting with their starter.
Sonny Gray, riding a four-game losing streak into the game, responded with an 8 1/3-inning performance, marking his longest outing since tossing a complete game on April 28 at Texas. He departed to a rousing ovation, and Sean Doolittle notched the final two outs for his 19th save, despite loading the bases in an eventful frame.
Gray was charged with all three runs, two on homers from Mike Trout and Josh Hamilton, and scattered just four other hits while fanning five and walking two.
Trout's first-inning shot was matched by one from Coco Crisp off Hector Santiago, who became just the third left-handed starter to lose to the A's since the All-Star break. For Crisp, it was his second leadoff homer of the season and 15th of his career, setting in motion plenty of momentum for a club that was in dire need of some.
"Trout hits a home run, then Coco answers. That was big," said Melvin. "That's like, all right, we're fine."
"That was huge," said Fuld. "We were all fired up for this series, and you give up a home run in the first, it can take the wind out of your sails a little bit, but once Coco hit that home run, there was a little bit better energy in the dugout."
Hamilton broke the tie with a fourth-inning homer, but the Angels gift-wrapped the A's a run in the fifth on a botched inning-ending double play ball off the bat of Josh Donaldson. Shortstop Erick Aybar's errant throw brought home Crisp, who led off the frame with a double in advance of a walk to Craig Gentry.
Fuld's go-ahead RBI triple off right-hander Jason Grilli in the sixth put the A's on top for good, and he, too, scored on Andy Parrino's ensuing sacrifice fly, giving Gray plenty of breathing room. Stephen Vogt extended Oakland's lead in the eighth with his ninth homer.
"That's our goal," said Fuld, "not to put too much pressure on any one guy in the lineup, and I think, as an organization, we take a lot of pride in being balanced throughout."
The A's have won seven of their 10 meetings against the Angels this year, including all four played at the Coliseum, but nine games still remain between these two feisty clubs.
"They battled," said Doolittle, who gave up a pair of singles and issued a rare walk in the ninth. "I think that right there is an example of why they've been so successful lately, winning a lot of close games, coming from behind in a lot of games to get the win.
"They're not all going to be pretty, but that was a really, really important win to be able to nail down."
"We haven't gotten it done up here yet this year," said Angels manager Mike Scioscia. "But I think we're a better team now than we've been at any time during the season. Hopefully we'll come out tomorrow and get enough to get it done. Those guys are tough. They're a good club over there and they certainly can shut you down when they get a lead. They do a lot of different things and we have to be ready for it."
Jane Lee is a reporter for MLB.com. This story was not subject to the approval of Major League Baseball or its clubs.