Angels' rally thwarted in opener of key series
Bases left loaded in ninth; Trout, Hamilton connect on solo HRs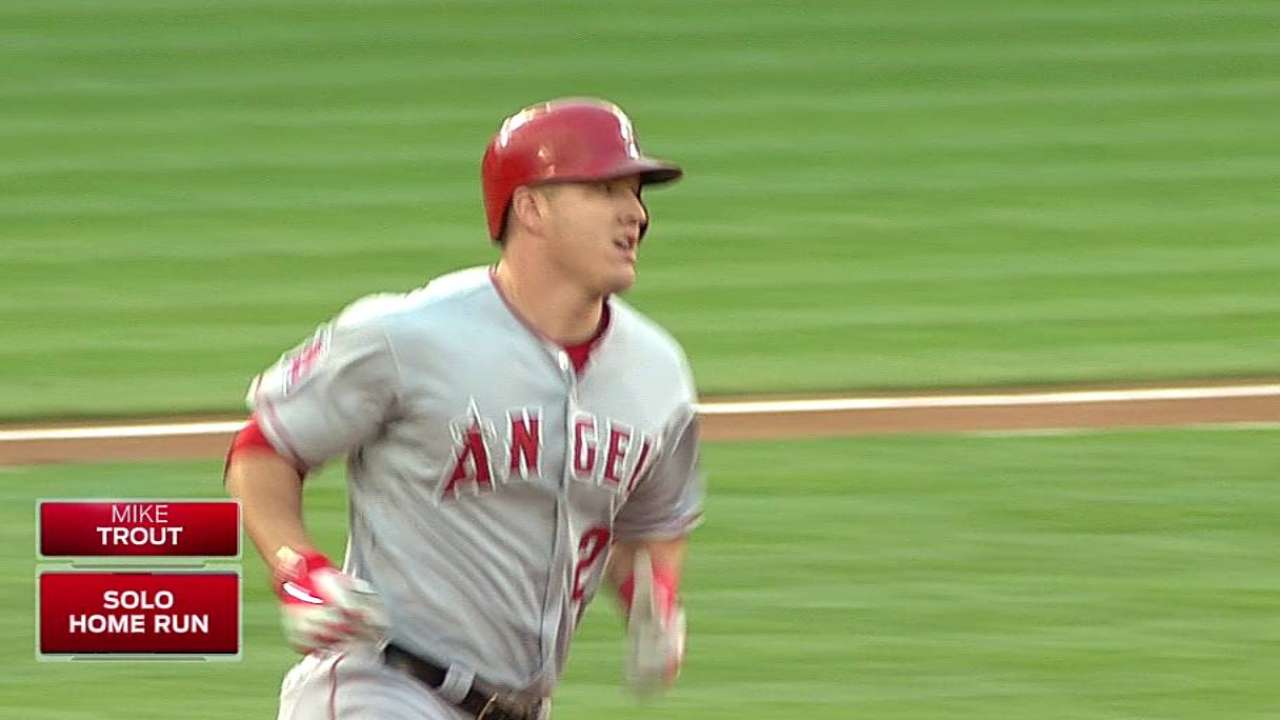 OAKLAND -- Erick Aybar's turn was too erratic, Jason Grilli's fastball to Sam Fuld grooved too straight, Kole Calhoun's line drive was too perfect, and the ninth-inning rally was too late. And so the Angels lost to the A's at O.co Coliseum on Friday night. The score was 5-3, and the game was tight, right up until the very end, just like you'd expect from a couple of teams that may be scrapping for the American League West crown all season.
"That's how these games are going to be, man," Calhoun said. "Both of these teams are fighting against each other, and there are going to be battles, just like tonight."
Friday was the first of three games this weekend, and one of seven the Angels and A's will play over 10 days. It hinged on the two runs Sonny Gray limited the Angels to through the first eight innings, and the two runs Grilli surrendered to the A's in the sixth, and the jam Sean Doolittle barely escaped in the ninth.
Down three with two outs and a runner on first, the Angels got back-to-back singles from Aybar and David Freese to make it a two-run game, then a walk from pinch-hitter Collin Cowgill to load the bases and put the potential tying run in scoring position. But Chris Iannetta swung through Doolittle's 2-2, 95-mph fastball and the A's -- losers of six of their last seven heading in -- trimmed their deficit in the AL West to a single game.
"They're not all going to be pretty," Doolittle said, "but that was a really, really important win to be able to nail down."
The Angels (76-51) entered with eight wins in their last nine games, a stretch that allowed them to gain 5 1/2 games on the A's (75-52) and push for the best record in the Majors. But they're now 0-4 in Oakland this year, having also been swept from May 29 to June 1.
"We haven't gotten it done up here yet this year, but I think we're a better team now than we've been at any time during the season," Angels manager Mike Scioscia said. "They're a good club over there and they certainly can shut you down when they get a lead. They do a lot of different things, and we have to be ready for it."
All the momentum seemed to shift in the top of the fifth.
The Angels held a 2-1 lead thanks to homers by Mike Trout and Josh Hamilton, and had a chance to tack on when Hank Conger's sacrifice bunt put runners on second and third with only one out for the top of the order. Calhoun followed with a liner up the middle, but A's shortstop Andy Parrino was playing the Angels' left-handed leadoff hitter right behind second, making the easy catch and stepping on second for the inning-ending double play.
"It's kind of the name of the game these days," Calhoun said. "There's so many different shifts. One team's going to play you one way, another team's going to play you another. Big spot right there. Obviously it's a big at-bat in the game, and I hit it right at him. It kind of worked out perfectly in their favor."
And then it all went south for the Angels.
Hector Santiago looked to be out of a tough jam in the bottom of the fifth, when Josh Donaldson's liner hit off his left hand and bounced right into Howie Kendrick's glove for what looked like the start of the Angels' own inning-ending double play. But Craig Gentry got just enough of Aybar's leg on his slide to second, forcing the Angels' shortstop into an errant throw that scored Coco Crisp from second.
Grilli entered in the sixth, with a 2.08 ERA in 26 appearances since being acquired from the Pirates, and gave the A's a two-run lead on an RBI triple by Fuld and a sacrifice fly by Parrino. Rookie Cam Bedrosian entered in the eighth, mainly because the Angels lead the Majors in innings from their bullpen since the All-Star break, and served up a solo homer to Stephen Vogt to make it a three-run game.
Said Scioscia: "Those guys didn't miss a couple of pitches when they had chances to hit them."
And that made the difference.
It's that close between the Angels and A's.
"One pitch, one play, one hit," Santiago said. "We're two pretty good teams."
Alden Gonzalez is a reporter for MLB.com. Read his blog, Gonzo and "The Show", and follow him on Twitter @Alden_Gonzalez. This story was not subject to the approval of Major League Baseball or its clubs.