Tigers can't contain Twins, slip out of Wild Card spot
Ray knocked out early as Minnesota piles on runs in series opener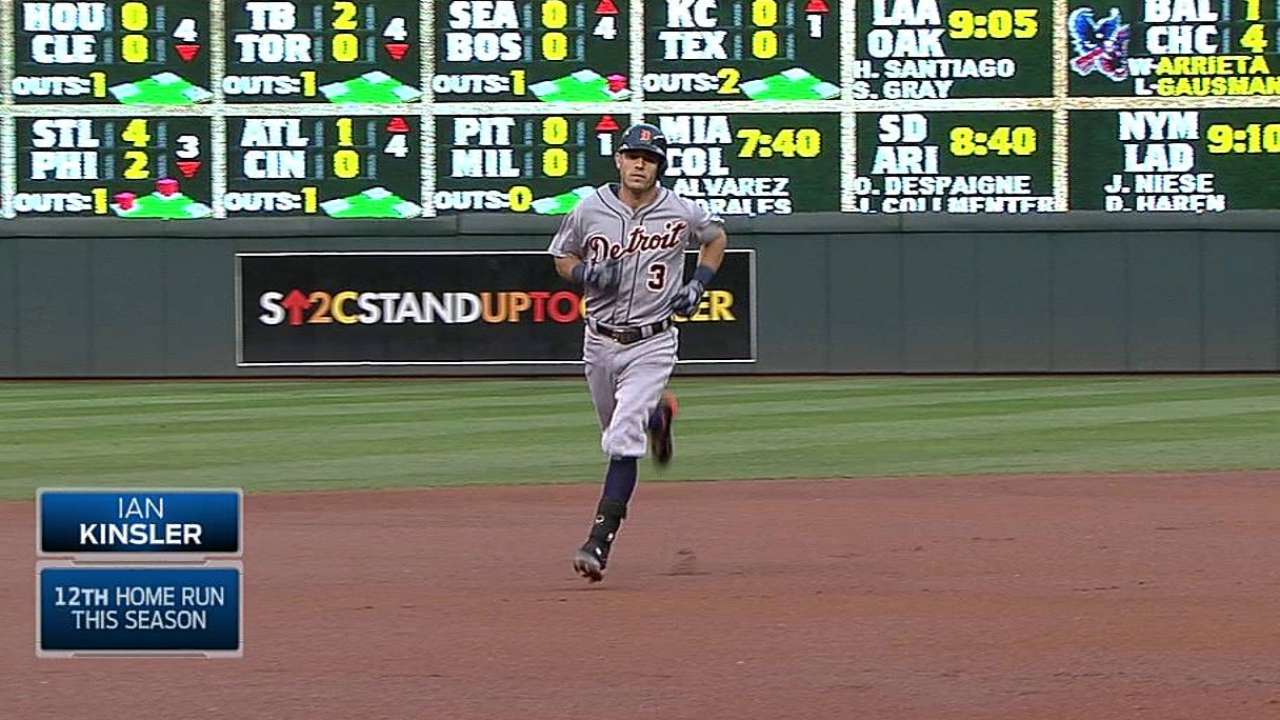 MINNEAPOLIS -- Tigers manager Brad Ausmus was having a discussion with reporters in his office Friday afternoon about offense being down across baseball. He was trying to make a point, not a prediction.
"Generally speaking, it's the big inning that wins baseball games," Ausmus said before Friday night's 20-6 loss to the Twins at Target Field. "I would say in most games, the [winning] team scores more runs in one inning than the losing team scores all game. That, right there, is the basis for the idea of playing for the big inning."
He did not have the research to go with it. By the end of the night, his team had gone from defying the trend to providing an extreme example on its way to falling a season-high 2 1/2 games out of first place in the American League Central, and falling out of the second AL Wild Card spot behind Seattle.
"This was a bad game. It was an embarrassing game, really," Ausmus said. "There's really not much to say about it. It is what it is."
It was the second straight year the Tigers gave up 20 runs in a late-season game with a division race on the line. They had a 20-4 loss last September in Boston last season. Considering the day-night doubleheader that looms Saturday, the damage could be far greater than one game in the standings.
The Tigers had the tying run on third base in back-to-back innings with a chance to erase the damage of a six-run second inning off starter Robbie Ray. Bryan Holaday came within feet of an extra-base hit off the left-field wall with the bases loaded in the fifth inning of a 6-4 game before an acrobatic catch from Jordan Schafer left him with a sacrifice fly.
"I thought it was going to be over his head," Holaday said. "I didn't think it was going to go out though. He made a great play."
The Twins thwarted that threat, then got an inning-ending double play from Victor Martinez with runners at the corners in the sixth. From there, they posted a nine-run sixth inning that made that one-run deficit unrecognizable.
It was a disastrous night for Tigers pitching ahead of a doubleheader that begins with Buck Farmer's second Major League start Saturday afternoon and ends with Justin Verlander's first start back from shoulder inflammation.
Yet it was the doubleheader that led Ausmus to use relievers for four or five outs apiece after six runs in a seven-batter stretch knocked Ray out of the game and eventually all the way back to Triple-A Toledo, where he was optioned at the end of the night. Ausmus hoped that he could leave as many relievers available for Saturday as he could.
"Pretty much every pitcher that went out there, we were being careful with," he said. "We have two games tomorrow. We have a young pitcher starting the first game, so we were careful about every single pitcher that toed the rubber tonight in terms of their pitch count."
For a few innings, the strategy worked. Blaine Hardy recovered from back-to-back baserunners to retire four in a row, including a highlight backhanded grab on a comebacker that left him looking in his glove to see if he had it. Once Jim Johnson followed Phil Coke to retire two batters in the fifth, Detroit relievers had sent down seven Twins in order. They didn't get their first out of the sixth inning until the Twins had batted around and Johnson had exited.
By the end, every reliever but Joe Nathan pitched -- as well as infielder Andrew Romine, who gave up back-to-back home runs to Oswaldo Arcia and Trevor Plouffe in the eighth.
Romine's 27-pitch eighth inning pushed the Tigers' pitch count to 214 for the game, 10 more than David Price and Rick Porcello threw over 17 innings in complete-game efforts at Tampa Bay the previous two games. Six relievers combined for nine walks -- two with the bases loaded -- after Porcello and Price walked none.
One pitcher without a walk was Ray, whose damage on offspeed pitches came so quickly in the second inning that he never got to a three-ball count.
"They knew when it was coming," said Ray, who suspected he was tipping pitches.
The other Tigers pitcher without a walk was Romine.
"He took one for the team," Ausmus said. "He picked us up, really. Didn't really matter how he pitched, we just were hoping that he could get through three outs without an injury or overextending himself."
One of those relievers with a bases-loaded walk, Ian Krol, joined Ray en route to Toledo, to make room for a fresh reliever. Lefties Patrick McCoy and Kyle Lobstein will be in place for the doubleheader.
Jason Beck is a reporter for MLB.com. Read Beck's Blog and follow him on Twitter @beckjason. This story was not subject to the approval of Major League Baseball or its clubs.