Twins' offense erupts for 20 runs to rout Tigers
Minnesota piles on with six-run second inning, nine-run sixth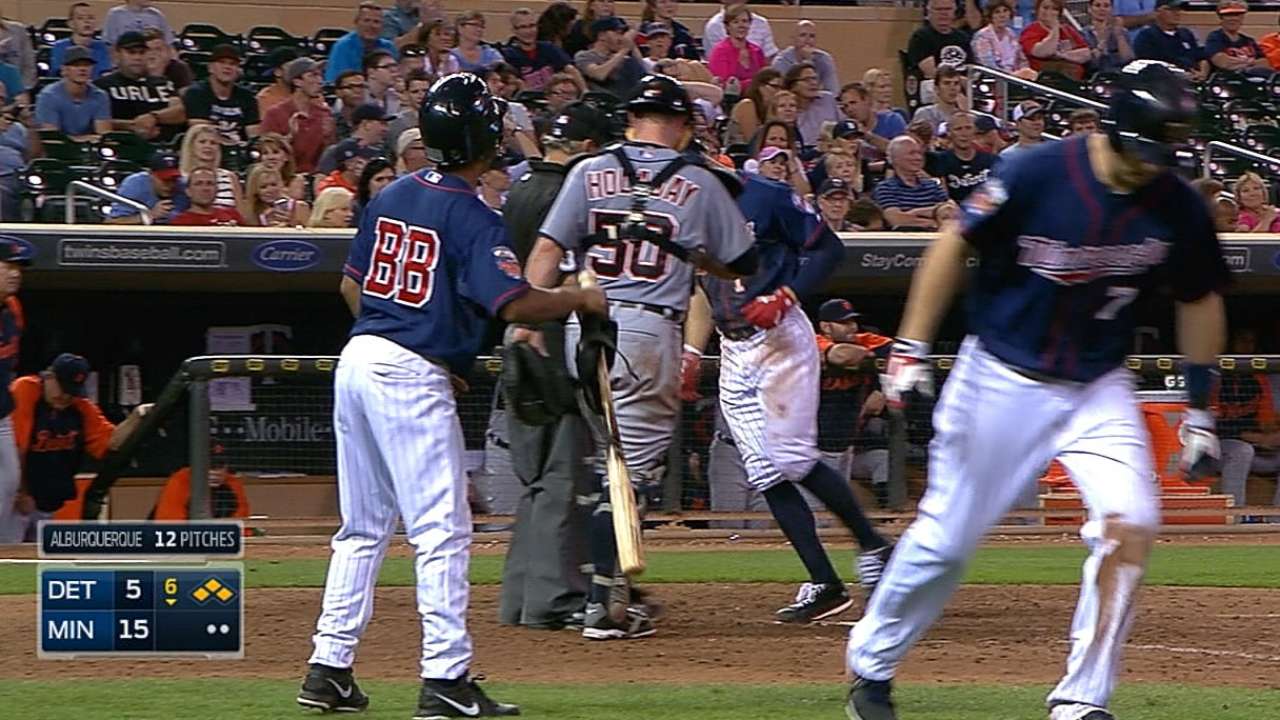 MINNEAPOLIS -- It's not very often that Twins manager Ron Gardenhire is at a loss of words.
But after his team's performance against the Tigers on Friday night, Gardenhire couldn't quite come up with the words to explain it.
The Twins shook off their recent woes with runners in scoring position, breaking out offensively for a six-run second inning and a nine-run sixth to rout the Tigers, 20-6, at Target Field. The Twins, who also had 20 hits, became the first team in the Majors to score 20 runs in a game this season.
"I don't know how to describe that ballgame," Gardenhire said. "A lot of runs were scored and balls were flying everywhere."
It set a season high for runs scored for the Twins, surpassing the 16 they scored against the White Sox on Aug. 3. That was also the same date the Twins last had a nine-run inning.
It was also the first time the Twins had two innings with at least six runs since doing it on Sept. 4, 2012, against the White Sox in an 18-9 win. The last time the Twins had 20 runs was May 21, 2009, against the White Sox in a 20-1 win.
"It's one of those once a season, maybe once every couple seasons games for us," said Trevor Plouffe, who went 3-for-6 with a homer, a double and three RBIs. "We kept taking good at-bats and didn't give any away."
The Twins saw every position player but Kurt Suzuki come up with a hit. They started their six-run rally in the second against left-hander Robbie Ray with three straight doubles from Kennys Vargas, Oswaldo Arcia and Plouffe before Eduardo Escobar launched a two-run homer. Jordan Schafer followed with a single to set the stage for a two-run blast from Danny Santana.
"It definitely seemed like they were sitting on offspeed," Ray said. "They knew when it was coming."
Santana's homer knocked Ray out of the game after just 1 1/3 innings and gave the Twins an early 6-1 lead. But Twins left-hander Tommy Milone also had an off night, giving up five runs (three earned) on 10 hits over 4 1/3 innings to fall two outs short of qualifying for the win.
The Tigers opened the scoring with a leadoff homer from Ian Kinsler in the first and rallied for four runs in the fifth to make it a one-run game. Escobar made his second error of the game with one out to spark the rally for the Tigers on a grounder hit by Torii Hunter.
Miguel Cabrera and Victor Martinez added consecutive singles to bring home a run before J.D. Martinez doubled to plate another. Milone remained in the game but gave up two straight singles to Nick Castellanos and Eugenio Suarez to get chased from the game. Bryan Holaday made it a one-run game with a sacrifice fly off reliever Anthony Swarzak.
"That fifth inning they did a great job of putting pressure on me and getting guys on base," Milone said.
The Tigers threatened in the sixth with runners at the corners with one out after an intentional walk to Cabrera, but reliever Ryan Pressly got Martinez to hit into an inning-ending double play. Pressly picked up the win as a result.
"It's hard to imagine I was thinking about Cabrera or Martinez in the biggest situation of the night," Gardenhire said. "We get the double play, and then there you have it, a nine-run inning to blow the game open."
Minnesota put the game away with a nine-run sixth inning that saw the Twins reach via four hits, six walks and two errors.
Brian Dozier plated the first run with an RBI single with nobody out against reliever Jim Johnson. Joe Mauer followed with a two-run single off left-hander Ian Krol before Kinsler made an error on a grounder from Arcia for another run.
The Tigers made another error on an ill-advised throw home from Castellanos to score two more runs before Santana brought home two more with a single back up the middle. Mauer capped the scoring that inning with a bases-loaded walk.
"We got our butts kicked," Tigers manager Brad Ausmus said. "This was a bad game. It was an embarrassing game, really. There's really not much to say about it."
The Twins added two more runs in the seventh on an RBI single from Schafer, who reached base safely five times on the night, and a bases-loaded walk from Dozier.
The Tigers handed the ball to a position player in the eighth, as infielder Andrew Romine took the mound. Arcia and Plouffe launched back-to-back homers to bring home three more runs. Escobar had one final shot at the cycle but singled to right to fall a double short, but did set a career high with five hits.
"It was unbelievable -- I'll take the five hits," Escobar said. "I'm very happy. Today was a good game for everybody."
Rhett Bollinger is a reporter for MLB.com. Read his blog, Bollinger Beat, and follow him on Twitter @RhettBollinger. This story was not subject to the approval of Major League Baseball or its clubs.