Marlins back Alvarez in Colorado, enjoy rare rout
Ozuna hits slam in six-run ninth to cap club's highest output since May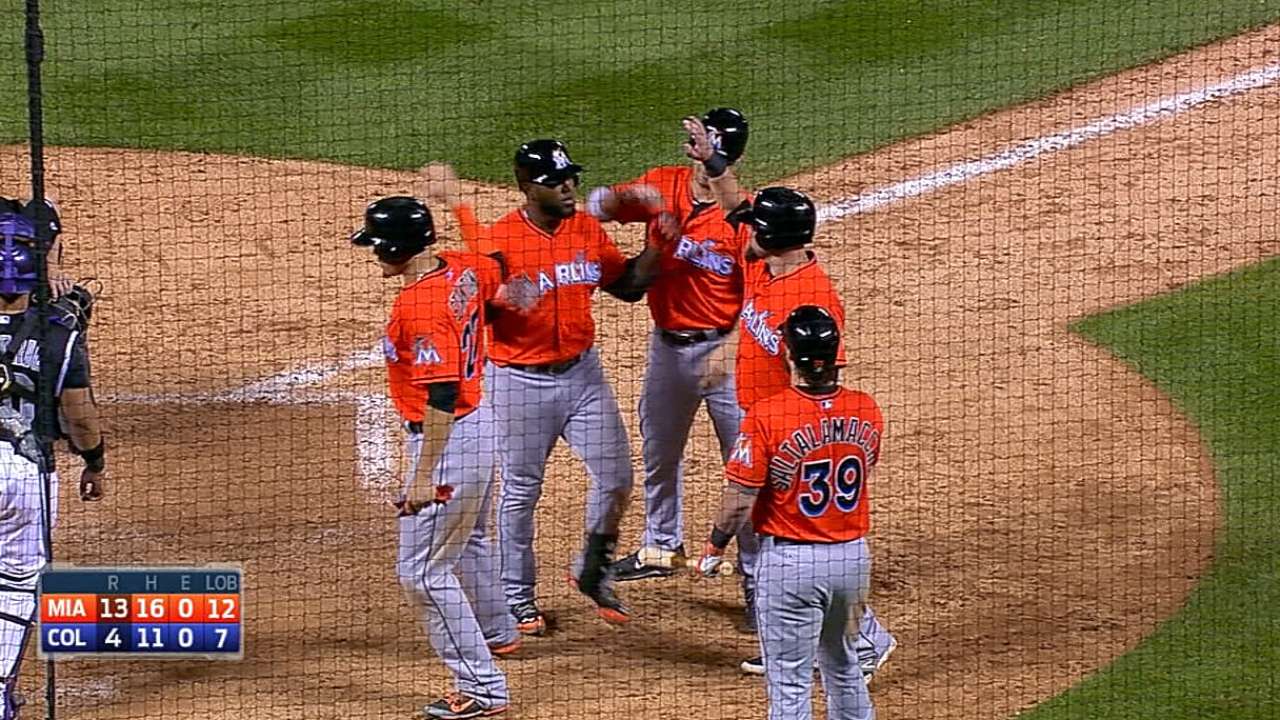 DENVER -- For a Marlins team that had seen five of its last six games determined by one run, a visit to Coors Field couldn't have come at a better time.
Miami jumped out to an early lead and never looked back, as the offense bailed out right-hander Henderson Alvarez for a change in Friday's 13-5 victory at Coors Field.
"It's nice to come out and swing the bats like we know we're capable of," manager Mike Redmond said. "You've got to have good at-bats, and that's the key to our lineup."
The Marlins scored more than 11 runs for just the third time this season to move back to a game over .500. It was their highest output since a 14-5 win on May 21 against the Phillies.
Miami broke it open in a six-run ninth, bringing nine to the plate, including Marcell Ozuna, who belted his second grand slam of the season. Along with his third home run in as many games, Ozuna finished 3-for-5 with five RBIs and two runs scored.
"The ball flies here," Ozuna said. "I just have to put the ball in play and do my job."
The Marlins' job was made easy thanks to a messy night from Colorado's pitching staff. Starting with left-hander Franklin Morales, who surrendered six runs in four-plus innings, a total of six Rockies pitchers combined to hand out nine free passes along with a hit batsman and a wild pitch.
Four of the walks and the hit batsman came around to score. Casey McGehee and Jarrod Salatamacchia also brought runs home by drawing bases-loaded walks in the fifth.
"We did have some great walks in some big situations," Redmond said. "Every once in a while, when the guys are pitching you tough, you've got to be able to take your walks. We were able to do that tonight."
The offensive outburst was enough for Alvarez (10-5) to reach double-digit wins for the first time in his career.
Of course, few could have predicted Alvarez's breakout season would play out the way it has after he lasted just three innings against the Rockies to open the year. And while his first crack at revenge wasn't exactly pretty, Alvarez effectively weathered 10 hits to earn his fourth consecutive win.
The Rockies actually got to Alvarez for more earned runs this time out, and the hits were the most he has allowed in a game since May 16. But all the Rockies' damage off him came on two swings, with Justin Morneau and Corey Dickerson each depositing two-run homers over the right-field fence.
"It's crazy out here," Alvarez said through a translator. "I wasn't consistent in my pitches today. ... I'm not sure if it was the altitude or not, but just starting today's game, I felt a little shortness of breath. I just went out there and tried my best to win the game for our team."
Giancarlo Stanton entered with the highest on-base plus slugging percentage at Coors Field of any active player with at least 45 plate appearances, and the All-Star didn't disappoint. Stanton finished 3-for-5 with three RBIs, three runs scored and two walks (one intentional).
Garrett Jones, the man with an OPS second to Stanton among active Major Leaguers at Coors Field, actually took a seat Friday in favor of Jeff Baker, who rewarded Redmond's confidence by finishing with three hits, including two doubles. Baker was replaced by Jones in the eighth after his sinus infection began to act up due to the altitude.
Baker expects to be fine come Saturday. More than anything, he was just happy to finally take the pressure off a Marlins bullpen that has come through for the team a countless number of times.
"The biggest thing is [this type of game] helps out our bullpen," Baker said. "We put a lot of pressure on our bullpen. ... They're the reason we are where we are. As an offense, we haven't really put a lot of crooked numbers up there recently. ... It's always big to put your foot on the gas a little bit and get some runs."
Cody Ulm is an associate reporter for MLB.com. This story was not subject to the approval of Major League Baseball or its clubs.