Royals get their sizzle back, up lead in AL Central
Butler, Willingham homer as KC takes 2 1/2-game lead on Tigers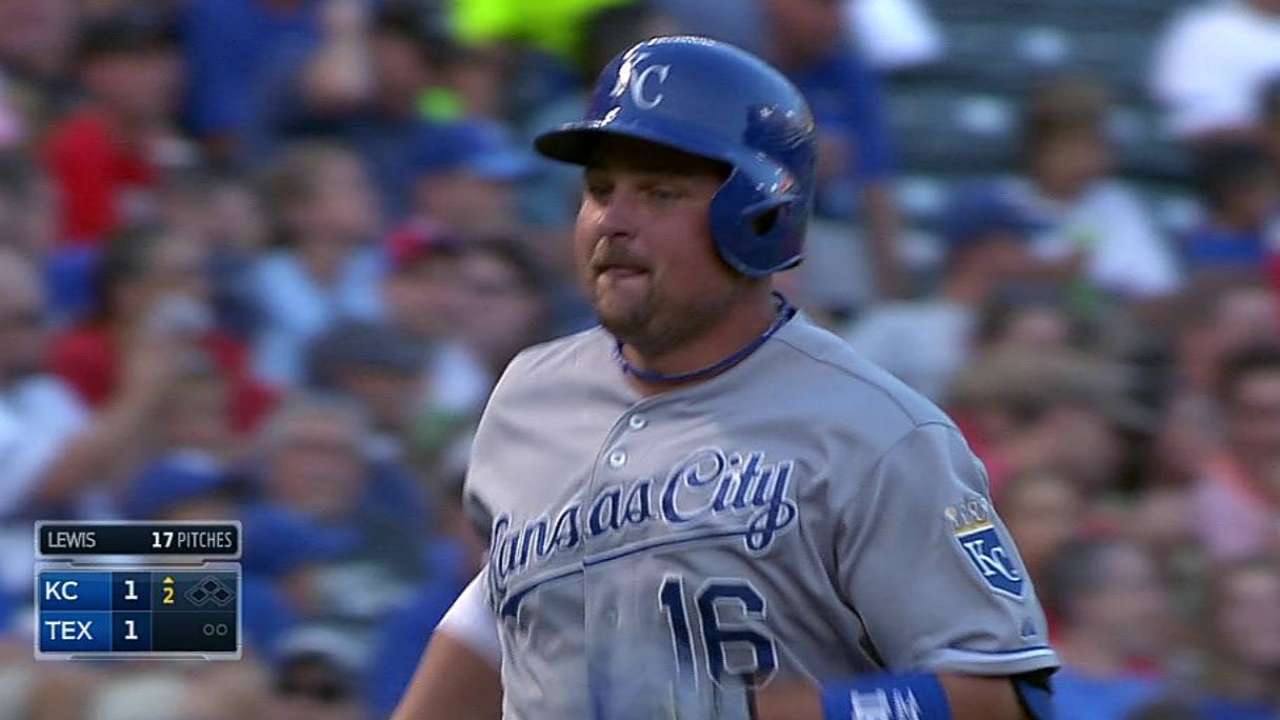 ARLINGTON -- It was perfectly natural for the Royals to get hot again in Texas. After all, it was 98 degrees.
They also managed to restore their sizzle as a ballclub, snapping back after a loss to knock off the Texas Rangers, 6-3, as 26,991 fans soaked up a Friday evening at Globe Life Park.
Rookie Yordano Ventura worked six innings for the victory and the big three of the bullpen, Kelvin Herrera, Wade Davis and Greg Holland, wrapped it up.
Billy Butler and Josh Willingham each hit solo home runs for Kansas City and Lorenzo Cain had three hits.
And, to polish off the evening, Detroit lost to Minnesota, 20-6, and the Royals' lead in the American League Central climbed to 2 1/2 games.
"Thirty-five games left. Definitely keep pouring it on, keep scoring runs, keep doing what we're doing," Cain said. "Find a way to get in these playoffs any way possible."
For the first-place Royals, the victory was their 15th in 18 games or, if you prefer a longer count, 23 of their last 29.
The Royals are taking on the club with the worst record in the American League and they're determined not to alter their approach regardless of the opponent's record.
"We're playing our game instead. We don't care who we're playing -- first place, last place, whatever," Butler said. "They're all Major League clubs and we've got our job to go out and do each day."
Butler launched things for the Royals, crashing a 417-foot home run to left field off right-hander Colby Lewis to start the three-run second inning. Willingham led off the fourth with his 408-footer.
Ventura used up 107 pitches in his six innings, boosting his record to 10-9, but manager Ned Yost would prefer that he'd be more economical with his pitches.
"He's burning those pitches that he needs to go deeper into the game," Yost said.
Just 23, Ventura is learning the nuances of being a big league pitcher in the heat of a pennant race.
"There's kind of two Yordanos," Yost said. "There's the one that was within himself and was banging strikes and staying downhill. Then there was one when he was just throwing out there -- rearing back and struggling to command the ball down and was getting a lot of pitches up.
"When he stays within himself he's really a pitcher out there and when he starts rearing back, he turns into a thrower."
Adrian Beltre had two of the four hits off Ventura, but has quickly become a Ventura admirer.
"There's such a bright future with that kid. He's a rookie with great stuff, nice and easy, 100 mph with the fastball, a good changeup," Beltre said. "He's a tough customer. The guy can reach the limit easy. I think that he's going to be a really good pitcher in the big leagues. Hopefully he can stay healthy."
Ventura departed with a 5-1 lead, a non-save situation, prompting Yost to depart from his usual backend procession and bring in left-hander Francisley Bueno instead of Herrera. But Bueno promptly gave up back-to-back doubles and suddenly the Rangers were within three runs.
So Herrera was brought in and squelched the Rangers' fun although a third run scored in the process and it was 5-3. Bueno and Aaron Crow have let big leads slip away recently, so is that a thorn among the roses?
"There's no concern, but we do need to step it up in some of these areas," Yost said. "We know that [Jason] Frasor has done a nice job since he's been here, Bueno and Crow have been a little inconsistent but we know both of their stuff is more than good enough to get the job done. Herrera has been fantastic, Wade and Holly have been great."
Davis reeled through a perfect eighth inning, his 23rd consecutive scoreless outing. That covers 22 2/3 innings, the longest active streak in the Majors.
Holland pitched past a two-out walk and notched his 40th save, becoming the first Royals closer with that many saves in back-to-back seasons since Dan Quisenberry in 1983-84.
Once again, everything came together for the Royals.
"We're just playing good baseball," Butler said.
And that 98-degree heat? Heck, Butler insisted that the Royals barely noticed it and there was a big plus with it anyhow.
"I just think it made the ball carry a little more," he said.
Dick Kaegel is a reporter for MLB.com. This story was not subject to the approval of Major League Baseball or its clubs.