Mejia battling through aches and pains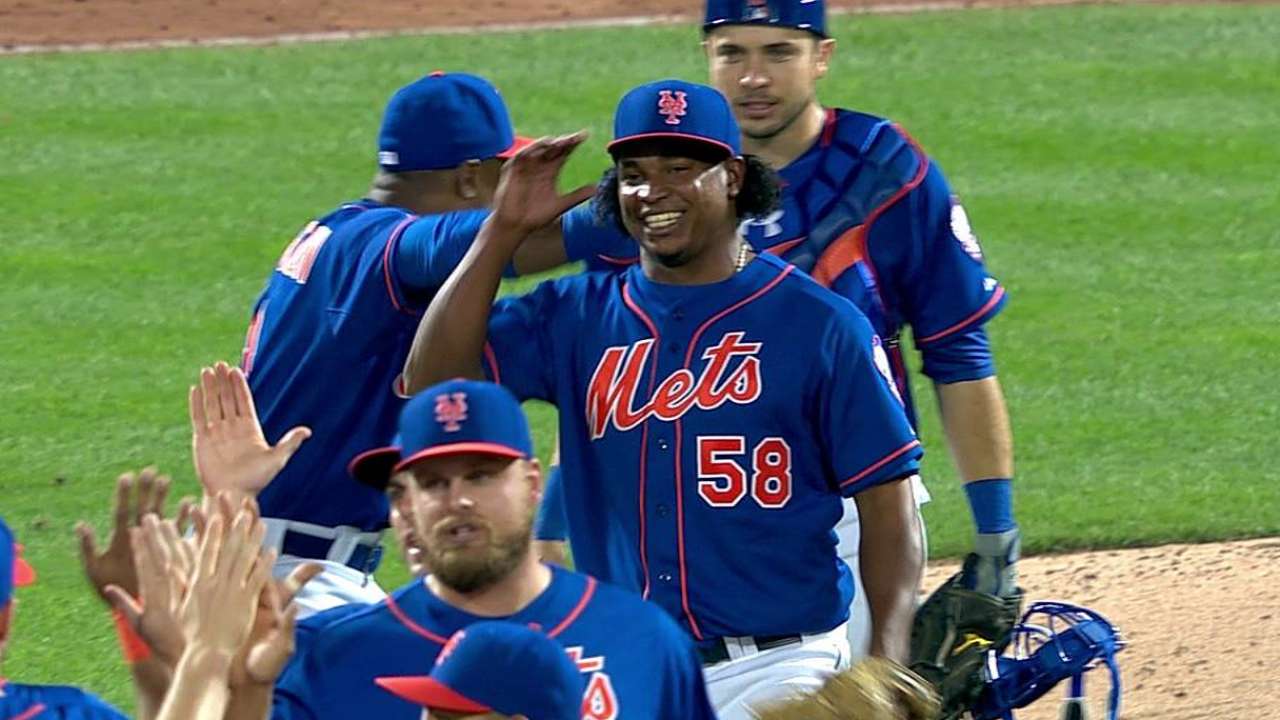 LOS ANGELES -- Two days after a sore back kept him out of a save situation in Oakland, Mets closer Jenrry Mejia showed up at Dodger Stadium on Friday feeling spry enough to pitch. But that did not entirely ease the Mets' worries about their closer.
"I don't want to use the word 'concerned,' but we're cognizant of the fact that he hasn't done this throughout the season," manager Terry Collins said, "and we're getting into the final six weeks of the season where the wear and tear starts to show in some areas. We're kind of trying to make sure we're taking care of all those guys back there."
Collins was referencing the fact that Mejia has endured a litany of minor injuries this season, in addition to the major elbow and shoulder problems that vexed him in previous years. This season alone, Mejia has battled through a bunion, a forearm contusion, a blister on his throwing hand, a hernia that will require surgery this autumn, a bout of calf soreness and multiple lower back issues. Though Collins has expressed some concern that Mejia is overly sensitive to the aches and pains that every player has, the Mets are nonetheless proceeding with caution.
"He's missed time in every season," Collins said. "So for him to have a complete season, even though he's had a couple of nicks and scrapes … to get through it still is a major accomplishment for him."
Mejia's injury history, however, will play a role in the Mets' decision at closer going forward. There is a decent chance Bobby Parnell will not return from Tommy John surgery until May or June, making the closer's role a Spring Training competition among Mejia, Jeurys Familia, Vic Black and anyone else the Mets decide to import this winter.
A strong, fully healthy run at closer might have given Mejia the advantage over everyone -- including Parnell. But Collins painted a different picture Friday.
"Obviously when Bobby Parnell comes back, he will be pitching during his rehab as if he's the closer, because that's certainly our plan when he gets back," Collins said. "Now there's nothing etched in stone because certainly somebody could stand up and show up and say, 'I'm going to take that job,' and then when Bobby's ready we've got a nice problem on our hands."
Regarding Mejia's health history, Collins added: "It's going to have a lot to say. The object is to get out there a lot."
Anthony DiComo is a reporter for MLB.com. Follow him on Twitter @AnthonyDicomo. This story was not subject to the approval of Major League Baseball or its clubs.