Fister slips up as Giants end Nationals' win streak
Righty allows pair of homers; bullpen unable to keep game close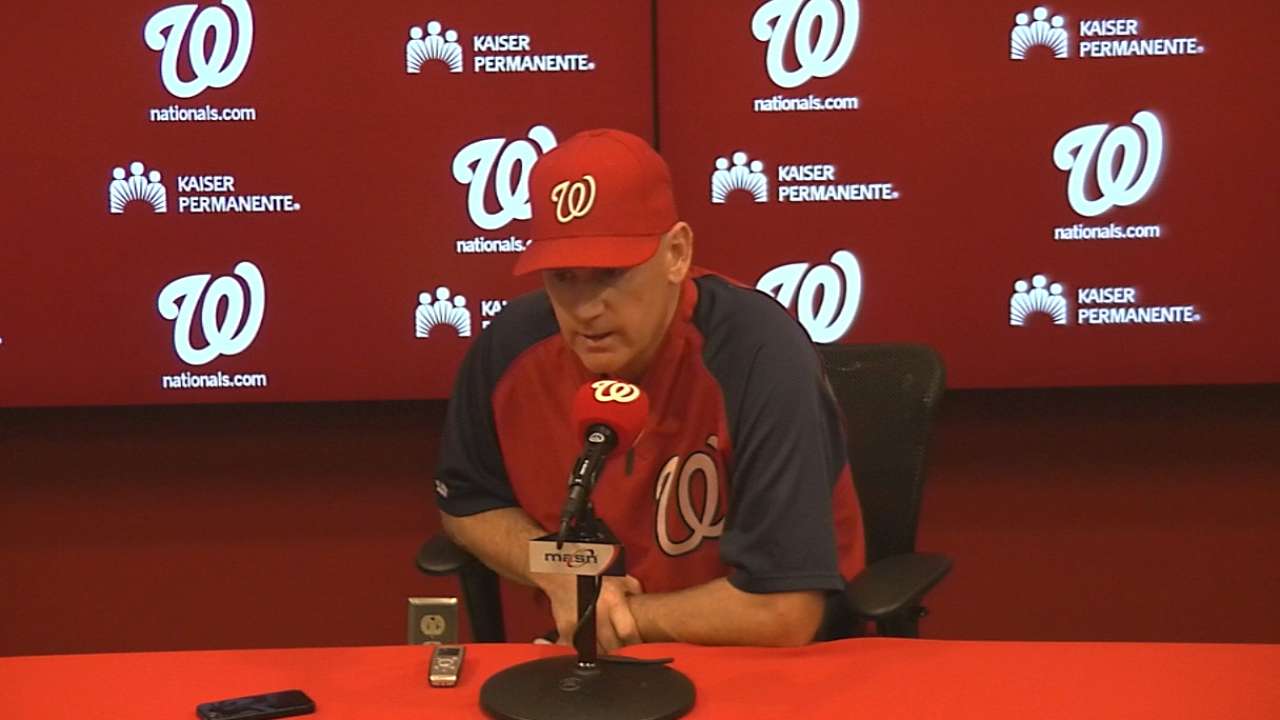 WASHINGTON -- The Nationals' 10-game winning streak came to an abrupt end as they lost to the Giants, 10-3, at Nationals Park on Friday night.
"It's one of those days," manager Matt Williams said. "It was kind of a clunker all around. We'll see if we can get them tomorrow."
Doug Fister has been Washington's most reliable starter, but not on this night. The right-hander was hurt by the long ball as he pitched six innings, allowing four runs on seven hits. The game was also put in perspective as Fister announced that he had skin cancer removed from his neck a couple of days ago. He said he was OK and that the surgery had nothing to do with his so-so performance on the mound.
Fister was cruising and working fast until the fourth inning. With Washington leading, 1-0, Fister was able to get two quick outs, but then Pablo Sandoval and Michael Morse reached base on consecutive singles. Joe Panik followed with a three-run homer over the center-field wall to give San Francisco a 3-1 lead. It was Panik's first career home run.
"I wasn't sharp. I left too many balls over the plate," Fister said. ["I threw] my best pitch. I threw it over the middle of the plate. He hit it well. That's his job. I didn't do mine."
Giants right-hander Tim Hudson, who has been a nemesis dating back to when the Nationals were the Montreal Expos, managed to pick up his 18th career victory against the organization. He lasted 5 1/3 innings and allowed two runs -- one earned -- and struck out three batters. It wasn't easy for Hudson, however.
In the bottom of the fourth, Jayson Werth made it a one-run game by hitting a solo home run over the left-field wall.
But San Francisco put the game out of reach starting in the sixth inning off Fister. With one out, Buster Posey swung at a 2-2 pitch and homered over the left-field wall to make it a 4-2 game.
"The whole day, I'm battling myself. It's a constant challenge for me to constantly keep the ball down and on the corners. It's something I have to do. If not, I have to pay for it," Fister said.
Still, the way the Nationals were coming back during their 10-game winning streak, they still thought there was a chance to win the game. But San Francisco scored two more runs in the eighth inning off left-hander Jerry Blevins, with Gregor Blanco and Panik coming home on a double by Travis Ishikawa.
"We knew we had to play our best ball to beat this club, especially against a team that's had so much mojo," Giants manager Bruce Bochy said.
The Giants then padded their lead with four more in the ninth off Ross Detwiler before the Nats got one back on a Wilson Ramos RBI double.
"When [the score was] 10-2, I said, 'OK, it's time to turn the page and try and start another streak, I guess," center fielder Denard Span said.
With the loss, the Nationals now find themselves six games ahead of the Braves in the National League East. Atlanta defeated the Reds, 3-1, in 12 innings at Great American Ball Park.
"We haven't had that feeling in a while, fortunately," Nationals first baseman Adam LaRoche said. "Tough loss? No question. It 's the way we got beat. Other than that, looking back, it was an awesome stretch. That's what guys were talking about after the game. We start up a new one. It was frustrating. We are still in great position here for this time of the year. We have work to do. We kind of let one get away from us today. That's baseball."
Bill Ladson is a reporter for MLB.com and writes an MLBlog, All Nats All the time. He also could be found on Twitter @WashingNats. This story was not subject to the approval of Major League Baseball or its clubs.