Panik's huge night helps Giants halt Nats' surge
Rookie keystoner hits first big leaguer homer as part of four-hit effort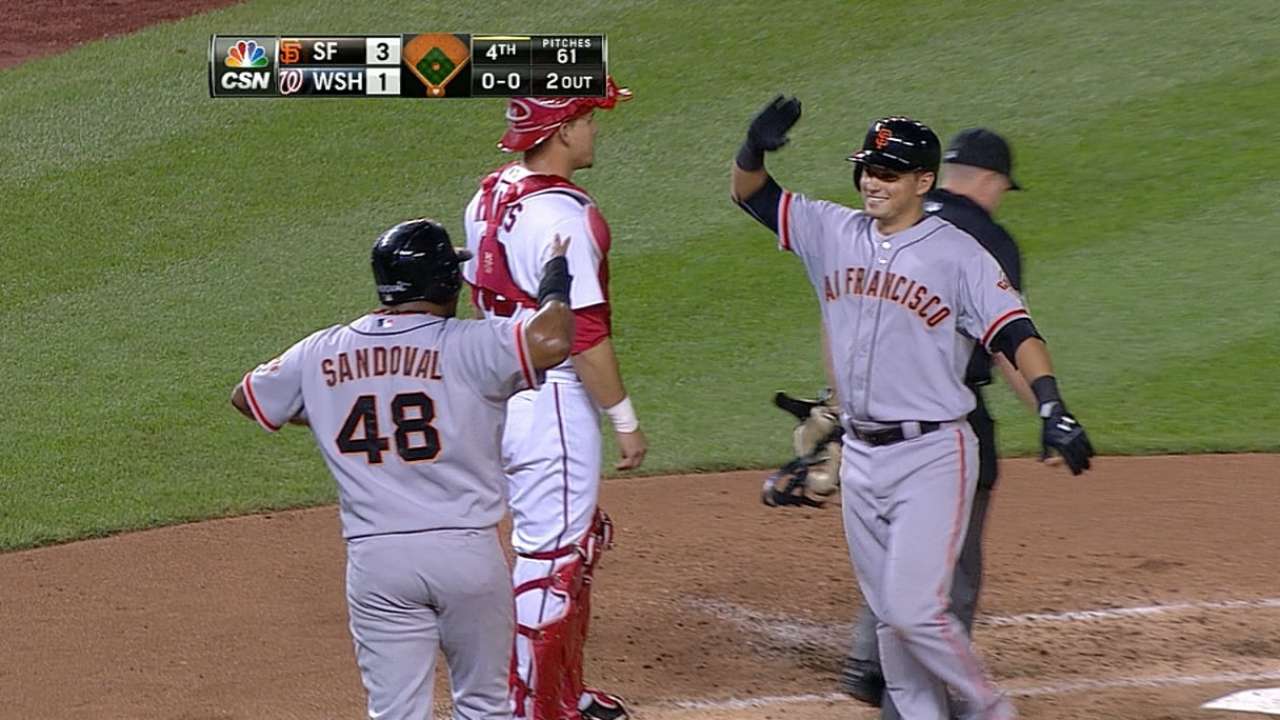 WASHINGTON -- If you feel compelled to attempt the inevitable pun involving Joe Panik's surname, make sure to mention that the homophone you'll surely use doesn't apply to him.
Panik doesn't panic. Otherwise, he wouldn't be able to excel so much for the Giants -- hitting and fielding consistently, thriving in parks he has never seen against pitchers he has never faced.
The rookie second baseman continued his emergence Friday, highlighting a four-hit effort with a three-run, fourth-inning homer that propelled the Giants to a 10-3 victory over the Washington Nationals. Panik improved his batting average for the trip to a rousing .563 (9-for-16).
"You kind of learn on the fly," Panik said. "So far, so good."
The decision ended Washington's Major League-best 10-game winning streak and thus added a fresh helping of legitimacy to the Giants' bid for a postseason berth.
Consider the factors that the Giants overcame:
• They arrived in the nation's capital at approximately 5:30 a.m. Friday morning after Thursday's prolonged stay at Wrigley Field.
• They reversed their luck at Nationals Park, where they had dropped seven of their previous eight games.
• Even though batting practice was canceled because of threatening weather, they amassed 14 hits off Washington's talented assortment of pitchers -- including starter Doug Fister (12-4), who entered the game with a 6-1 record and a 1.76 ERA in eight home starts.
The teams had followed the script as the fourth inning drew to a close. San Francisco trailed, 1-0, and had just two singles off Fister, including one by Panik in the second inning.
Then the Giants awakened with two outs and nobody on base. Washington second baseman Asdrubal Cabrera couldn't snare Pablo Sandoval's grounder, resulting in an infield single that prolonged the fourth. Ex-Washington outfielder Michael Morse, who received warm applause from the Nationals Park crowd, singled past diving shortstop Ian Desmond.
Up came Panik, who drilled Fister's first-pitch fastball over the center-field barrier, several feet to the right of the 402-foot marker for his first Major League homer and a 3-1 Giants lead.
This was the same Panik who didn't start Monday in Chicago after dislocating his left pinkie, an injury that manager Bruce Bochy feared would sideline him for two to three weeks. But Panik has shown no ill effects, possibly due to his hitting style.
"It's an effortless swing," Bochy said. "There's a lot more bat speed than you think."
Panik said of his pain management, "I got lucky. It's basically how much can I deal with."
Panik's personality matches the ease of his swing. Asked how the 23-year-old has impressed him, veteran right-hander Tim Hudson said, "Just how he has handled the moments. He doesn't seem overwhelmed, he doesn't seem like anything's too big for him."
"He has a stoic way about him," Bochy said. "He has a nice focus [and] he's very competitive."
Hudson (9-9), who ended a five-start winless streak while yielding two runs (one earned) in 5 1/3 innings, called Panik's homer essential, given Washington's recent surge.
"If that inning doesn't happen, you never know what the outcome could have been tonight," Hudson said.
Indeed, Jayson Werth's homer in Washington's half of the fourth narrowed the difference to 3-2. That could have galvanized the Nats, whose winning streak included five come-from-behind triumphs and five walk-off victories.
But the Giants scored six runs in the final two innings, which Bochy deeply appreciated.
"Especially against a team that's had so much mojo," Bochy said.
A pair of Giants who have hit almost as impressively as Panik helped San Francisco pull away. Buster Posey delivered his second homer in two games with one out in the sixth. Travis Ishikawa, who's batting .320 (8-for-25) in his second life as a Giant, followed Gregor Blanco's two-out walk and Panik's single in the eighth inning with a two-run double off the right-field wall.
Posey added an RBI double during a four-run ninth.
Chris Haft is a reporter for MLB.com. Read his blog, Haft-Baked Ideas, and follow him on Twitter at @sfgiantsbeat. This story was not subject to the approval of Major League Baseball or its clubs.