Reds end no-no in eighth, but fall in 12th
Hamilton records both of Cincinnati's hits as skid reaches seven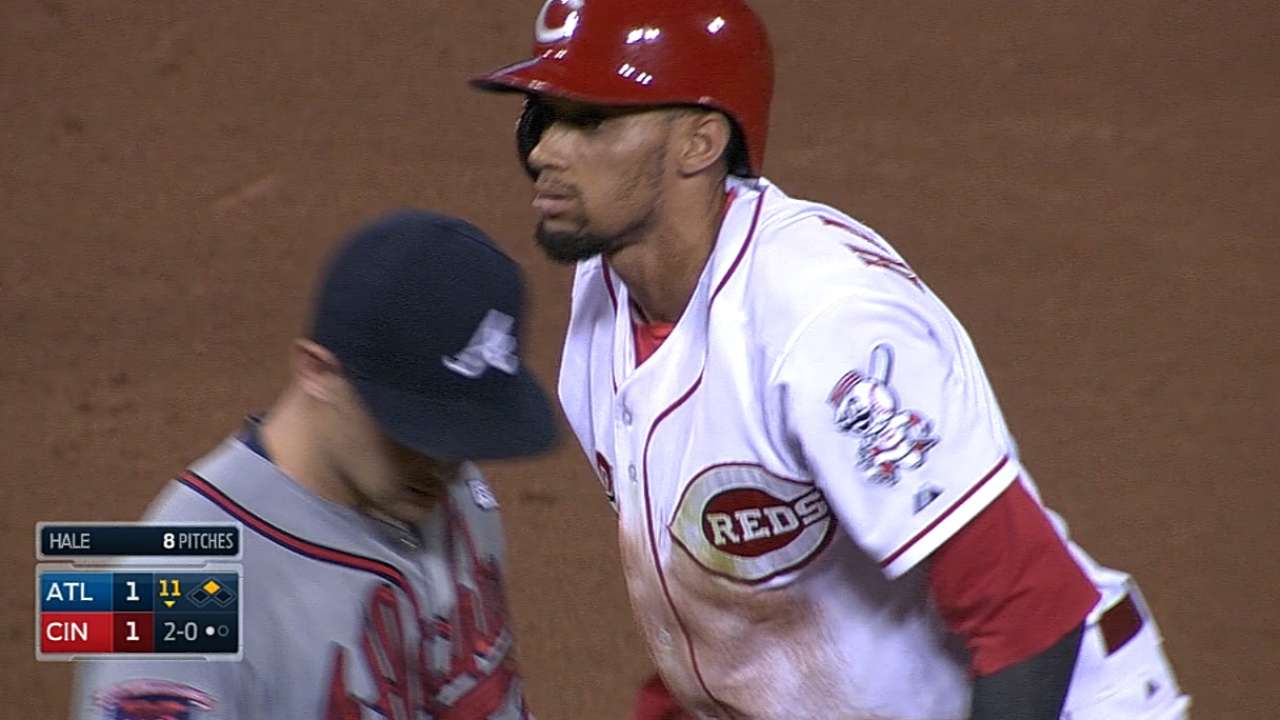 CINCINNATI -- During the Reds' sharp nosedive of losses lately, they've endured plenty of demoralizing low moments -- except the big one. There hasn't been a no-hitter.
But did they ever come close on Friday vs. the Braves. In a 3-1 Reds loss decided on Justin Upton's two-run homer in the top of the 12th inning, lefty starter Mike Minor had a no-hitter through 7 2/3 innings. Cincinnati wound up with only two hits, and both of them were from Billy Hamilton. The rest of the lineup went a combined 0-for-34.
The Reds' losing streak reached a season-high-tying seven games. Cincinnati has also dropped 10 of its last 11 games and 12 of 14 to sink to a season-high seven games under .500 at 61-68.
"It's discouraging. It's frustrating. It's all whatever adjectives you want to slip in there," Reds manager Bryan Price said. "They all fit right now."
Since the All-Star break, Reds relievers are 0-11, with five of the losses coming during the team's current losing streak.
Lefty reliever Manny Parra, who notched the third out in the 11th inning, returned for the 12th and issued a one-out walk to Freddie Freeman. Upton followed by slugging an 0-1 pitch inside the left-field foul pole for his 25th homer of the season. Parra had led the Majors with 45 appearances this season without being part of a decision.
No visiting pitcher in the 12-season history of Great American Ball Park had ever taken a no-hitter into the eighth inning against the Reds until Minor on Friday.
Cincinnati trailed, 1-0, with one out in the eighth when Minor's fourth walk of the night put Zack Cozart on first base. Pinch-hitter Chris Heisey's groundout moved Cozart to second base. That enabled him to score when Hamilton reached down and lofted a 1-2 offspeed pitch into short center field for a single as shortstop Andrelton Simmons gave chase.
"It was on my mind, of course. He had a no-hitter going," Hamilton said. "But we were only down one run. We had a chance to win the game. One thing I've focused on this year was hitting with runners in scoring position. Tonight the situation came up and I came through."
Hamilton stole second base and was chugging home with two outs when Todd Frazier grounded out to third base. Frazier was out, a half-step short from putting the Reds ahead.
"Everybody hates losing," Hamilton said. "We'd like to win. Everybody wants to win. It's not like we come every day not wanting to win. I feel like the way we're playing right now, it's going to get better. Nobody wants losing streaks. It's got to stop now."
Hamilton recorded his second hit with one out in the 11th, and he stole second base and then advanced to third with two outs on a passed ball. But Devin Mesoraco grounded out to third as Hamilton was left stranded.
Reds starter Mat Latos sprayed nine hits and two walks over his six innings, but the only run he gave up crossed in the third inning. With 95 pitches, he was lifted for a pinch-hitter in the sixth.
Latos found trouble in the second inning when a two-out routine fly ball to left-center by Simmons landed between Hamilton and Ryan Ludwick for a double. Latos needed 15 more pitches, and 31 total in the inning, to escape unscathed with the bases loaded.
In the third, following three straight Atlanta singles that loaded the bases with one out, Tommy La Stella hit a grounder to shortstop. Cozart made a brilliant diving snag and threw to second base for the forceout. Freeman scored on the play, but the defensive stop prevented a second run from scoring. That proved critical when the eighth inning rolled around.
The Reds did not put a runner on base until Frazier drew a one-out walk in the fourth inning. A two-out walk to Kris Negron came in the fifth inning and Hamilton reached with a one-out walk in the sixth before stealing second base for the first of his three steals.
"I'd say it was probably the fourth inning when I noticed no hits up there," said Minor, who is 5-8 with a 4.90 ERA this season. "But my main concern was the 1-0 game; that's what contributed to the walks -- kind of pitching around guys because it really wasn't the no-hitter, it was more that it was a 1-0 game and I feel like we need to win every game right now."
Mark Sheldon is a reporter for MLB.com. Read his blog, Mark My Word, and follow him on Twitter @m_sheldon. This story was not subject to the approval of Major League Baseball or its clubs.