Brilliant Collmenter takes care of Padres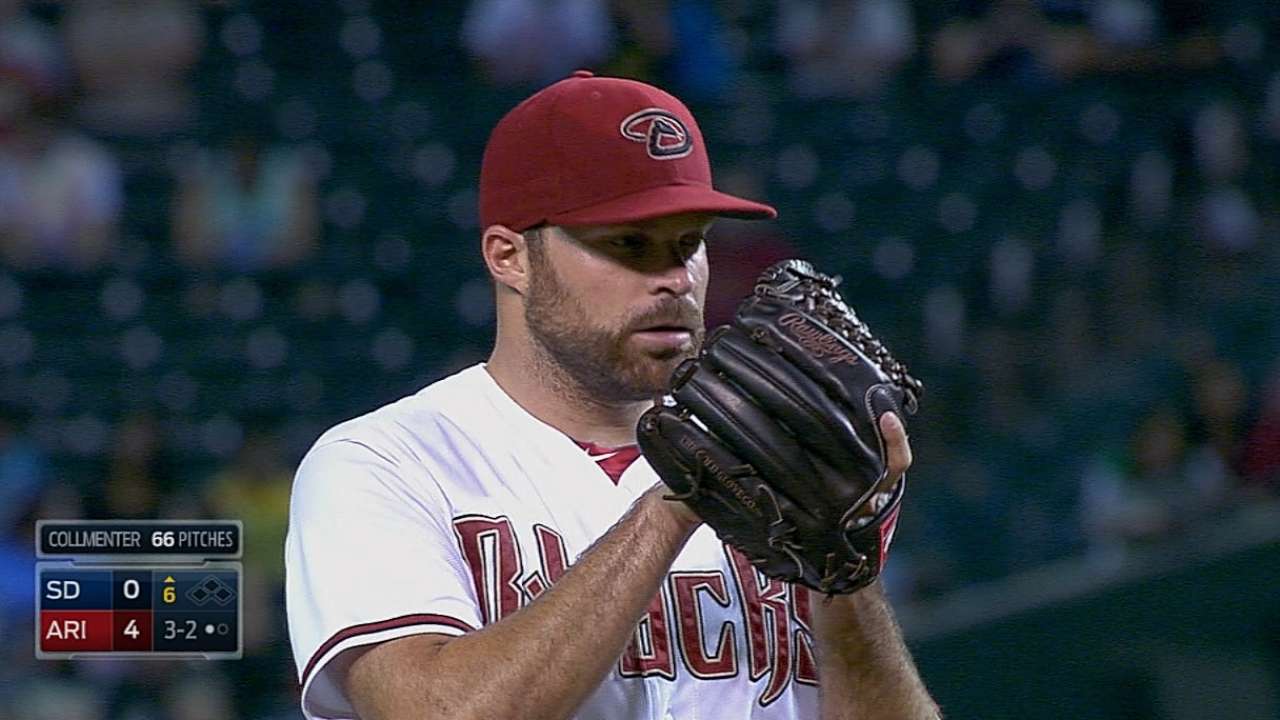 PHOENIX -- Things had not been going well for Josh Collmenter and the D-backs lately.
Collmenter was looking to improve on one of his worst stretches of the season after going 0-2 with an 8.50 ERA in his last four games. The D-backs just wrapped up a 2-8 road trip, with the Nationals walking off against them in three out of four games.
But both Collmenter and the D-backs as a whole turned around their slumps in a big way in their series opener against the Padres at Chase Field on Friday night.
Collmenter pitched 8 1/3 innings and was charged with only one run, and the D-backs picked up a 5-1 win to start their homestand on the right track.
"You come in there and it feels like home," manager Kirk Gibson said. "It's comfortable. They're in their training room, they're at their batting cage, on their field. ... We were beyond the road trip when we got here today."
Collmenter certainly made himself at home. He was dominant from the start.
The 28-year-old right-hander didn't allow a hit until the third inning, when he gave up two singles, but the Padres ran themselves out of any chance to get to him.
Alexi Amarista, who picked up the Padres' first hit, tried to go from first to third on a Yangervis Solarte single to right fielder David Peralta, but Peralta launched a throw to third to get Amarista out by several feet.
"I'm surprised he was running, because Peralta's got a pretty good arm," third baseman Jake Lamb said. "It was right on the money. ... It was a perfect throw."
From that point on, it was Collmenter's game.
Pitching with a four-run lead thanks to an early offensive outburst, Collmenter (9-7) retired 15 straight batters after the third inning, not allowing another baserunner until Amarista singled to start the ninth.
"The story was their guy," Padres manager Bud Black said of Collmenter. "We couldn't solve him. We've seen him a lot over the years. It's a sneaky fastball from a different arm slot. He commands the ball well and has a good change. We couldn't square anything up against him."
Collmenter's fastball was a matter of concern entering the game. In his previous outing, he struggled to get his usual high-80s fastball to its normal velocity, resulting in a four-inning, five-run loss to the Marlins.
But he got extra rest between starts, skipping his normal bullpen session. It didn't hurt, as he comfortably threw 106 pitches -- his second-highest total this season.
"I'm sure it [helped]," Collmenter said. "Gives the arm a little break. We've been going at it for quite a while now. August is usually the time [when] if you're going to get fatigued, you start feeling it. I think it was just good to rest and be 100 percent going into today."
Collmenter entered the ninth with the shutout intact, but Gibson took him out after he gave up a pair of singles.
The Padres finally pushed across a run on a passed ball by Miguel Montero, who hit a two-run homer in the first inning and added a double and a run scored in the eighth.
"I really didn't even want to put [Collmenter] out there in the ninth inning tonight, but he obviously had a shutout going," Gibson said. "I went as far as I was comfortable going with him. He was throwing 81 miles an hour in his last, so as much as I wanted to push him, it's not the right thing to do."
Adam Lichtenstein is an associate reporter for MLB.com. This story was not subject to the approval of Major League Baseball or its clubs.