Sloppy defense, stagnant offense spoil Mets' night
Niese charged with five runs, but only two of them are earned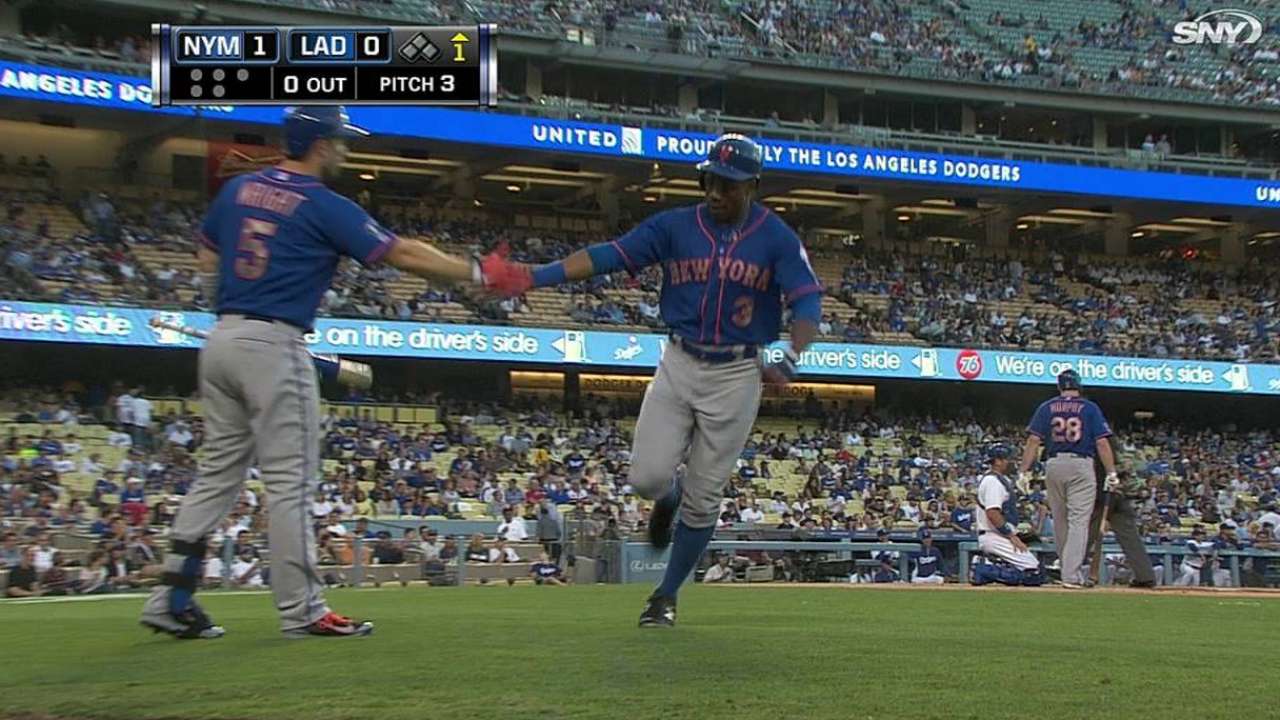 LOS ANGELES -- Shortly after the Mets broke out for eight runs in Wednesday's win over the A's, after scoring a total of four in their previous three games, manager Terry Collins was asked if he expected his team's latest outburst to spark the Mets to something bigger, better, grander.
"We'll find out on Friday," Collins said. "I hope it gets us going."
The reality was nothing close to what Collins envisioned. Dan Haren held the Mets to a single run over the first seven innings of Friday's 6-2 loss to the Dodgers, who took advantage of three Mets errors to turn a close game into an ugly defeat.
"If you look up and you have as many errors as you have hits," Collins said, "that's not a good feeling."
This one, at least, began with such promise for the Mets, who received a leadoff homer from Curtis Granderson. But the Mets mustered just two other hits -- both singles -- off Haren, one in the second and one in the fifth. Neither baserunner reached scoring position, putting Mets starter Jon Niese in the precarious position of needing to be perfect.
He was not. The Dodgers plated their first run on Dee Gordon 's RBI single in the third inning, one of Gordon's three hits on the night. Their second run came two innings later, on Haren's RBI knock, generating what Dodgers manager Don Mattingly called "one of those team attacks."
Niese did escape a bases-loaded jam that inning, keeping the Mets within one run, but his defense began exacerbating things in the seventh. After Wilmer Flores committed his second error of the game on what would have been an inning-ending groundout, plating a run, Matt Kemp put the game away with a two-run double off Carlos Torres. All three runs in the inning were unearned.
"I kind of rushed a little bit," Flores said of his throwing error. "I can't tell you what I did. I made a bad throw in a bad situation."
An inning later, David Wright bobbled a routine ground ball to third (which Dodger Stadium's official scorer later changed from an error to a hit) and Lucas Duda dropped an easy popup with plenty of room to spare in foul ground -- a ball that he claimed he should catch "10 out of 10 times." Combined with the three errors they committed in Wednesday's win over the A's, the Mets walked off the field Friday sporting six miscues in their last 16 innings. And it could have been more.
"Tonight was a night where we didn't catch the baseball," Collins said. "We looked a little ragged. But we shouldn't be affected by it. Those nights happen.
"We had a bad night. It happens. We've played very well -- I'll say it again, we've played very well defensively. We catch the baseball. That's what's kept us in games. So it was one of those nights."
Multiple times, Collins referred to the errors as a blip that should not surface again. Defense, he knows, has not been one of the Mets' primary problems this season. Instead, the club's most troublesome periods have occurred when they have struggled to score runs, as they also did Friday.
The offense's individual culprits are just as plain to see. Wright is 3-for-25 dating back to Aug. 14. Daniel Murphy is 6-for-his-last-32. And Granderson, despite his homer Friday, is in a 6-for-45 funk.
Most days, those three sit atop New York's order, theoretically deflecting attention from the lineup's soft underbelly. But they are batting a combined .179 with two extra-base hits since Aug. 13.
"We've got to start spreading out the wealth through the batting order," Collins said.
That has been the Mets' season-long struggle. Defense has not. So the team can only hope that Friday's issues, as Collins believes, were an isolated incident.
Because if the Mets begin adding defense to their list of things to improve, the season's final five weeks could grow long.
"Games like this are frustrating, but I think I can speak for everybody that it's the type of game we just want to put behind us," Niese said, "forget about it, and go get them tomorrow."
Anthony DiComo is a reporter for MLB.com. Follow him on Twitter @AnthonyDicomo. This story was not subject to the approval of Major League Baseball or its clubs.