Harrison's five RBIs pull Pirates closer to Crew
Third baseman also involved in challenged call that goes in Bucs' favor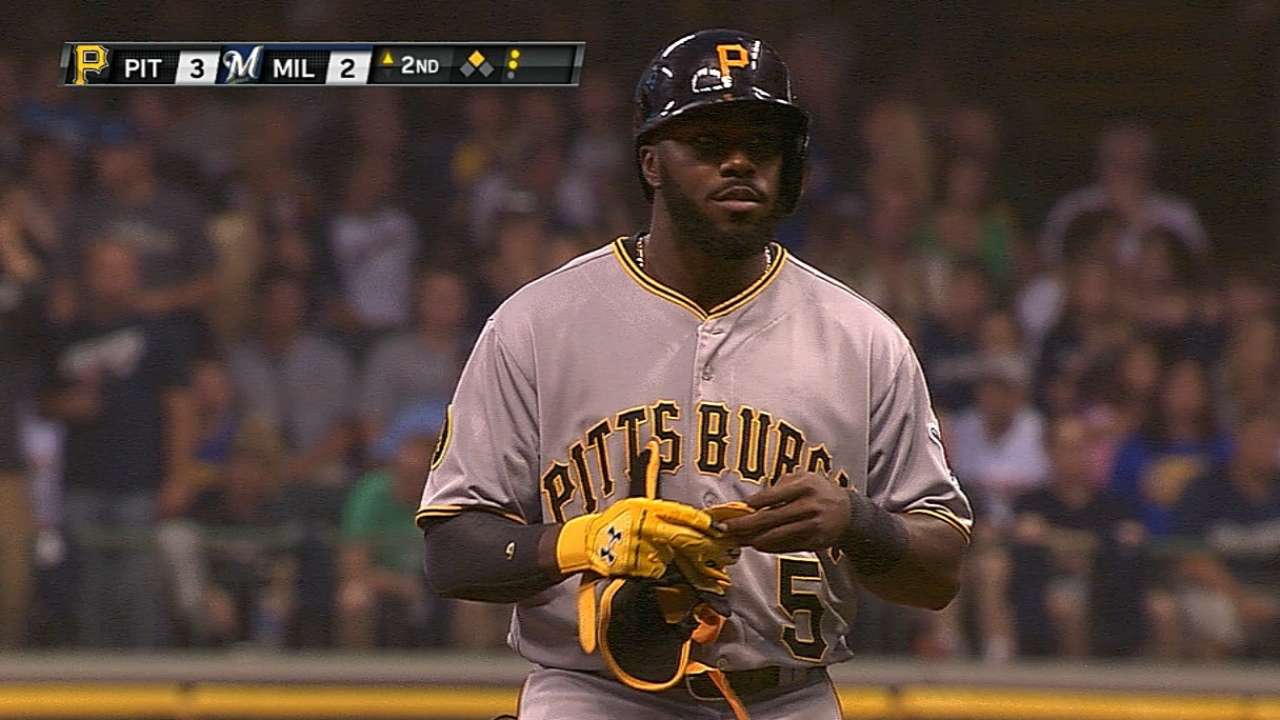 MILWAUKEE -- Was this the worm, the tide or a new leaf turning? All of the above?
An apparent huge break -- in, of all places, Miller Park, their dome of horrors -- played a big role in the Pirates' 8-3 win over the Brewers on Friday night, which moved Pittsburgh to within five games of first-place Milwaukee in the National League Central.
Not as big a role as Josh Harrison, who drove in a career-high five runs, or Andrew McCutchen, who homered for the first time since the All-Star break, or Neil Walker, who had a pair of extra-base hits.
Harrison's five RBIs came in the leadoff spot on a trio of two-out hits, the only three hits the Pirates had with men in scoring position -- in 12- at-bats.
No wonder manager Clint Hurdle called it "Harrison's big show-up night."
Then, there was Jeff Locke, who shook off a two-run homer in the first by Ryan Braun to allow only one other hit in his six innings.
But both Locke and the Bucs could have been pushed over the ledge into their familiar Miller Park abyss were it not for a challenged play in the bottom of the sixth that stood -- in the surprised Bucs' favor.
Courting disaster, given that he led, 6-2, Locke issued two-out walks to Aramis Ramirez and Khris Davis. Rickie Weeks followed with a grounder deep into the shortstop hole that gave Jordy Mercer really only one option -- flip to third, and hope to get a force on Ramirez.
Harrison gloved the toss off the base, then had to try to fish for the bag with his foot as Ramirez slid in. Third-base umpire Will Little's out call was challenged by Milwaukee manager Ron Roenicke and, after two and a half minutes of scoreboard replays that convinced 37,437 Brewers fans that the call needed to be changed -- it stood, meaning there was not conclusive evidence to overturn the ruling.
Therefore, slugger Mark Reynolds did not get to bat with the bases loaded as the potential tying run.
"A big play. A big out," Hurdle said.
"I was just hoping it went our way," Harrison said of the replay review. "I caught it and thought I'd stepped on the bag, but I stepped on dirt, so I knew I had to adjust quickly. It was probably one of those plays, however it's called on the field, it would stand. There probably were angles to support it both ways. The more time it took, I'm thinking, 'I don't think they can change it.'"
Roenicke considered it a game-changer.
"Right away I thought he was safe, the way that I could see Harrison try to get to the bag," Roenicke said. "It gives us bases loaded with Reynolds coming up."
With the call standing, so did the impact of the performances by Pittsburgh's returning cogs.
If the Pirates wanted to assert that this is a different team, one that plays at a higher gear, with McCutchen and Walker, they couldn't have done so more convincingly.
In the third, McCutchen hustled for a single on a grounder into the second-base hole -- his first hit in 10 at-bats since coming off the DL -- and Walker promptly tripled him home to make it 4-2.
Two innings later, McCutchen not only went out of the infield for another hit, he went into the stands, the right-center-field solo shot his 18th, but first since July 12. McCutchen had gone 70 at-bats since his second homer that day in Cincinnati gave the Bucs an 11-inning win.
"We were able to add some offense, with McCutchen and Walker involved," Hurdle said. "It was a good offensive night for us. And a really big night for Josh; fun to watch."
Mercer's sacrifice fly and Harrison's two-run double had already overcome the 2-0 lead Braun had given Yovani Gallardo with his 16th homer, which followed a walk to Jonathan Lucroy. Harrison added an RBI single in the fourth and put an exclamation point on the Pirates' 66th win with a two-run homer, his 11th, off Brandon Kintzler in the eighth.
Harrison wasn't impressed by all his run-producing hits having come with two outs -- since he wasn't aware of it. Others on the field were impressed -- such as Brewers third-base coach Ed Sedar, who made a point of talking up Harrison about it.
"You have to take advantage of [Gallardo's] mistake pitches," Harrison said of the Milwaukee ace, who lasted five innings as his career record against the Bucs dropped to 12-5. "We put his back against the wall a few times with runners on, and you want to capitalize. He left a couple out over the plate to me, and I put good swings on them."
After each offensive thrust, Locke kept coming up with shutdown innings in what ultimately went down as a very bizarre outing: He walked six -- nearly one third of his previous season total -- without a single strikeout.
That contributed to this final line by Pirates pitchers, which also included Jared Hughes, John Axford and Justin Wilson for an inning apiece: eight walks and one strikeout.
The Pirates had won while issuing eight walks as recently as last Sept. 28, but hadn't won with only one strikeout since July 18, 2010.
As for winning with that combination ...
"I don't know if I've ever before been on the winning side with those numbers," Hurdle said. "Not a game plan to follow."
Tom Singer is a reporter for MLB.com and writes an MLBlog Change for a Nickel. He can also be found on Twitter @Tom_Singer. This story was not subject to the approval of Major League Baseball or its clubs.