Uehara's rocky ninth stings Red Sox in loss
Cespedes' home run not enough as closer allows five-run frame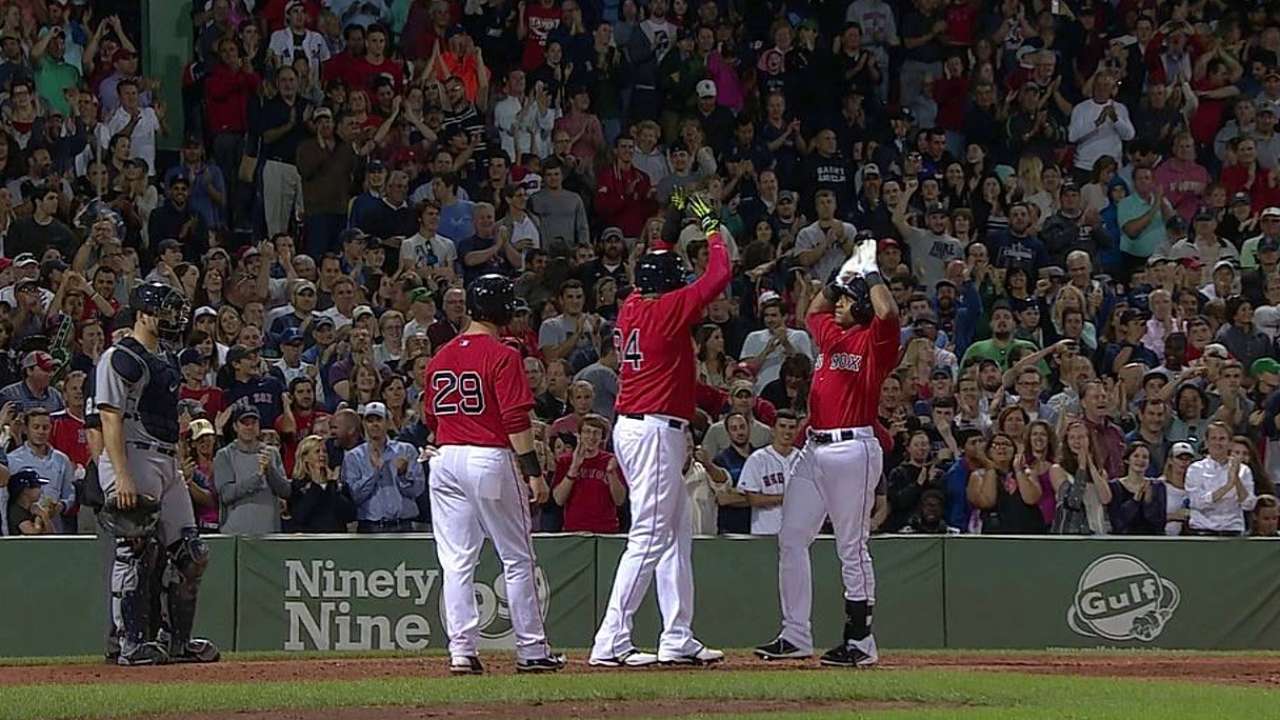 BOSTON -- Nobody saw it coming, because Koji Uehara had never turned in a performance anything like it in his entire career as a reliever.
Uehara blew the save in emphatic fashion on Friday night at Fenway, giving up five hits and five runs over two-thirds of an inning in a 5-3 loss to the Mariners.
Forget about five runs. Uehara had never even given up more than three runs as a reliever in the Majors until this performance. The five hits allowed were another personal worst.
Uehara had a 3-0 lead when he came on for the ninth, and was just one strike away from the save on 10 different pitches.
"Maybe a lack of finish to Koji's split was the difference in this one tonight," said Red Sox manager John Farrell.
Following the game, Uehara did not make himself available to the media.
It was the first loss of the year for Boston when leading after eight innings, falling to 44-1 in that category.
Overall, the Red Sox have lost six in a row, all at home.
"That was pretty tough," said Brock Holt. "If that's not the tale of how this season has gone so far, then I don't know what is. Up three in the ninth, they score five runs and hit one ball hard. Finding holes. Bloop hits. Yeah, it's tough."
For the first time since Uehara joined the Red Sox last season, he is in what could be constituted as a slump, having given up earned runs in three straight outings.
"With Koji, his last three appearances have had two days off following each one," said Farrell. "We recognize that over the course of two years there's been a high number of appearances. His workload has been managed of late, and we'll continue to try to do that."
Yoenis Cespedes had put the Red Sox in strong position to earn a win when he unloaded for a towering three-run homer over the light tower in left field with one out in the sixth against Felix Hernandez.
The game had been scoreless until Cespedes hammered the eighth pitch of the at-bat.
"I threw a changeup that didn't do anything," said Hernandez. "Give credit to that guy. He was looking for it. I threw four in a row so he was looking for it and I just missed my spot."
It stayed 3-0 until the top of the ninth, and Uehara came on to try to close it out.
Logan Morrison started the unlikely rally with a one-out single. But Uehara followed with a strikeout.
Endy Chavez kept the game going with a gritty, 10-pitch walk.
"The key at-bat in the ninth inning was the Chavez walk," said Farrell. "We've got two outs and a man at first base and a 1-2 count, and he battles his way back into the count, works a walk."
Chris Denorfia lined a single to right on a 1-2 pitch to load the bases. Austin Jackson lined a double off the Monster, bringing in a pair to make it 3-2.
Then came the crushing blow, as Dustin Ackley blooped a 0-1 pitch down the line in short left for a two-run, go-ahead single that Holt came agonizingly close to catching, only to have it fall just out of his reach.
"I thought I was pretty close," said Holt. "He hit it kind of far up there. I was hoping I could get to it to end the game, but unfortunately it fell."
Robinson Cano followed with an RBI single that scored Ackley all the way from first, as Daniel Nava seemed to take too much time throwing the ball back in.
"We're playing no doubles in that situation, and Ackley is on the move," said Farrell. "We were playing behind him with the left-handed hitter up in Cano, and he's off with the pitch and he took his time. A good read by [Rich] Donnelly, the third-base coach, to wave him home. We don't make the relay throw in time."
Joe Kelly went five innings for Boston, giving up one hit and three walks while striking out five. He was removed for precautionary reasons after feeling a twinge in his shoulder, but tests revealed no injury.
"I felt good," said Kelly. "Went out there with a solid gameplan, especially against a solid lineup. Tried to stick to the gameplan as much as I can and execute it with [Christian] Vazquez. We had a good idea of what we were doing out there. Ended up pitching up pretty good up until the point I got taken out."
Xander Bogaerts also had to exit early after getting hit by a pitch in the batting helmet, and took concussion tests.
"I got tested, but I don't know the results yet," said Bogaerts. "I feel good right now."
After a deflating loss, the Red Sox knew exactly how they felt.
"It's pretty frustrating," said Holt.
Ian Browne is a reporter for MLB.com. Read his blog, Brownie Points, and follow him on Twitter @IanMBrowne. This story was not subject to the approval of Major League Baseball or its clubs.