Mariners' ninth-inning rally stuns Red Sox
Ackley, Jackson knock big hits to erase three-run deficit against Uehara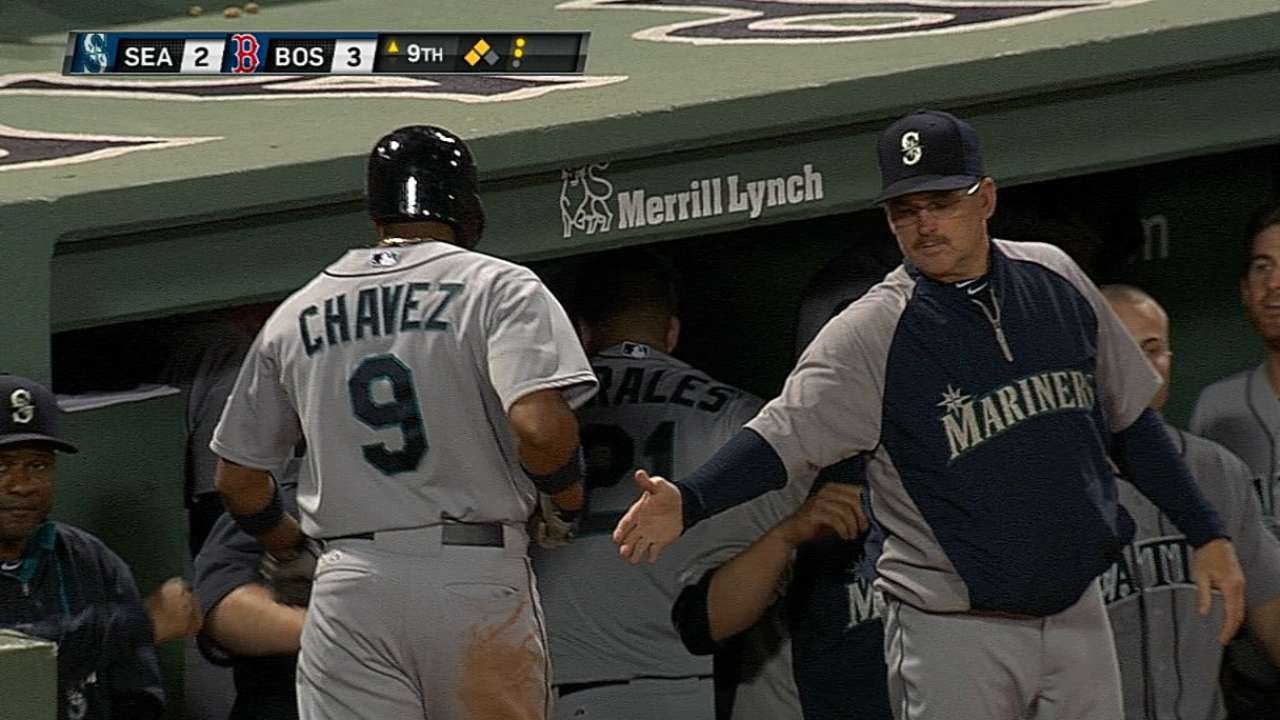 BOSTON -- A few hours after saying the stretch drive for the playoffs was now on, Mariners manager Lloyd McClendon watched in amazement as his club scored five times in the top of the ninth off All-Star closer Koji Uehara to pull out a 5-3 stunner over the Red Sox on Friday night.
"That's a good way to start," McClendon said when the drama was done. "I would say the horse race is on."
Combined with Detroit's 20-6 loss at Minnesota, the win catapulted Seattle back into the second Wild Card spot in the AL playoff chase with five weeks to go.
Seattle came out of nowhere to hit the finish line first on Friday at Fenway, as a bases-loaded, two-run double by Austin Jackson and two-run single by Dustin Ackley revived the Mariners after they'd managed just two hits in the first eight frames.
Ackley then scored an insurance run as he raced around from first on a base hit to right by Robinson Cano when third-base coach Rich Donnelly noticed right fielder Daniel Nava playing extra deep after he'd shifted to that position from first base for the final frame.
It all added up to a most-remarkable win for a Mariners club that had lost nine straight at Fenway dating back to 2011, coming against a team that had been 44-0 when leading after eight innings and a closer who had never allowed that many runs in a relief appearance in his career.
"It's awesome," said Ackley. "To have that win right there against their closer, you can't have more of a confidence booster than that."
All five runs came with two outs after Endy Chavez worked a 10-pitch walk to put runners on first and second. Pinch-hitter Chris Denorfia then singled to right to load the bases, Jackson drove in two runs with his double and Ackley pushed a single to left just over the glove of diving shortstop Brock Holt.
"That's a great win," said Chavez, who notched a career-high three walks and reached base four times. "We're playing together and we just had that feeling. We're competing."
The Mariners appeared dead in the water after outfielder Yoenis Cespedes, acquired by the Red Sox from the A's last month, slugged a three-run blast off Felix Hernandez in the sixth inning to give Boston a 3-0 lead.
Of Cespedes' 70 career home runs in his three seasons in the Majors, 15 have come against Seattle and many were at critical moments in prior AL West battles against the A's. Friday's blast seemed bigger than any of them, however, as it appeared to pin a tough loss on Hernandez at a time the Mariners are fighting for their first playoff berth since 2001.
But Seattle answered in the ninth for a dramatic win that lifts the Mariners to 69-58 on the season and 4-3 on their current road trip, a half-game ahead of the Tigers.
Hernandez was engaged in a scoreless duel entering the sixth, but gave up a leadoff double to Nava on a ball that deflected off the second-base bag, then a one-out intentional walk to David Ortiz before Cespedes cleared the bases with his 21st home run on the season and fourth since he was acquired for Jon Lester.
Hernandez ended up going 5 2/3 innings with three runs on five hits, with the no-decision leaving his record 13-4 with an AL-leading 2.07 ERA. The Mariners ace then sat by himself in the visiting clubhouse at Fenway, watching the final inning unfold as he iced down his arm.
"I was sitting right there, not moving. After we scored the third run, I screamed," Hernandez said. "This is huge for us. We needed this one. It gives us more confidence because we've got to continue doing it."
Hernandez struck out seven, putting him at 204 on the season and becoming the first pitcher in Mariners history with six straight seasons of 200 or more strikeouts. Randy Johnson holds the club record for most 200 strikeout seasons for a career with seven.
Hernandez had a Major League record string of 16 consecutive starts of seven or more innings with two or less runs snapped in his last outing when he lasted only five frames in Detroit and he was limited to 5 2/3 frames on Friday, his third-shortest outing of the season as his pitch count reached 116 before McClendon went to his bullpen.
Right-hander Joe Kelly, acquired by the Red Sox along with Allen Craig at the July 31 non-waiver Trade Deadline from the Cardinals in the John Lackey swap, held Seattle to one hit in five innings before being removed after 88 pitches.
Jackson popped out with the bases loaded in the fifth on Kelly's final pitch, but came back with the crucial hit in the same situation in the ninth against Uehara.
"We kept battling," said Jackson, the former Tiger. "You kind of feed off that, throughout the lineup. You see guys having six- or seven-pitch at-bats, you don't want to make that last out. So you go up and battle and see what happens."
What happened this time was a Mariners victory for a team that blew a five-run lead in the ninth inning of an 8-7 loss in their last game at Fenway in 2013. But this is a different club and a different season.
"Baseball is a funny game," McClendon said. "The first three hours of that game, we didn't look very good. Our at-bats weren't very good. Then all of the sudden, with two outs, we turned it on. That's a big win. That's a two-game swing for us. We'll see what happens tomorrow."
Greg Johns is a reporter for MLB.com. Follow him on Twitter @GregJohnsMLB as well as his Mariners Musings blog. This story was not subject to the approval of Major League Baseball or its clubs.