Kendrick recovers to help Phils top Wainwright
Righty settles in after shaky first, while Howard keys four-run third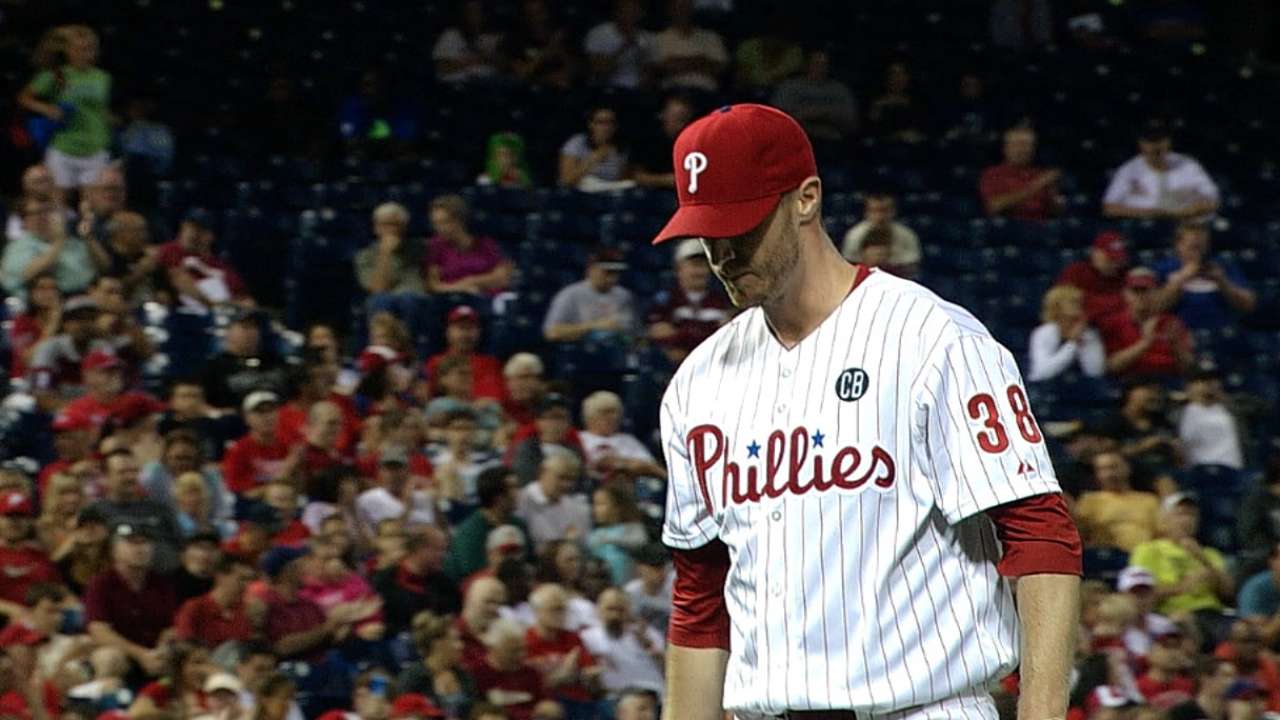 PHILADELPHIA -- It was another headache of a first inning for Kyle Kendrick on Friday night. But he wasn't the only pitcher to endure early struggles in the series opener at Citizens Bank Park.
Kendrick allowed four runs in the first three innings, but the 29-year-old right-hander gave the Phillies just enough over his 6 1/3 frames in a 5-4 win over Adam Wainwright and the Cardinals.
"It's nice to get a win, especially against a guy like that," Kendrick said.
The first four Cardinals to face Kendrick reached base, and he fell behind in the count on seven of the first eight batters.
"He was just behind in the count -- four or five close pitches, maybe, resulted in the hitters getting ahead in the count," Phillies manager Ryne Sandberg said. "But he was just off the plate, possibly, or a tight zone, falling behind in the count early on. But just pitching behind."
St. Louis tagged Kendrick for three runs in the opening frame, raising his ERA to 9.69 (28 earned runs in 26 innings) in the first inning. After four more hits, opponents are also hitting .358 against him in the first.
"It's not in my head at all," Kendrick said of his first-inning struggles. "I don't know. It's one of those things this year. It will be gone next year I think."
The Phillies got one back in the bottom half of the first. Ben Revere fell behind in the count 0-2, but he fought off three pitches before slapping a chopper that got past first baseman Matt Adams, who was playing in with Revere a threat to bunt. Revere came around to score four batters later on a groundout by Ryan Howard.
"Adam Wainwright is such a great pitcher. I was kind of being more patient, took those two strikes. I was trying to see more of him because I haven't faced him since last year," Revere said. "I know the umpire was kind of squeezing a little bit tonight. I didn't want to take a chance getting called strike three on me. So I did everything I can to just put that ball in play and luckily, I found the right spot."
"Just to get an early baserunner and get some things going with getting men on base did set the tone," Sandberg said.
Adams gave the Cardinals a 4-1 lead in the third with his 13th homer of the season, but the Phillies capitalized on Wainwright's command issues in the bottom of the inning.
Kendrick began the third inning with his fourth single of the season, while Chase Utley, Howard and Marlon Byrd all had RBIs to tie the game at 4. The Cardinals were nearly out of the jam after getting Dominic Brown in a rundown between second and third, but an errant throw by Adams allowed Howard to score the go-ahead run.
"It wasn't a bad play. It was just that the throw was off," Cardinals manager Mike Matheny said. "It's a shame; that's the play that decided the game."
Wainwright, who entered the game 3-0 with a 1.54 ERA in his last three starts vs. Philly, saw his season ERA rise by 12 points after allowing five runs (four earned) in his six innings.
Philadelphia's bullpen trio of Jake Diekman, Ken Giles and Jonathan Papelbon combined for a flawless 2 2/3 innings to secure Kendrick's first win since July 25.
After another rough beginning, it seemed unlikely that Kendrick would be able to hang with one of the NL's premier pitchers. But Kendrick outlasted his three-time All-Star counterpart, and left after retiring the first batter of the seventh to a round of applause.
"You just have to battle," Kendrick said. "I'm a competitor. I don't want to lose, so I just had to keep battling. That's all you can do. Keep making pitches, keep grinding and try to keep your team in the game."
Erik Bacharach is an associate reporter for MLB.com. This story was not subject to the approval of Major League Baseball or its clubs.