Waino can't right ship in Philly after early lead
Cardinals' ace denied 16th win as he labors in decisive four-run third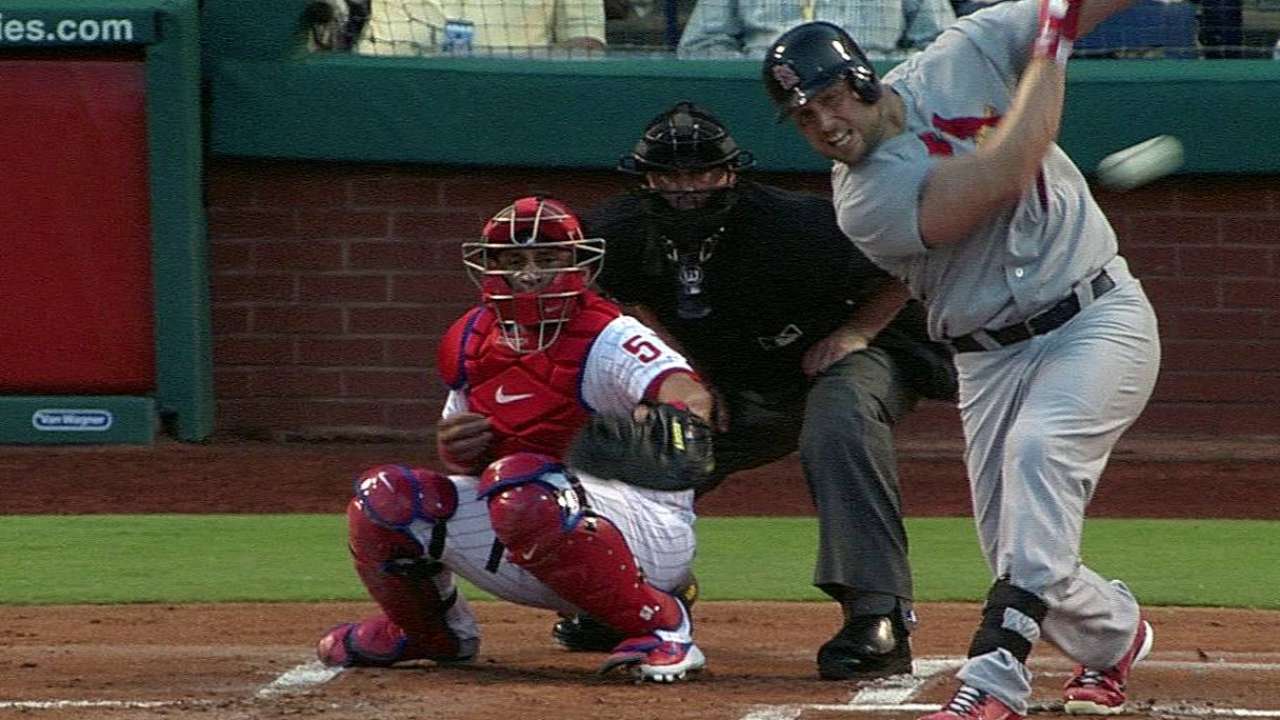 PHILADELPHIA -- Adam Wainwright has been in a funk for the last month. The veteran pitcher has grinded out game after game as he has searched for answers to what he feels has been a seven-game stretch of baseball not close to his own lofty expectations.
On Friday night, the Cardinals exploited Phillies starter Kyle Kendrick's first-inning woes to take an early three-run lead before handing the ball over to Wainwright. What seemed like a perfect situation for the Cardinals fell apart in the third and a four-game winning streak came to a crashing end with a 5-4 loss in the series opener at Citizens Bank Park.
The Cardinals' lead for the National League's first Wild Card spot dropped to one game with the Giants' 10-3 win over the Nationals on Friday night.
Wainwright allowed five runs overall in six innings, including four in a decisive third frame as St. Louis' struggles in Philadelphia continued. The Cardinals have not won a three-game series here since 2006.
"I don't think there is going to be anyone surprised when I say it's just another -- I've been in a funk, there's no other way to say it," said Wainwright, who entered the game 3-3 with a 4.50 ERA over his previous six starts. "Finally, mid-game, I was able to make an adjustment that changed the way everything has been going. It's been a month and a half that's just been very frustrating baseball from my side of it."
Kendrick (6-11) picked up the win as he went 6 1/3 innings, which included retiring the final eight hitters he faced. That of course came after he allowed three first-inning runs to put the Phillies in a hole.
"I think we had a lot of good counts in that first inning," Cardinals manager Mike Matheny said. "That made a big difference. The same thing happened to Adam in the third."
With St. Louis up 4-1, Kendrick led off the home third with a single to right field.
"That's a good argument," Matheny said about Kendrick's hit changing the tone of the game. "We had a couple walks in there too, but that's something Adam can get out of when he feels right."
"No," Wainwright said. "The walks are what hurt you. You can't do that."
A single by Ben Revere and a walk to Jimmy Rollins set up an RBI groundout to first by Chase Utley that moved all three runners up a base. Ryan Howard singled to right for his second RBI of the game to pull the Phillies within two. On the play, Rollins got a bad jump from second which forced him to hold up at third.
Marlon Byrd followed with a sacrifice fly to left that easily scored Rollins to tie the game at 4.
A walk to Domonic Brown moved Howard to second and then the Cardinals' defense handed the Phillies the lead on a Carlos Ruiz single to center. On the play, Howard took a wide turn at third before he retreated to the base. That put Brown into no-man's land as he had moved to third, but he was also forced to retreat.
Instead of the bases being loaded, first baseman Matt Adams, who had cut the throw off from center, threw wildly to third and Howard rumbled home with the Phillies' fifth run.
"They made the right play," Matheny said. "If [Adams] goes after [Brown], then we have a first baseman chasing the runner down the third-base line."
The Cardinals (69-58) opened the game on the attack and Kendrick was the perfect target. The right-hander gave up three runs, which lifted his first-inning ERA in 26 starts to 9.69. This start could have been much worse, but three runs looked to be enough for the Cardinals.
Matt Carpenter led off with a lined single to right-center. Kolten Wong followed with a lined single and Matt Holliday lined a ball over the head of Rollins that rolled to the wall to score a pair of runs. A walk to Adams, who later hit his 13th home run in the third inning, was followed by a flyout to right by Jhonny Peralta that moved Holliday to third.
Holliday then strolled home on a sacrifice fly to left off the bat of Jon Jay, whose 12-game hitting streak ended with an 0-for-3 night.
In the end, this will be looked upon as a game the Cardinals gave away.
"I think Adam figures something out there after the third, but by that time [with the way our offense was hitting] the game was over," Matheny said.
"Finally after the third, I made an adjustment that changed the way everything was going," Wainwright said. "You can point to a million different things, but it comes down to I haven't been able to go out there and execute pitches like I'd like too. That's the goal going forward.
"I don't want to give too much away. I've been talking about what I need to do and I'm just going to pitch from now on and see where the results take us. I've been talking myself blue in the face and I just need to stop talking so much and start executing."
Michael Radano is a contributor to MLB.com. This story was not subject to the approval of Major League Baseball or its clubs.