Cubs homer twice as Arrieta stifles former team
Righty gives up one run in seven innings; Valbuena, Baez go yard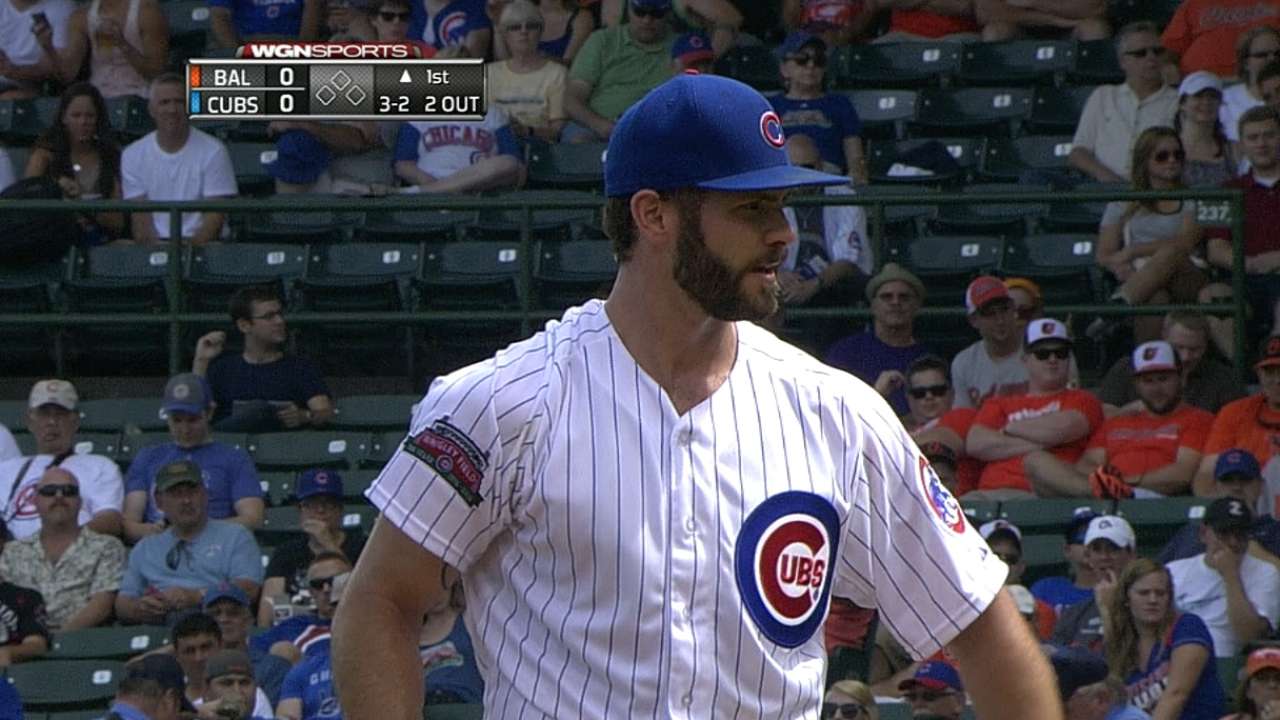 CHICAGO -- Jake Arrieta wasn't a welcoming host to his former Orioles teammates on Friday.
Arrieta gave up four hits, including Nelson Cruz's 34th home run, over seven innings, and Javier Baez and Luis Valbuena each hit a solo home run to lift the Cubs to a 4-1 Interleague victory over the Orioles, who brought plenty of their orange-clad fans to Wrigley Field.
The Orioles' fifth-round pick in 2007, Arrieta was dealt to the Cubs along with Pedro Strop for Scott Feldman and Steve Clevenger in July 2013. Baltimore knew how good Arrieta was. After all, he was their Opening Day starter in 2012.
"He [was consistent] for periods for us," Orioles manager Buck Showalter said. "We knew. He's in a good spot, and we got quality in return. That's the way things work out. We wish him well. [We] wish we would have had some of those balls fall in today, we might have had a different story."
Arrieta was looking forward to facing his former team, which leads the American League East, and the right-hander retired the first 13 batters he faced -- getting some nice glove work from second baseman Logan Watkins -- and he did not serve up a hit until Chris Davis singled with one out in the fifth.
"There was a little more to it, being your former team," Arrieta said. "After the first inning, it was just business as usual. It was nice to face those guys. It's good to see a lot of them again -- it's been a while."
After the first inning, Arrieta said it was just another start. He had dominated the Mets with his curve in his last outing, but didn't have that this time.
"I missed a lot around the zone and not in the zone, which was good," he said. "That was a point of emphasis for me."
Arrieta and the Orioles players exchanged casual nods, and he had a chance to chat in the third inning when he singled. Adam Jones did a little trash talking in the seventh after hitting a comebacker to Arrieta. On Saturday, Arrieta will be able to catch up.
"It's part of my development," he said. "Those years were and still are very important to me for a lot of reasons. Regardless of how certain situations went negatively or positively, they all impacted my career in a certain way. I'm thankful for those times over there, those years there, and I'll continue to use them for future reference, to reach back in the memory bank and think about certain times and certain situations that I had there, that I have now, and how I react and handle those. I think about it a lot."
He didn't have to deal with much on Friday. Valbuena hit his 12th home run with one out in the fourth, and one out later, Ryan Sweeney doubled and scored on Watkins' single. Baez made it 3-0 when he gave the ballhawks on Waveland Avenue behind the left-field bleachers a souvenir, belting his sixth home run with two outs in the fifth.
Baez did some early work with hitting coach Bill Mueller Friday that paid off.
"[Thursday], the guy threw me all fastballs and I couldn't hit it because it was up in the zone," said Baez, who struck out four times against the Giants Thursday. "I asked [Mueller] to get the machine and get the fastball going today."
"You want to see every one of that kid's at-bats," Arrieta said of Baez. "It's starting to get to the point, even though it's so early in his career, that nothing surprises me with what he does at the plate. Everyone knows when he connects with that swing, he'll hit it a long way. I don't know if many of his home runs will touch the seats here, honestly."
Cruz connected with one out in the seventh, lofting a changeup from Arrieta to left. But the Cubs added a run in their half when pinch-hitter Chris Valaika doubled and scored two batters later on Arismendy Alcantara's infield single.
The Orioles' biggest threat came with two outs in the fifth. They had runners at first and second when Caleb Joseph singled to right. Davis tried to score from second, but he was thrown out at home on a perfect strike from Sweeney to catcher John Baker.
Cruz has seen Arrieta. He was impressed by the right-hander.
"I think he looked more mature," Cruz said. "He was commanding all his pitches and he didn't make many mistakes."
This is the third series between the Cubs and Orioles, and the second at Wrigley Field. Baltimore took two of three in Chicago on June 24-26, 2008, after the Cubs went 2-1 at Camden Yards in June 2003. Arrieta saw all the orange in the stands and heard the "Let's go O's" chants.
"I like that kind of stuff," Arrieta said. "Fans are passionate about their team, and [the Orioles are] in a great place now, eight or so games up in the [American League] East. Their fans have a lot to be happy about. It's good they're getting that support."
Of course, Arrieta was wearing a T-shirt with the Chicago skyline on it.
Carrie Muskat is a reporter for MLB.com. She writes a blog, Muskat Ramblings, and you can follow her on Twitter @CarrieMuskat. This story was not subject to the approval of Major League Baseball or its clubs.