Despite longer outing, Stroman can't bounce back
Blue Jays held to two hits as rookie allows six runs (five earned)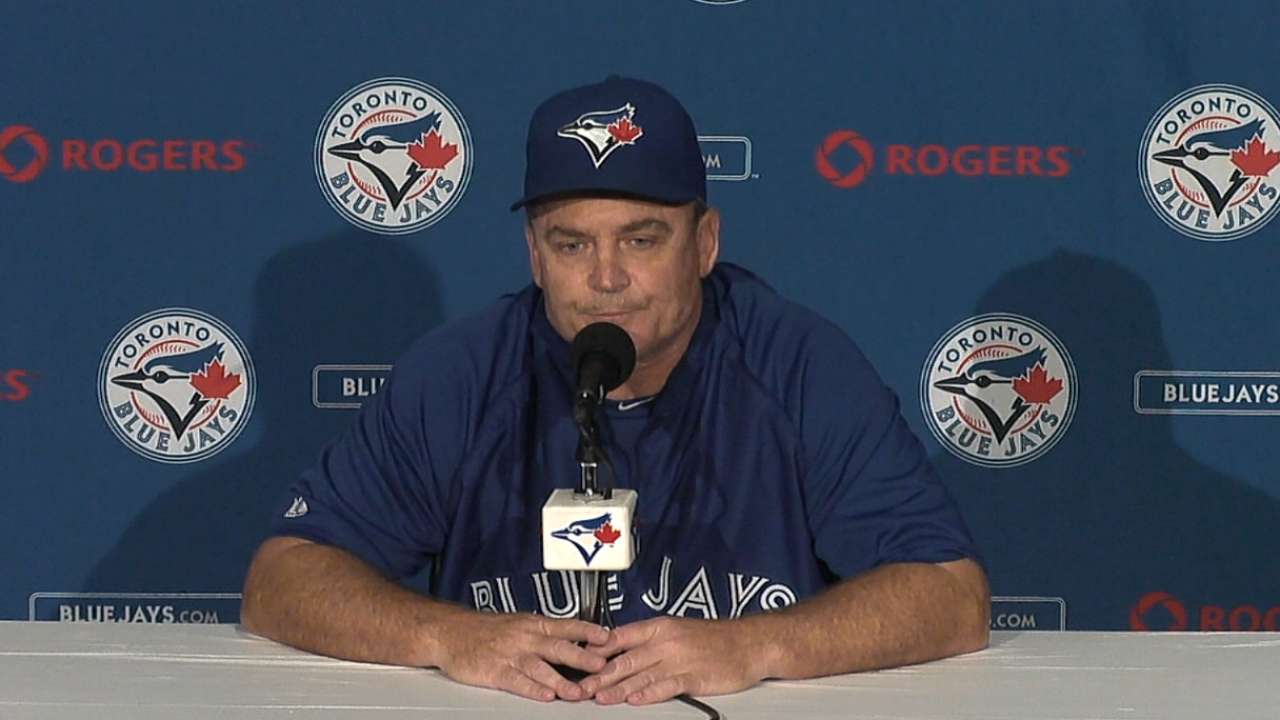 TORONTO -- The Blue Jays hoped to kick off their nine-game homestand with a bang, but their series opener against the Rays was instead a bust. Drew Smyly silenced the Blue Jays' bats and Marcus Stroman wasn't able to deliver a bounce-back start as Toronto was shut out, 8-0, by Tampa Bay on Friday night at Rogers Centre.
"I figured we'd come out there tonight with a little more energy, and we didn't have it," said Blue Jays manager John Gibbons. "We made some mistakes, couldn't turn a big double play, waited back on a couple of balls, things like that."
After lasting only two-thirds of an inning in his last start a week ago, Stroman entered Friday's game on two extra days of rest looking to rebound. But instead, the right-hander was dealt his third loss in his last four outings, this time lasting five-plus innings while giving up a season-high 10 hits and five earned runs with three walks. The 23-year-old, who prior to his current rough stretch had been the club's best pitcher since the All-Star Break, said he's putting the loss behind him.
"It's extremely frustrating," said Stroman, who's allowed 10 earned runs over his last two starts. "I couldn't keep my team in it today to get a win. Something you have to put past you."
The loss was a rare home defeat for the rookie hurler, who entered the contest 5-1 with 2.70 ERA in 11 appearances (eight starts) at Rogers Centre. Catcher Dioner Navarro said Stroman was throwing well -- hitting speeds as high at 95 mph with his fastball -- but got caught pitching from behind and left several balls up in the zone.
"He wasn't getting ahead," Navarro said. "He made a couple of mistakes leaving the ball over the plate and he payed for it. I guess he's just going through one of those stretches where anything he does, it's not working."
While nothing seemed to go right for the Blue Jays, there were several bright takeaways for the Rays. Evan Longoria pounded the ball at the plate, going 3-for-4 with a single, a double and a homer, and Kevin Kiermaier turned two would-be singles to shallow center field into doubles.
"Those are two of the shortest doubles you've ever seen in your life," Rays manager Joe Maddon said. "That's all about him, period."
But in the end, the Rays' win was all about Smyly. The 25-year-old cruised to his second victory since joining the Rays after being dealt from the Tigers at the non-waiver Trade Deadline. He retired the final 19 hitters he faced to improve to 8-10 with his first career shutout.
Smyly didn't allow a Toronto runner to reach scoring position and surrendered only a pair of singles without a walk as the Rays won their second straight after dropping four in a row.
"It's not something starters get that often," Smyly said of his shutout. "You have to do your job and be on point from inning one to inning nine to usually throw a complete game. It's tough; not many do it. It's a good mark to reach and a big accomplishment for me."
Both pitchers made it through the first inning after facing three hitters, but the game slowly grew out of reach for the Blue Jays, who gave up a run in each of the second, fourth and fifth innings and carried a 3-0 deficit into the sixth.
That's when things got ugly. Three straight singles to lead off the inning marked the end of the night for Stroman, and reliever Aaron Loup did not fare much better. Loup gave up an RBI single to Ben Zobrist before a defensive miscue by second baseman Steve Tolleson allowed Matt Joyce to load the bases on the fielder's choice. Longoria then doubled to left field, scoring two to make it 7-0, and Wil Myers added a solo homer in the eighth.
The Blue Jays' bullpen worked the final four innings, with Loup, Kyle Drabek, Todd Redmond and Brett Cecil tossing an inning apiece.
Jamie Ross is an associate reporter for MLB.com. This story was not subject to the approval of Major League Baseball or its clubs.