MLB.com Columnist
Jonathan Mayo
Pipeline Inbox: Did Giants cash in too early?
Jonathan Mayo responds to fans' questions about baseball's top future stars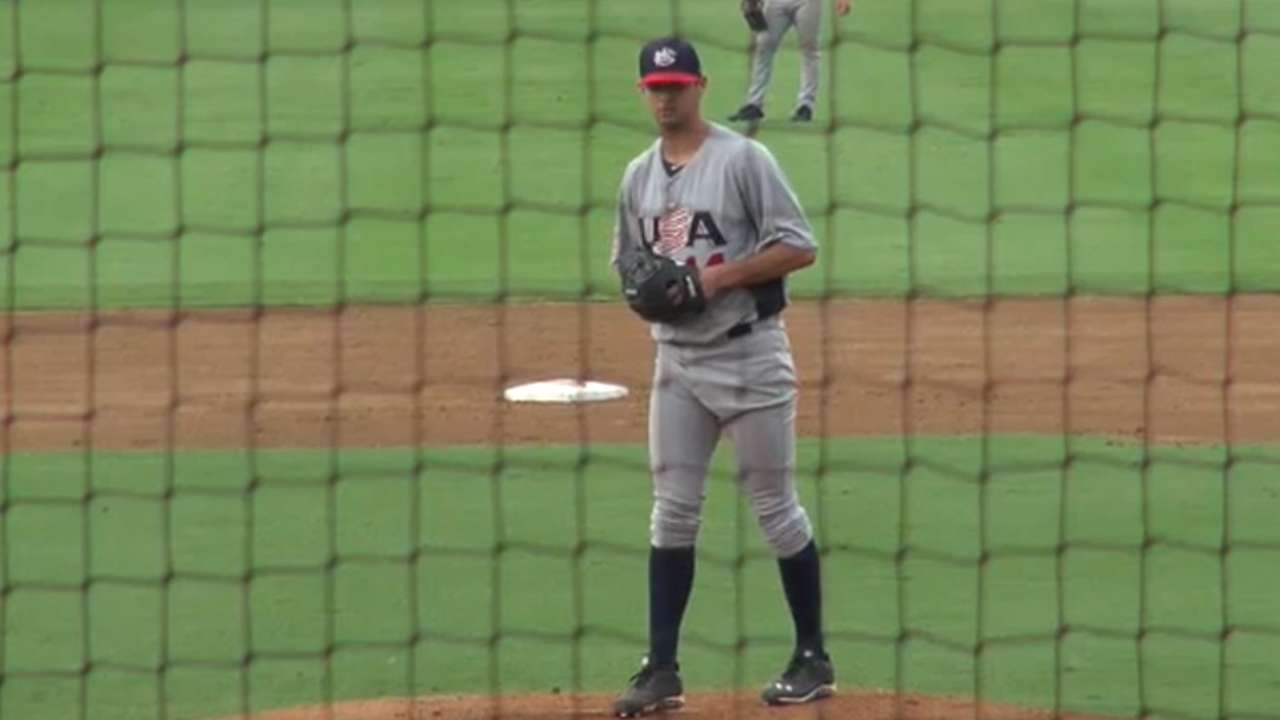 Did the Giants cash in on their farm system too early? Example: In the Jake Peavy trade, they traded two prospects away, Edwin Escobar and Heath Hembree. Jake Peavy hasn't shown any results, while Hembree has been called up to the Red Sox's roster. As for prospects already on the team, Joe Panik and Matt Duffy were last-resort options. Panik has shown signs of peaking. Will the Giants' newer prospects like Christian Arroyo and Tyler Beede, show up soon?
-- Kenny V., San Francisco
This is kind of how the Giants do things, isn't it? They're nearly always competitive, and they build up their farm system and often use pieces from it to bring in big leaguers to help them win. Sometimes it works, sometimes it doesn't.
It's too early to say whether the Giants "cashed in too early" because we have to see how the prospects perform once they get to the big leagues. The fact that Hembree is up with the Red Sox is not a measure of the failure of this trade. He's a 25-year-old reliever with prior big league experience. The Red Sox wanted him specifically because he was Major League ready.
Could Escobar be a guy the Giants regret dealing, a la Zack Wheeler? It's possible, though the lefty regressed in 2014 prior to the trade. But the Giants are in a race right now and needed help to bolster the rotation, so they pulled the trigger to bring in Peavy. It's hard to say they cashed in early when they're going for it right now. And Peavy hasn't been all that bad, particularly in his last two starts. If you're printing out playoff tickets, will you still be concerned?
Finally, Beede and Arroyo are just getting started. The No. 2 and No. 12 prospects on the Giants' Top 20 are in Rookie ball. Even though Beede was drafted a year after Arroyo, as a college pitcher, I expect him to get to San Francisco first. He's actually the type of pitcher who could get there quickly if he can iron out his delivery.
How will Miguel Sano's injury this season affect his career going forward?
-- Andrew R., Rochester, N.Y.
Long-term, it really shouldn't impact Sano's career negatively at all. The success rate of Tommy John surgery has a lot to do with that. Typically, that procedure is associated with pitchers, and for good reason. But there have been a number of position players who have needed it and come back just fine. From a prospect standpoint, maybe the best recent example is Rymer Liriano. The Padres' No. 6 prospect had Tommy John surgery in early 2013. He's now in the big leagues. Big leaguers like Carl Crawford and Rafael Furcal have also returned, and keep in mind Sano is a lot younger than either of them.
If you're really looking for an area of concern, it would be with Sano's ability to throw as well from third base. The No. 9 prospect on our Top 100 list had a cannon for an arm before the injury. Based on the success of the surgery and rehab, there's no reason to think he can't be the same guy he was arm-strength wise. Worst-case, Sano slides across the diamond to first base, a move some had predicted even before he hurt his elbow, based on his size and range.
What has always been Sano's ticket to the big leagues is his bat. The elbow surgery will have no bearing on that whatsoever. He'll need to make up for some development time, but once he does that, he'll be ready to terrorize big league pitching in no time.
I'd love to get a little more information on Kyle Kubitza. I am particularly interested in his athleticism (21 for 25 on stolen-base attempts and nine triples). How realistic are his chances to replace Chris Johnson at third base next season? With a .409 OBP and above-average defense, Braves fans hope he is a huge upgrade over Johnson.
-- Andrew T., Athens, Ga.
Kubitza has certainly made progress since being the Braves' third-round pick in 2011, vastly improving his batting average in each of his three full seasons. He's always had a tremendous eye at the plate, leading to those high on-base percentages. Sometimes, Kubitza has been patient to a fault, a contributing factor to his high strikeout totals. While he doesn't have the power profile for a prototypical third baseman, he does have extra-base ability. Kubitza had 46 extra-base hits in 2013 and has racked up 47 to date in Double-A this year. His triples output and his career high in stolen bases come more from his hustle and aggressive style of play than his speed, though he is athletic for a third baseman and has a very strong arm from the hot corner.
I wouldn't count on Kubitza replacing Johnson next season, though. First, the natural progression would be for the Braves' No. 10 prospect to go to Triple-A in 2015, at least to start the season. Second, the Braves signed Johnson to a three-year extension in May, giving him $23.5 million and keeping him under contract until 2017 (the Braves have a team option for 2018). So he's likely not going anywhere soon.
Let's see how Kubitza performs in 2015 while with Triple-A Gwinnett. If he takes another step forward, then maybe he'll force Atlanta's hand to trade Johnson or him in the future.
Kyle Zimmer, Sean Manaea, Danny Duffy and Yordano Ventura next August for the Royals. How likely is that? And can any team match those young arms?
-- Patrick, Kansas City
Already looking to the future, are we? Can't you enjoy the present Royals atop the American League Central?
In all seriousness, the future rotation you lay out certainly sounds fantastic. I'm just not sure it's realistic to expect all of them to be in Kansas City's rotation by next August. Zimmer, the No. 2 prospect in the organization, has only thrown 149 pro innings since being the team's 2012 first-round pick. Only one inning has come in 2014, as injuries have really slowed what many felt would be a fast ride to the big leagues. Let's keep him healthy for a year before you put him in the rotation at the end of 2015.
It's hard not to be excited about Manaea's progress this year, especially coming off his injury-shortened final season at Indiana State. He's gotten stronger as the year has gone on and I could see him jumping on a faster track next year. Still, he's yet to pitch above A ball, so getting him to Kansas City next season would be aggressive.
That said, if that foursome can hit the rotation at some point, even if it's 2016, it would be a formidable group, to be sure. And I'd be hard-pressed to find a rotation with a collection of young arms like it. Maybe the Mets, who could have Matt Harvey back along with Zack Wheeler, Noah Syndergaard, Jacob deGrom and perhaps Rafael Montero, would be up there. Of course, the Royals provide their own cautionary tale: They have had a collection of "top pitching prospects" before, when Mike Montgomery, Duffy, Chris Dwyer and John Lamb made up a tremendous quartet of lefties (to be joined by Jake Odorizzi via trade). Montgomery and Odorizzi are gone, Dwyer's a reliever in Triple-A and Lamb is working his way back from injuries.
Jonathan Mayo is a reporter for MLBPipeline.com and writes a blog, B3. Follow @JonathanMayoB3 on Twitter. This story was not subject to the approval of Major League Baseball or its clubs.